LPBW Star Tori Roloff Hilariously Responds to Rumors about Being Pregnant for the Third Time
Tori Roloff, star of the hit show "Little People Big World" shut down rumors of her third pregnancy with a witty comeback on Instagram.
Tori Roloff is the wife of TV personality Zachary Roloff, and stars on the "LPBW" show along with her husband and children. The mother-of-two recently confirmed she was not pregnant with a message on her Instagram story.
The post came on Thursday, October 15 and the 29-year-old implored her fans not to believe everything they read on the internet and assured them that she was not pregnant.
The hilarious comment was a great way to shut down the rumors on the internet claiming the mother-of-two was expecting her third child. The TV star's post ended with the words that read:
"Must be a slow news day. Or I need to work out more."
The 29-year-old who shares two children with Zachary - 3-year-old son Jackson and 10-months-old daughter Lilah, confessed that she while she wished to have four kids in the future, she was nervous about having another child.
While [Tori and Zach] wish to expand their family in the future, they weren't on the same page as to when to have their third child.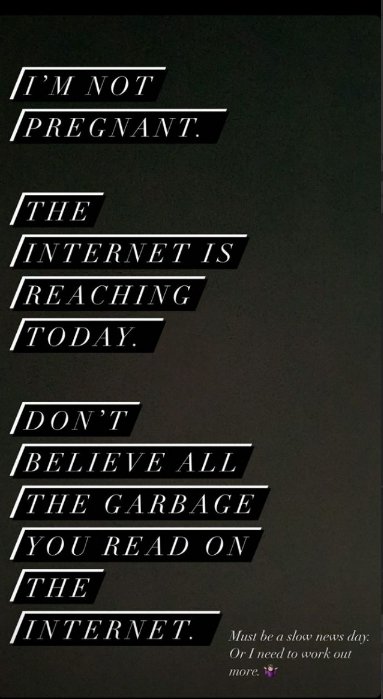 The mother wanted her husband and herself to focus on the present and raise their children before deciding to expand their family in the future. Back in September, the TLC stars disclosed their concerns for their children who suffered from a type of dwarfism known as Achondroplasia, on an episode of their show.
Zachary plus his parents also have the same condition and the Roloff family have openly documented their lives on several reality TV shows. Tori has also shared her family's life with over 1 million fans on Instagram and has also tried to educate them about dwarfism and answer their questions.
The one burning question on everyone's mind is when baby number 3 will be coming and while the couple wish to expand their family in the future, they weren't on the same page as to when to have their third child.
Zachary admitted that he wanted to have their third child immediately as he wished to have his children before he turned 45. However, Tori wasn't ready to have any more kids as both her children were born via C-section and she wished to be completely healed before trying again.