Pamela Anderson Admits Missing Her Sons While Posing on the Bed in a Satin Dressing Gown
Television personality Pamela Anderson is a doting mother to two beautiful children, and recently, she shared on social media that she misses them so much.
On October 14, Pamela Anderson uploaded on Instagram a black and white picture of herself wearing a satin dressing gown as she posed on the bed. She is living proof that once a bombshell, always a bombshell.
In the caption, the 53-year-old beauty shared that she misses her sons Brandon Thomas and Dylan Jagger Lee, whom she shares with her ex-husband Tommy Lee.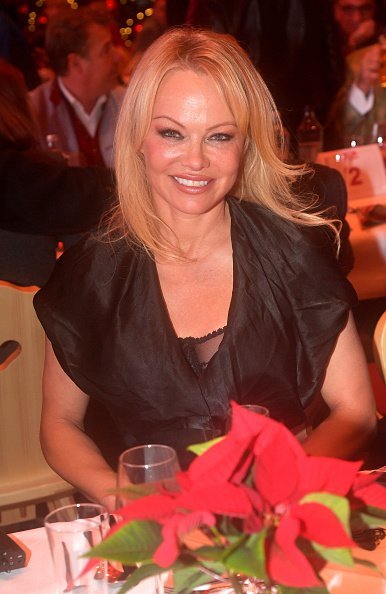 SORELY MISSING HER KIDS
"I miss my beautiful boys," Anderson wrote. "Though we're always together on some plane of existence. It's not enough." The "Baywatch" babe added that she needs to squeeze Brandon and Dylan.
She also wants to kiss their faces, the star confessed. Anderson went on to say that, for the most part, she stays positive. However, being away from her kids makes her brokenhearted.
Anderson, who is most recognized for her many appearances in Playboy magazine and her spectacular work on numerous television series, concluded her post by expressing her love for Brandon and Dylan.
Anderson looked sensational in the photo that garnered thousands of likes on Instagram. For over two decades, she was one of America's most famous glamour models, and this photo proved she has not lost her allure.
Prior to posting this charming snap, Anderson shared a sultry black-and-white photo of herself showing off her toned legs. The star admitted in the caption that she was lonely.
Anderson's son Brandon opened up about her famous mom's marriage to film producer Jon Peters earlier this year.
FLAUNTING HER AGELESS PHYSIQUE
Anderson has treated her one million Instagram followers to some artistic lingerie shots lately. In September, she uploaded two photos of herself wearing a black bodysuit that accentuated her hard-earned figure.
The "Blonde and Blonder" actress, who is also an activist, paired the sexy ensemble with a pair of black stiletto heels and styled her blond hair in curls that cascaded down her back.
HER LATEST MARRIAGE
Meanwhile, Anderson's son Brandon opened up about her famous mom's marriage to film producer Jon Peters earlier this year. He said that he was incredibly happy for the pair.
Anderson and Peters have known each other for over three decades, Brandon said, adding that he wishes the couple luck in this next chapter on their lives together.
Unfortunately, Anderson and Peters ended their marriage after just 12 days. The former announced her break up from Peters on February 1. They secretly tied the knot on January 20.
According to reports, Peters claimed that the star only used him for her financial needs. In response to her ex-husband's accusation, Anderson shared a cryptic tweet about trust and disappointment.