Dylan Dreyer's Sons Both Underwent Surgeries — Glimpse into Her Family Life
TV personality Dylan Dreyer went through a nerve-wracking moment following the back to back surgeries of her two sons, Calvin Bradley and Oliver, who are doing great now. Here's a glimpse of her life as a family woman.
TV host Dylan Dreyer lights up viewers' mornings every day with her infectious smile while co-hosting the third hour of the "Today show." 
More importantly, Dreyer has such a beautiful family that she never stops talking about, even while doing her job. What is more intriguing about her story is that she and her husband Brian Fichera both work in the broadcasting field.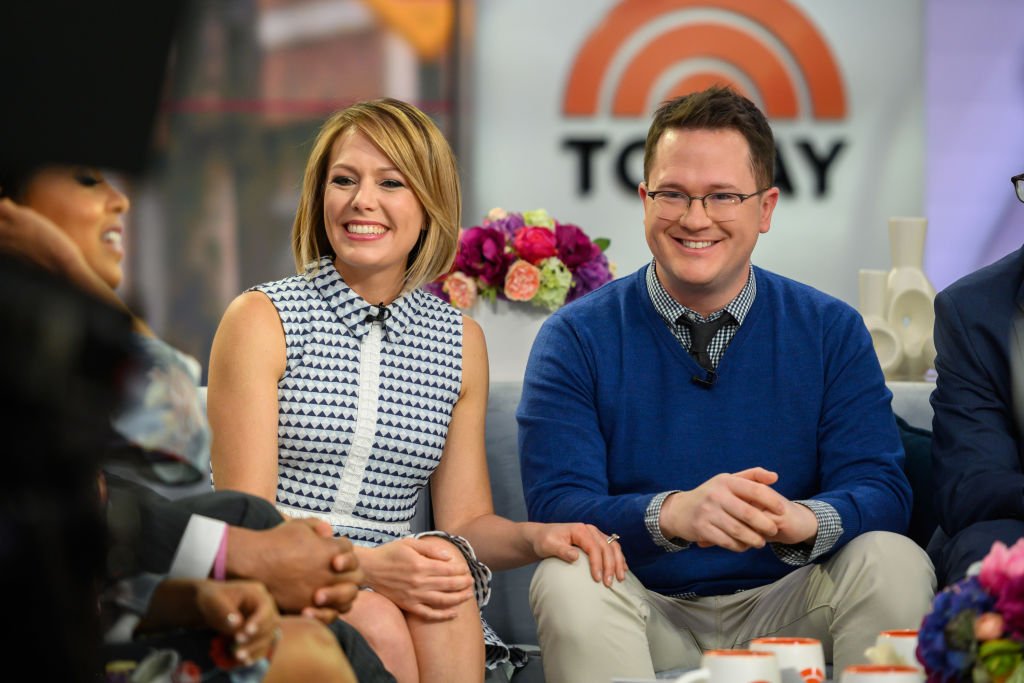 DYLAN DREYER AND BRIAN FICHERA'S FASCINATING LOVE STORY 
Dylan Dreyer always has the best things to say about her husband, and whenever the couple has been spotted together, they inspire so much love and have such palpable chemistry.
The couple met years ago while they both did the morning shift at the WHDH station in Boston, Massachusetts. Dreyer was an anchor and meteorologist, while Fichera worked behind the camera as the in-studio technician.
It was not love at first sight, at least for Dreyer. While Fichera nursed some feelings for Dreyer, the blonde news anchor kept calling him "Tom." 
Her bonding time got stretched further as a result of the novel Coronavirus outbreak. During the self-quarantining period, Dreyer's sons had to undergo surgeries a few days apart.
Instead of the mistaken identity foiling Fichera's plans, it soon became an inside joke between the two to call each other by the wrong name. Over the next few years, their friendship blossomed into something deeper as they spent more time together. 
In July 2011, Fichera proposed to Dreyer at the front porch of his parents' home. The 39-year-old co-host later revealed she knew he was about to propose immediately she walked in and saw the roses and two glasses of Champagne.
Nearly a year later, in October 2012, the two officially got married at The Cathedral of the Holy Cross in Boston. It was a double celebration for Dreyer, as she joined the weekend edition of the "Today Show" during that period. 
DYLAN DREYER'S MOTHERHOOD JOURNEY
Despite having to move from their house in Boston to a smaller New York apartment because of Dreyer's new job, the couple still managed to make it work.
In fact, things were so good between the couple that they were quite content with living as a family of two. In a 2019 episode of "Today," while reacting to comments made by media mogul Oprah Winfrey about parenthood, Dreyer told her colleagues:
"For a long time, Brian and I, we weren't really sure if we wanted kids. We were kind of happy with our life."
Despite their initial hesitation, the couple eventually decided to have children two years into their marriage. In July 2016, Dreyer revealed she and her husband, NBC Nightly News cameraman Brian Fichera were expecting their first child. 
Dreyer documented her first pregnancy in a series of video diaries and even shared her fears about becoming a first-time mom. She also explained how her husband was crucial in her overcoming those fears. They welcomed their first son, Calvin, in December 2016.
DYLAN DREYER'S STRUGGLE WITH INFERTILITY 
Dreyer got pregnant with her first child without having any problems. By the time she and her husband wanted to expand their family further, she was nearly 37, and the chances of her getting pregnant had become slimmer.
Even with the slim odds, Dreyer quickly got pregnant a second time, but she suffered a miscarriage. Dreyer was able to pick herself up from the painful experience and made the inspiring move of sharing her story with the world. 
After nearly trying in vitro fertilization due to their struggles with secondary infertility, Dreyer eventually became pregnant with her second child. In July 2019, the mother of one shared the good news with her colleagues. 
She explained that the prayers and support she got from her fans after sharing her touching story was crucial to her getting through the difficult moment. 
On January 3, 2020, Dreyer and Fichera welcomed their second son, Oliver George. Dylan Dreyer's husband announced their second son's birth while sharing a photo of him kissing Dreyer as she held on to her baby boy. 
Dylan Dreyer's baby Oliver George was born weighing 7 pounds and 2 ounces. The couple could not hold back their excitement as they expressed their gratitude for their family's new addition. 
DYLAN DREYER'S BEAUTIFUL FAMILY
Since she welcomed her first son, Calvin, Dreyer has been very vocal about her motherhood experience and once described it as the "ultimate joy."
For Dreyer, becoming a mom for the second time has been a much more comfortable experience. The mother of two got to enjoy some quality bonding time with her sons during her maternity leave earlier in the year.
Her bonding time got stretched further as a result of the novel Coronavirus outbreak. During the self-quarantining period, Dreyer's sons had to undergo surgeries a few days apart. Oliver had a routine surgery, while Calvin had his tonsil taken out. 
After nearly six months at home, Dreyer finally sent her first son back to class as schools reopened in New York in September. The couple shared cute photos with their son on his first day at school amid the ongoing novel Coronavirus pandemic. 
More recently, Dreyer and Fichera celebrated their eighth wedding anniversary. The Today co-host took to her Instagram page to post a video tribute to her husband. She wrote in the caption:
"8 years ago I thought life couldn't possibly get better than this. A move to NYC and 2 amazing boys later, every day since has been better than the day before."
Dreyer and Fichera have been through some challenging times, but their marriage has overwhelmingly been blissful and is an inspiration to other couples facing similar issues.