Kelly Clarkson Teases Blake Shelton on 'The Voice' as He Recalled His 1st Public Performance
American country music singer and television personality Blake Shelton remembered his first-ever public performance in a recent interview, while singer and TV host Kelly Clarkson teased him.
In a recent interview with singer and host Kelly Clarkson on her TVshow, "The Kelly Clarkson Show," Blake Shelton reminisced on his first public appearance as a child while she teased him. 
The conversation began when Clarkson asked the star if he remembered his first-ever performance. Shelton then admitted that as a child, his mother forced him to take part in pageants. This was so that young Shelton could sing in the talent portions.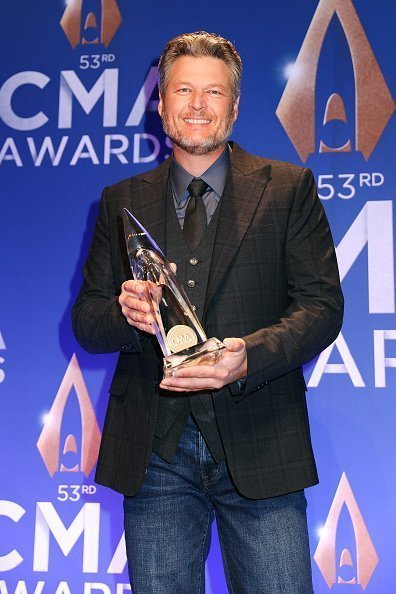 Clarkson then interjected, saying that she knew what his answer would be and only asked him about it because she wanted to hear him talk about pageants. On hearing this, the singer immediately cursed under his breath, causing the audience to laugh. 
He continued to speak about the experience, explaining that his two-song specialties were "Old Time Rock and Roll" by Bob Segar and "Cat Scratch Fever" by Ted Nugent. The latter, however, did not go well with the soccer mums in the audience. 
With a serious face, Clarkson then asked if Shelton's evening wear ended up helping him win the pageants, after which she burst into another string of laughter along with the audience.
After teasing him some more, Shelton's revenge was gifting Clarkson a "wall of champions" that listed all the celebrities who had beat her in the games on her show. While she complained, he revealed that he left a blank space on the wall for when he also had his victory.
After his high school graduation, the singer moved to Nashville to start his career in country music.
Born on June 18, 1976, Shelton had a humble background growing up in Ada, Oklahoma. His father, Richard Shelton, was a car salesman, while his mother Dorothy was a beauty salon owner.
The singer showed a passion for music at a very tender age. He learned how to play the guitar at 12, and by the time he became a teenager, Shelton was writing his own songs.
His mother, Dorothy, supported her son's passion for music, hence why she enrolled him in the pageantry to show off his gift. In an interview earlier this year, the singer revealed that he hated the experience.
Shelton added that he hated it so much that it almost caused him to change his mind about music. The star also revealed that he often got bullied at school because of his involvement in the pageants. 
However, as the years went by, Shelton kept pushing his love for music and soon made a name for himself at the local bars at just 16. A few weeks after his high school graduation, the singer moved to Nashville to start his career in country music.
He released his first single, "Austin," in 2001, which won him much acclaim. Not long after, his debut album, which included the hit "Ol' Red," made the rounds. Years later, the star released ten more albums and hit songs, which stamped him as one of the legends.