Getty Images
Surfer Bethany Hamilton Confirms She's Expecting 3rd Child with Adorable Pregnancy Video Reveal
Renowned American professional surfer Bethany Hamilton has announced she is expecting her third child. She made the revelation in an adorable video featuring her husband and her two sons.
Bethany Hamilton and her husband, Adam Dirks, are parents to two sons: Tobias, 5, and Wesley, 2, but are ready to welcome a third child and they let their fans know about this in the most adorable way ever.
Hamilton took to Instagram to post an adorable video showing her entire family having fun at the beach. The video began with the expectant mom and her two sons playing in the ocean waters, with the boys kissing their mom's baby bump.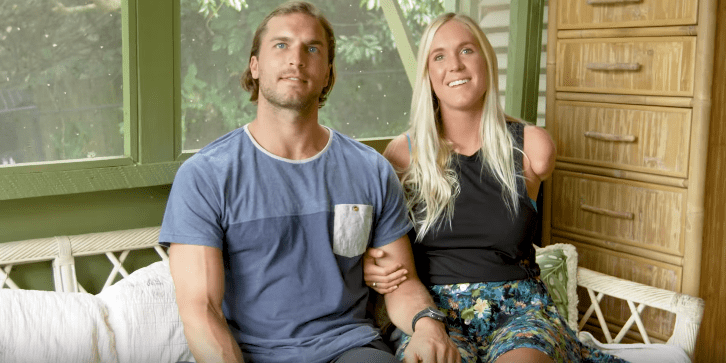 Photo of Adam Dirks and Bethany Hamilton during an interview on her youtube channel | Photo: Youtube / Bethany Hamilton
The clip moved to when Hamilton and her boys walked on a log of wood that had the message, "Tobias + Wesley and ?" written on it. After walking the length of the log, Hamilton waved at the camera.
The next clip showed Hamilton and Dirks all smiles as they cuddled and waved at the camera, while another clip showed Tobias surfing. The video ended with Dirks spinning his lastborn son. Hamilton captioned the post:
"Grateful for more family fun to come!!! ✨??♥️?."
Many of her fans responded to the post with likes and congratulatory messages to Hamilton and her wonderful family. One fan said the video was very cool, while a second fan commented with jubilatory emojis.
A third fan said they were delighted for Hamilton, Dirks, and their sons, while a fourth fan noted it was an exciting time for the growing family before praying for God's blessings upon them.
Immediately after the attack, Hamilton's best friend and her family helped her to the shore and rushed her to a hospital.
With her pregnancy, Hamilton will have her hand full with teaching her brood surfing. The video showed her boys were taking her lessons home, as evidenced by Tobias's impressive surfing towards the end.
Hamilton's fans will have to wait to find out about the gender of the baby in her womb as the professional surfer did not mention it in her adorable announcement.
Hamilton began surfing at an early age and became one of the best surfers as she grew older. However, she faced a near-death experience at the age of 13 when a shark attacked her in 2003.
She went surfing with her best friend, her best friend's father, and brothers in Hawaii. The company was enjoying their surfing experience when a tiger shark showed up and attacked Hamilton.
The shark bit her left arm, severing it in the process. Immediately after the attack, Hamilton's best friend and her family helped her to the shore and rushed her to a hospital.
Though she had lost more than half of her blood and was in hypovolemic shock, the brave surfer survived the attack. A fisherman later caught and killed the tiger shark that attacked her.
Despite her near-death experience, Hamilton's love for surfing never died. She returned to the sea 26 days after her attack and has won many competitions since then. Added to her beautiful family, Hamilton's story is one with an ending that is about to become happier.
Please fill in your e-mail so we can share with you our top stories!