Supreme Court Nominee to Replace Ruth Bader Ginsburg — Meet Proud Mom of 7, Amy Coney Barrett
On the day of her Senate confirmation hearing, Amy Coney Barrett talked about her large family members while giving kudos to them for the love they share.
Family is essential to almost everyone; having a sense of family and knowing one belongs to a group of people is often liberating, which is why Supreme Court nominee Amy Coney Barrett could not help but give kudos to her family.
During her Senate confirmation hearing, Amy opened up about her life and journey and the people who helped her get to the point and peak she had achieved so far in life.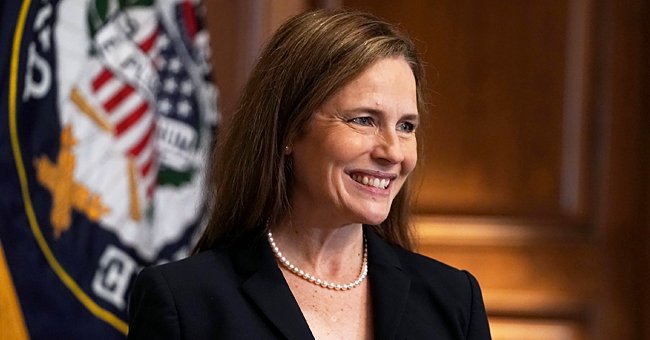 She gave thanks to her husband of 21 years, Jesse Barret, and touched on how she was one of the people who got lucky in love to be with such a fantastic person like him.
Amy then talked about her seven children who ranged from young adults to pre-teens, and among the bunch are two adopted and five biological children. 
The proud mother of seven talked about her children with love and admiration in her voice and shared a few of their achievements and personalities with the audience.
The first of the seven is her daughter Emma who is a sophomore in college. Interestingly, Emma seems to be following her parents' footsteps by pursuing a career in law.
Vivian is the second child of the family and was adopted from Haiti. When she was adopted, Amy revealed that the adoption office had told them Vivian was weak and would not be able to talk, but now, Vivian deadlifts as much as the male athletes in their gym, and she has no trouble speaking.
The third of the seven is 16-yea- old Tess, who shares her parents' love for the liberal arts. According to Amy, besides loving the liberal arts, Tess also has a maths gene that seems to have skipped her parents.
Following Tess is John Peter. The first boy of the family, he was also adopted from Haiti. According to his proud mum, he has a happy-go-lucky attitude that has become his signature trait once the shock of landing in wintertime Chicago wore off.
Liam is the fifth child and the second boy. According to Amy, he is strong, smart, and kind and to her and Jesse's delight, he still enjoys watching movies with them.
Ten-year-old Juliet is the last girl in the Barret clan and is already a budding author. Amy revealed that Juliet already had multiple essays and short stories written, and one of her works is about to be published.
The last and the unanimous favorite of the family is Benjamin, who has Down Syndrome. Although Benjamin could not be with the family at the Senate confirmation hearing, Amy confirmed that he was watching the show from home with friends. 
Aside from giving kudos to her husband and children, Amy, who is interestingly the oldest of seven children, gave a shout out to her siblings: Carrie, Megan, Eileen, Amanda, Vivian, and Michael.
Not left out from the appreciation message were her parents, who influenced her decision to become a law professor, and the various individuals who have helped her become who she is today. Judge Amy was nominated by President Trump to fill the vacant Supreme Court seat left by Justice Ruth Bader Ginsburg, who died last month.