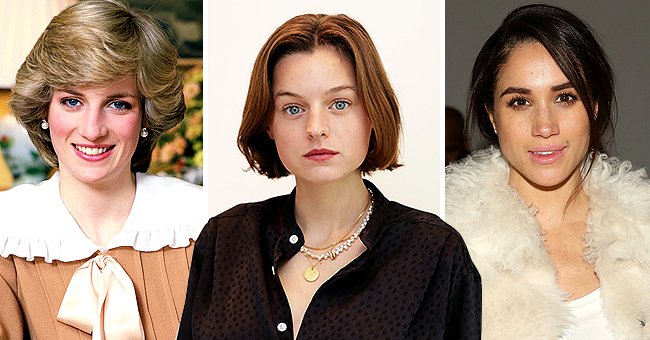 Getty Images
'The Crown's Emma Corrin Sees Parallels between Meghan Markle & Her Character Princess Diana
"The Crown's" star Emma Corrin recently sat in a candid interview where she compared her "Princess Diana" role to the real-life event of Meghan Markle, and for Corrin, the two royals were similar.
British starlet, Emma Corrin, plays the role of the late phenomenal Princess Diana in the Netflix-produced series, "The Crown." Speaking with Town and Country, Corrin likened her character to the real-life happenings around the Duchess of Sussex. About the similarities, she said:
"You just want to shake these tabloids and say, can't you see history repeating itself?"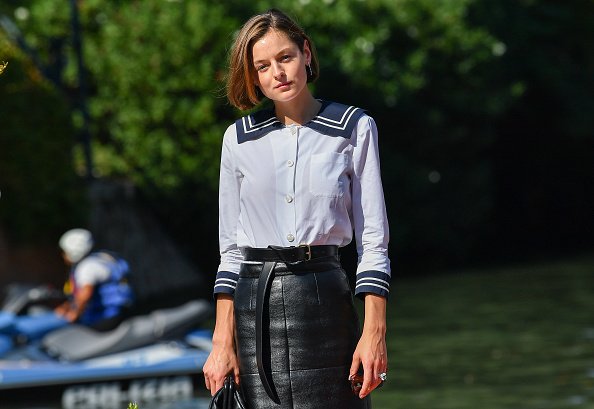 Emma Corrin during the 77th Venice Film Festival on September 07, 2020 in Venice, Italy. | Photo: Getty Images
Although the series maker, Peter Morgan, already established that his plot would not revolve or center on Prince Harry and Meghan Markle's story, bits and pieces of their lives appear in snippets.
Corrin shared that like Markle, the late Princess Diana was not up for the rules, traditions, and upstanding poise attached to being in a royal family. In light of this, the duo's transition into royals was not an easy feat. She added:
"The coldness, the traditions, and the expectations of behavior… I don't think [Diana] expected that…"
Being a rising star, Corrin, 24, felt a lot of pressure regarding her pivotal role as "Princess Diana," but she made sure not to falter under criticisms and people doubting if she would be up to the task.
Through the older seasons, Corrin sported different outfits peculiar to Princess Diana, but the wedding dress struck a chord.
Corrin, who acted in "Pennyworth," once recalled when she just bagged the role. She stated that she had kept the big news from her friends while telling only her mom.
Corrin made sure to block out the fuss around her role and focus on getting to know the late Princess and fit into her role perfectly or almost perfectly. In another interview, the young adult said that she imagined herself a friend of Diana and soon mastered the role.
The latest teaser fans got to see in anticipation of "The Crown's" fourth season left everyone on set speechless. A scene, in particular, was the highlight as Corrin revived the best memories about Princess Diana.
Here, Corrin had stepped out rocking the perfect replica of the late royal's wedding dress. The designer was able to pull it off because they got the "blessings" of the original makers, David, and Elizabeth Emmanuel.
Through the previous seasons, Corrin sported different outfits peculiar to Princess Diana, but the wedding dress struck a chord in the hearts of the film crew who felt Diana's essence was more pronounced in the wedding dress.
Please fill in your e-mail so we can share with you our top stories!