Dolly Parton, 74, Defies Age as She Flaunts Tiny Waist in a Skintight Denim Outfit
The age-defying iconic singer, Dolly Parton, presented her famous hourglass figure in a chic outfit that had her looking radiant and brought out her alluring aura.
Music legend Dolly Parton has earned her rightful position among the stars with a career that has spanned six decades and counting, both with music and how she owns her style as a fashion goddess.
With her petite frame, Parton recently showcased a range of fashion items and phenomenal outfit which she flaunted. In the recent Instagram update, the music icon lived up to expectations.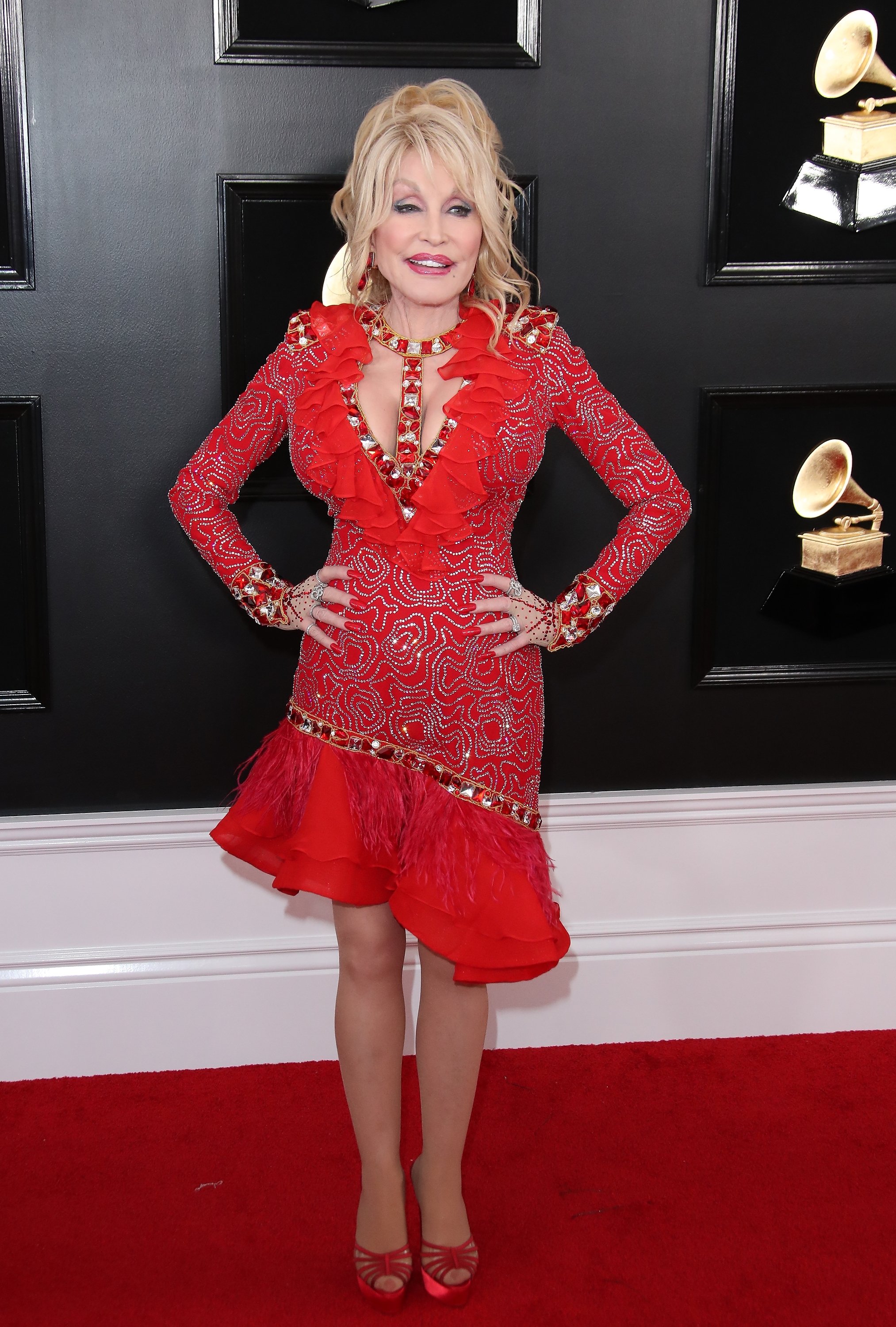 The one-photo post showed Parton, who sang "Jolene," stylishly standing at the far corner of her photoshoot sporting a bright smile. While her face was done up in a spotless makeover, she styled her blonde waves in a wrapped up fashion.
She brandished her famous curves in a form-fitting denim dress while teasing some of her cleavage. Parton accessorized with silver hoops and a chic silver belt for her tiny waist. The star singer addressed fans:
"Just dropping to say hello, and I love you…" 
Parton's fans were very much grateful for her thoughtful greeting as they returned the favor and lined their affectionate messages in the comments. Fashion lovers also showed approval for her lovely glam. The "Coat of Many Colors" crooner ran a pivotal sense of style as far back as 1956.
Colbert soon acknowledged his vulnerable moment and noted that he was going through stress.
Once relishing her memorable fashion moments, Parton, who played Truvy in "Steel Magnolias," noted that she rocked a playsuit made by a local dressmaker, but the outfit had been so comfortable that she could not shake off the memory.
The ensemble in question appears on the cover art of "Jolene." Another of her mind-blowing looks was in 1984 when she was Sylvester Stallone's plus one to the premiere of "Rhinestone." 
Parton, 74, had turned heads in a white dress that accentuated her ample cleavage. The multi-hyphenate joked that she wanted to match Stallone's handsomeness.
Parton, who rocked the world of fashion over 40 years ago, shared in a new chat that she was considering revisiting her Playboy days. In 1978, she made a classic appearance in a now-popular bunny suit on Playboy's cover. The veteran star is considering celebrating her birthday with a reprisal.
In present times, the 74-year-old has been keeping things under wraps and staying indoors due to the novel Coronavirus. Her recent virtual interview on "The Late Show" had her giving life updates about her current situation.
However, it took a different turn when she started singing her song, "Bury Me Beneath the Willow." While Parton carried off the tune in her ever soft sounds, TV host Stephen Colbert could not hold back his tears.
It is safe to say that Parton's sounds bring out one's emotions, especially for a song that speaks about unrequited love. Colbert soon acknowledged his vulnerable moment and noted that he was going through stress.