Cookie Johnson Poses With Husband Magic Johnson & Son Andre Near Dodgers Jet in a Sweet Photo
Basketball legend Magic Johnson and his family steal the show with a sweet family photo shared by his wife, Cookie, as they celebrate the recent win of the Dodgers.
The Dodgers had special guests cheering them on from the stands and two of them were basketball legend Magic Johnson and his wife, Cookie Johnson. After returning to Los Angeles from Texas, Cookie shared sweet family photos with her hubby and son, Andre. Cookie captioned the sweet image:
"The celebration continues just landed in LA! CONGRATULATIONS @dodgers ??#GoDogers ?? #Grateful #WorldSeries?."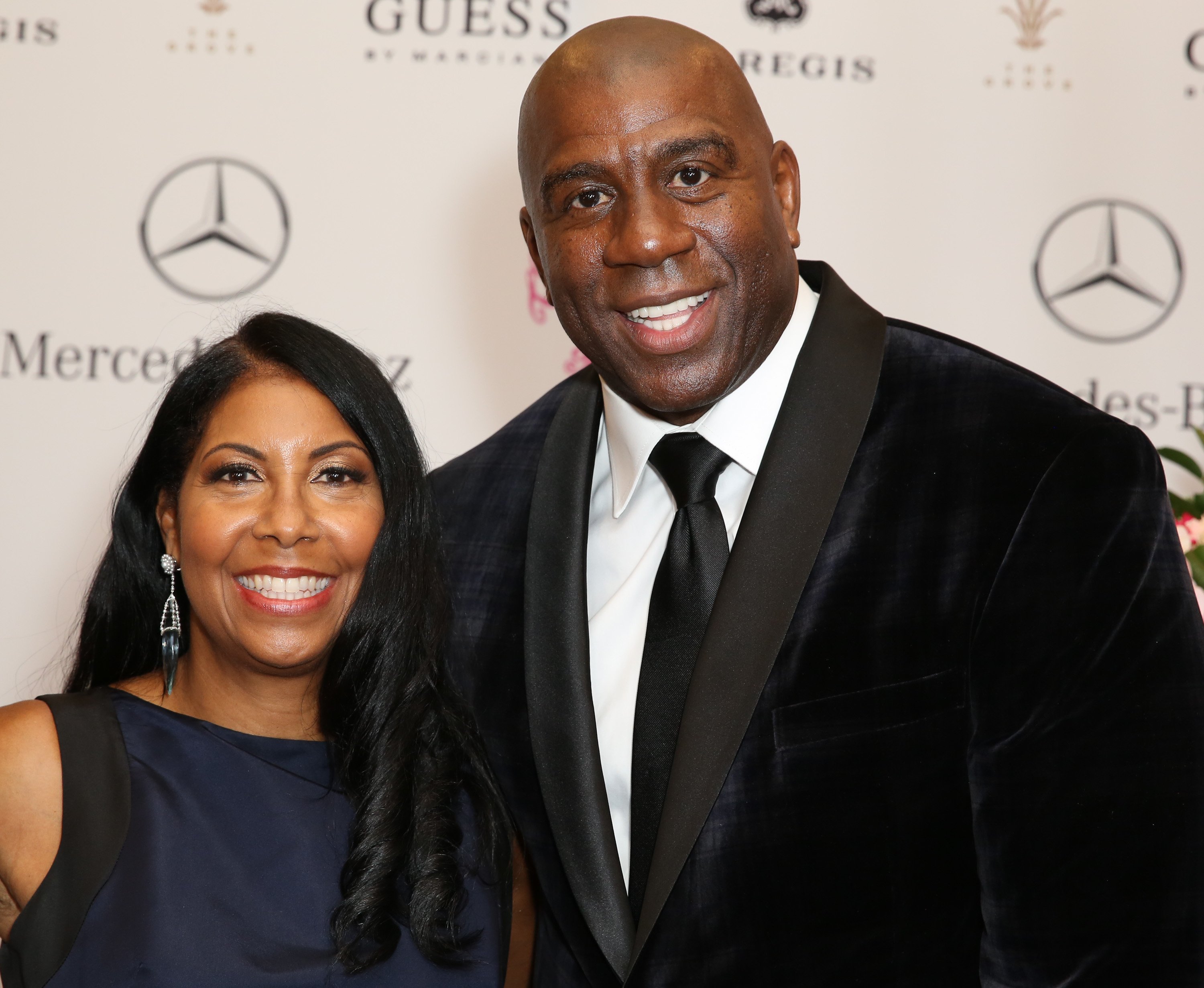 The first of Cookie's photos featured her wearing a super cute white and blue Dodgers sweater with a pair of blue jeans and pristine white sneakers. The chic beauty was not the only one dressed in the Dodgers' colors as her hubby also looked dapper in a blue and white sweater.
The family stopped in front of a vast white Dodgers Jet for the cute snap, and for the second photo, things turned out more festive as celebratory Dodgers balloons and triangle banners surrounded them.
Fans of the famous family were delighted to see them so happy following the win of their team. Cookie's followers trooped to the comments to dote on the cute snaps while many of them fell right in love with her cute sweater. Her always-chic style stole the show yet again.
Cookie's cute family photo op came days after her famous husband revealed on October 21 that they were delighted to join the audience at the World Series to cheer on the Dodgers.
Magic and Cookie's support and investment in the Dodgers' success goes way beyond their love for the sport and the team.
After the announcement, the former athlete's wife made sure to keep fans updated with photos of their time cheering on their beloved team. After the Dodgers won, more family photos of the Johnsons celebrating in the stands were shared on Instagram. Cookie captioned:
"Ohhhhh so sweet ????!!!! Congratulations @dodgers #WorldSeries Champions ?."
The family succeeded in melting the hearts of Cookie's more than three hundred thousand followers as they jubilated in the Dodgers merch.
Magic and Cookie Johnson's support and investment in the Dodgers' success goes way beyond their love for the sport and the team. The Dodgers' win at the World Series was their first since 1988 and eight years after Johnson purchased the team.
The L.A Lakers legend has been married to his darling wife, Cookie, since 1991. The power couple celebrated their 28th anniversary in grand style in September 2019, having been through every era of their lives together while raising their beautiful family.