Watch Chris Hemsworth's Son Hilariously Interrupt Him during His Underwater Affirmation Video
A new promotional video of Chris Hemsworth's fitness app, "Centr" shows the actor's son interrupting him while he tries to meditate underwater and it is as hilarious as it can get. 
Actor Chris Hemsworth, famous for his role as Thor in the Marvel Cinematic Universe, recently released a new video showing off his impressive physique and using his baritone voice to good effect. 
The video is part of a promotion for Hemsworth's fitness app, "Centr." It began by showing Hemsworth who was in googles seated at the bottom of the pool, with his legs crossed and hands clasped together in meditation.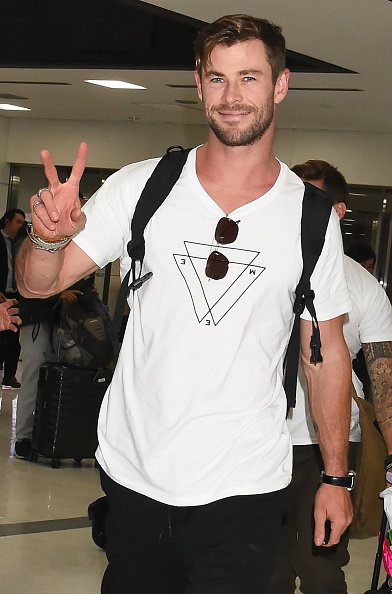 His voice, which was heard in the background, read out the video's title, "Affirmations That Positively, Absolutely, Probably (Most Likely) Won't Make Your 2020 Worse." 
Hemsworth continues, asking if it was just him or if everyone else noticed how it was getting more difficult to find a place to get away from all the troubles in the world and just be by one's self. He added: 
"Well, let's find that place together. Close your eyes. Don't breathe in because you're underwater. Imagine you're someplace far, far away from wherever you've been stuck lately." 
While Hemsworth continues talking, one of his twin sons, either Sasha or Tristan, crashes his meditation, floating in the water and distracting his father. 
Hemsworth waves his son away and continues talking, saying there should be no distractions, something to break one's calm, and no one demanding to break one's attention in one's safe place. 
They tied the knot in secrecy during a romantic getaway and are yet to share their wedding pictures with the public.
Hemsworth's son continues to swim, aiming to disturb his father, but the actor pushes him away lightly so that he could let him be. Hemsworth then advised his viewers to simply push their worries away until they are left alone with their thoughts. 
The actor's explanation to the funny video teaches viewers how to deal with anyone that tries to disturb their tranquility, but seeing that his son was hell-bent on interrupting him, he said: 
"It's just you and me. God, and this kid. Okay, maybe let's try this another time." 
HEMSWORTH AND ELSA PATAKY
Hemsworth is married to Elsa Pataky. The beautiful Pataky is an actress, model, and film producer. She was born in Spain and studied journalism at the University CEU in San Pablo before beginning her acting career. 
The couple was introduced by mutual friends in early 2010 and got along so well, leading to a whirlwind romance. In December of that same year, they tied the knot in secrecy during a romantic getaway and are yet to share their wedding pictures with the public. 
The couple shares three children; their daughter, India Rose, and their twin sons. They live with their children in a $20 million mansion in Australia. 
They usually share images and videos of some of their beautiful moments, including their impressive workout routines, showing the close bond they share.