Glimpse into BFF's Sarah Michelle Gellar & Shannen Doherty's Friendship of Nearly 3 Decades
Sarah Michelle Gellar and Shannen Doherty are the embodiment of a long-lasting and sweet friendship. No matter where their career has taken them, their special bond has remained intact.
For nearly three decades, Sarah Michelle Gellar, 43, and Shannen Doherty, 49, have been best friends. In an interview with ET, both seemed to agree that their bond has been through the high and lows of life.
Doherty and Gellar have been friends ever since they starred in separate 90s series - Doherty on the series "Charmed" ands Gellar on "Buffy the Vampire Slayer." Both were iconic in their respective shows.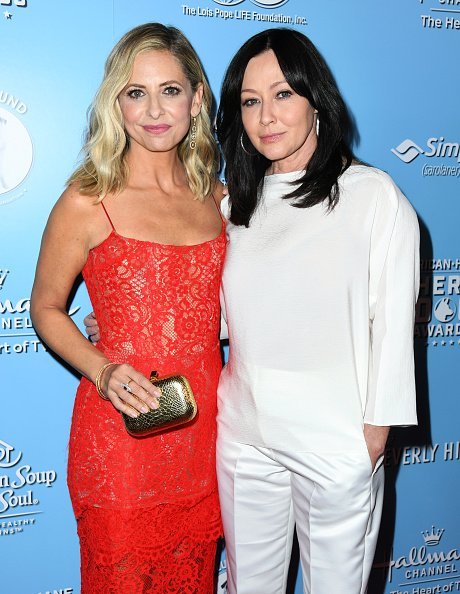 KEEPING UP WITH THEIR FRIENDSHIP
Doherty shared that it was nice to have a female friend who supports and uplifts her. She does not feel any threat nor jealousy with Gellar.
Gellar shared that she hasn't had the easiest time working with many women, and she's grateful to find a friend in Doherty, whom she considers one of her strongest motivators in life.
The actress said Doherty has never stopped believing in her, even if the latter does not believe in herself anymore. Doherty was also the one who would remind her to fight for things she deserved.
LUCKY TO HAVE DOHERTY
Gellar also pointed out that women are often pitted against each other in the show business. But she said she is lucky that the "Beverly Hills, 90210" star is in her life.  
Now mothers to their wonderful children, Doherty shared that bonding with Gellar's children has been amazing. The actress has established a strong bond with Gellar's children. Doherty added:
"They are now like my children. I love them madly. It's even better than having my own children."
CONSTANT COMMUNICATION AND SUPPORT
Meanwhile, Gellar opened up about the lessons she learned from Doherty amid the coronavirus pandemic. Amid the health crisis and the trying times, Gellar would still talk to Doherty every day.
She recalled that Doherty taught her many recipes during the quarantine. Her husband, Freddie Prinze, who happens to be a chef, would joke that she learns more from Doherty than him. 
Throughout Doherty's battle with breast cancer, Gellar has never left her side.
Aside from learning recipes from Doherty, Gellar also learned from the latter how to be courageous amid life's challenges. Doherty earlier opened up about her breast cancer diagnosis.
Throughout Doherty's battle with breast cancer, Gellar has never left her side. Life may be tough, but Gellar said that her best friend is tougher than her condition.
Cancer may have changed their perspectives about life, but one thing is for sure: Gellar and Doherty will always have each other until the end. 
With Doherty's battle with breast cancer, the actress has been focused on taking good care of herself. She did not let her condition hinder her from having a good time with Gellar.
Both recently took turns in sharing pictures of their wonderful time while in the pool with an "inflatabull." Both appeared shocked after they rode the "inflatabull," and many fans gushed over their dynamic friendship.