Tiffany Haddish Shows Her Slim Waist & Bald Head Posing in a Black Bikini While Holding a Whip
Actress Tiffany Haddish shows the results of her "hard work" as she flaunts her trim and fit physique in a racy leather two-piece with a photo shared on her Instagram.
In a recent post on her Instagram, Tiffany Haddish took the chance to flaunt her trim and fit physique in a very racy snap of her clad in a two-piece. In addition to the post, she wrote:
"Happy Halloween. Hanging out in Yellow Springs and Dayton OH this past Summer inspired me at #ChappelleCamp."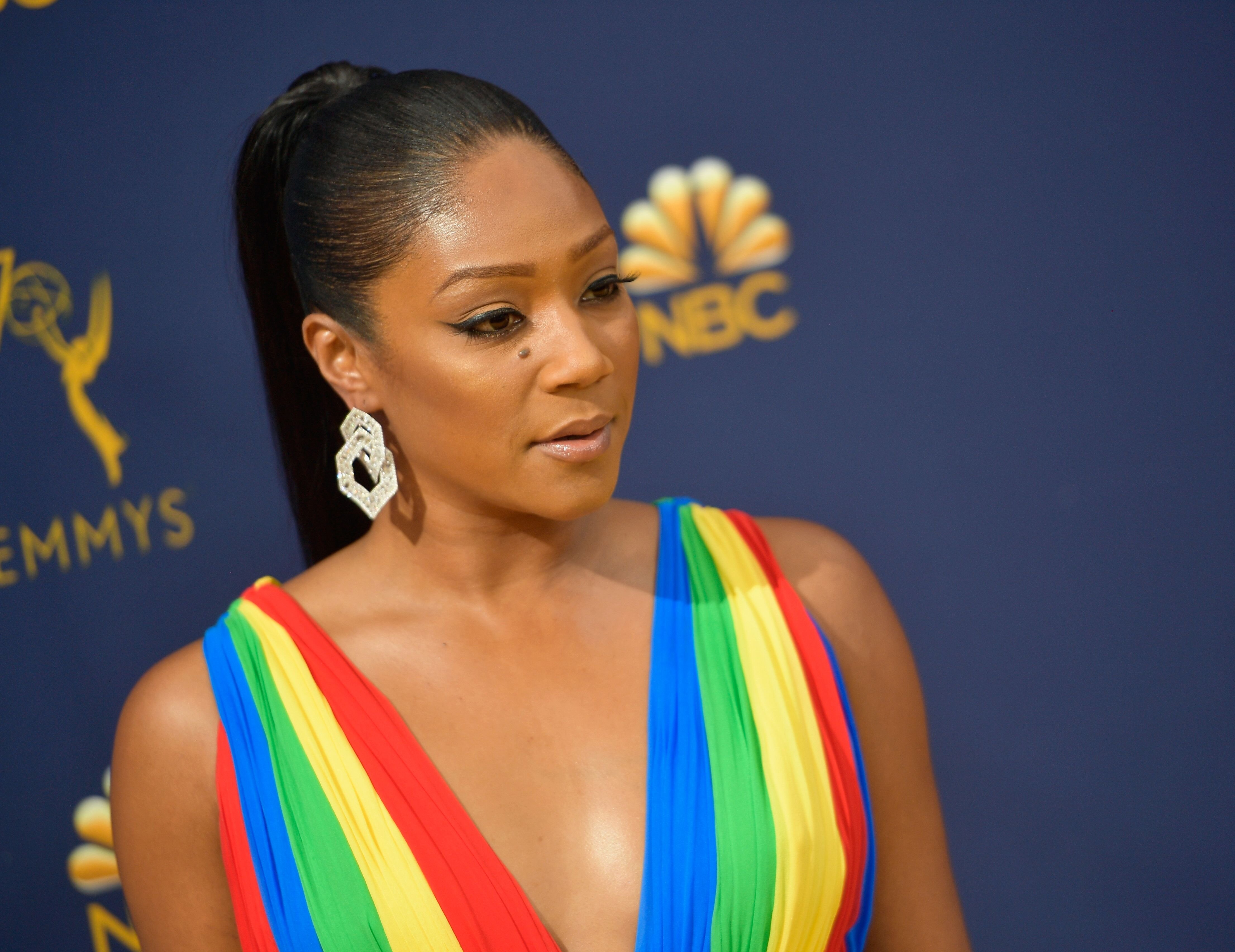 Haddish continued her caption, with the revelation that she loved the music of the Ohio Players and also very much wanted to be Wonder Woman comics' Nubia. Towards the end of her caption, the actress admitted that she took the chance to show off her fit body that was attained through hard work.
Clad in her black leather two-piece, Haddish not only got to show off her toned midriff but also her great legs. The actress held up a whip in one hand as she gave the camera a straight face while striking a pose.
With her bald head, Haddish looked simply stunning, and her fans, followers, and fellow celebrities thought so too as they lit up the comments showering her with praise.
In January 2019, Haddish had to deal with a social media exchange with a nosy Instagram user who questioned her weight inappropriately.
As Haddish said in her Instagram post, her fabulous physique results from her hard work and dedication over a long time. While the days of coveting the ideal summer body may be long gone, for Haddish, the race continues in full effect.
In August, the actress revealed that she was working hard to get her superhero body to her over 6 million followers on Instagram:
"On the road to getting my Girls Trip Body back only 5lbs to go. Then I will be working on my super hero body!"
Dressed in what seemed to be a pink swimsuit and a small brown straw hat sitting on her head, with her straight face and slight pout, fans could tell that she meant serious business.
In January 2019, Haddish had to deal with a social media exchange with a nosy Instagram user who inappropriately questioned her weight. The exchange came after she shared a video of herself in an outfit for an event.
One Instagram user asked if she was pregnant. The actress revealed that she was not pregnant and had only gained weight. Later in the year, she shared that she was making fitness adjustments ahead of her 40th birthday, including quitting smoking.
Haddish and rapper Common recently started dating, and according to her, she has lost about 20 pounds since the onset of their relationship. The actress said that she is much happier and judging from her happy demeanor on social media, fans can see it too!