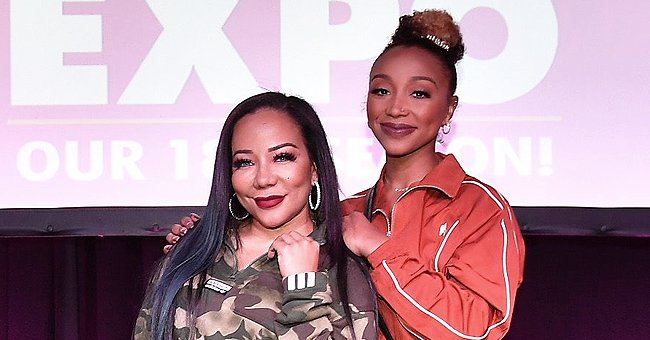 Getty Images
See Tiny Harris' Pregnant Daughter Zonnique's Photos from Her Baby Shower

Tiny Harris and her pregnant 24-year-old daughter, Zonnique Pullins, recently threw the most epic enchanted forest-themed baby shower as they await the arrival of Pullins' baby.
Congratulations are in order once again for Tiny Harris and her daughter, Zonnique Pullins, who will be a mom very soon. The soon-to-be mom and grandma threw a fabulous baby shower fit for a true princess. Harris wrote on her Instagram story:
"I love this couple..& can't wait for my GBaby…. Congratulations@bandhunta_izzy & @zonniquejailee."
The doting grandma-to-be shared cute pictures of the expecting dad and mom, Bandhunta Izzy and Pullins, as they walked hand-in-hand while glammed up for their unborn child's baby shower.
The pregnant 24-year-old decided to go for the perfect "enchanted forest" theme for the baby shower. She opted for an incredible event decked out with wonderful greens and pinks all over the grand ballroom in which it was held.
Pullins showed up to the magical party in a stunning nude-colored dress with a huge tulle design. It hugged her figure and showed off her baby bump.
Pullins shocked everyone when she first admitted that she had some unsure thoughts about having her baby.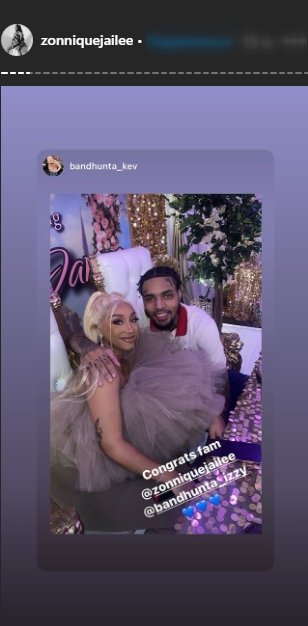 The beautiful couple, Zonnique Pullins and Badhunta Izzy at their baby shower on social media | Photo : Instagram/zonniquejailee
Pullins also took to her Instagram with photos and videos. She matched her beautiful nude dress with a pair of shiny heels and glittering silver jewelry. The glowing beauty pulled back her long platinum locks into a ponytail while her makeup was done in a soft glam.
Bandhunta Izzy, who showed up in a casual Gucci T-shirt and jeans, also shared glimpses of the baby shower on his Instagram.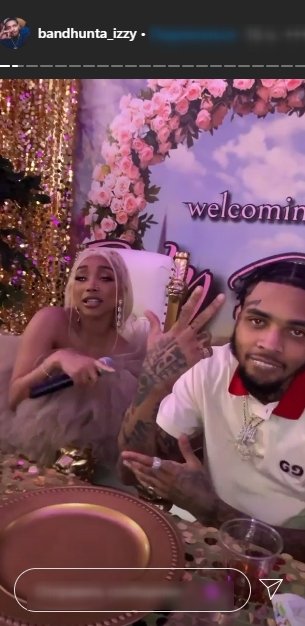 Zonnique Pullins and her partner at her baby shower. | Photo: Instagram/badhunta_izzy
Pullins' style throughout her pregnancy had been nothing short of chic, sophisticated, and admirable, even when she is spotted just lounging.
Pullins shocked everyone when she first admitted that she had some unsure thoughts about having her baby in the beginning. She said she was not sure about keeping her baby when they found out that she was pregnant.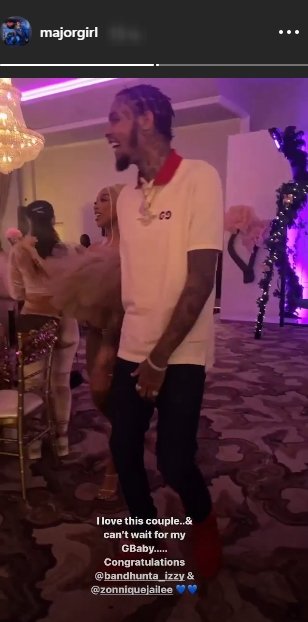 Tiny Harris posts a picture from her daughter, Zonnique Pullins' baby shower on Instagram | Photo: Instagram/majorgirl
Pullins, who is also a singer, first revealed that she and her boyfriend were expecting their child in August. According to her, the pregnancy had been really easy, and the only problem was being pregnant amid the pandemic and attending doctor's appointments alone.
Months after her initial panic and after deciding that she was ready to move into this phase of her life, the expecting mom is happy with her life and where it's headed. She would not have it any other way.
Please fill in your e-mail so we can share with you our top stories!