Dwyane Wade's Son Steals Hearts with Photo of Sister Kaavia Posing for Birthday FaceTime
Zaire, the eldest son of the famous basketball player Dwyane Wade, posted a sweet "Birthday FaceTime" photo of his stepsister Kaavia James on his Instagram story to commemorate her second birthday. 
In the spirit of love and celebrations, Zaire Wade showed his fans how much he loved his little sister Kaavia with a wholesome FaceTime screenshot of her on his Instagram story. 
In the cute close-up shot, the adorable toddler was clearly having a swell time as she was seen eating what looked like a creamy cake. Residue from the icing was smeared all over her cheeks and finger, making her a whole lot cuter. 
She was clad in a white and blue polka dot dress with puffy sleeves and had a blue matching band around her head to hold back her short beautiful curly locks. 
Behind her was an animal print birthday balloon, and with her huge eyes staring into the camera, she was quite an adorable sight to behold. Just above the photo, Zaire wrote:
"Birthday FaceTime ❤️??"
The sweet tot's birthday was on Saturday. To mark the special day, her parents, actress Gabrielle Union and Dwyane Wade took to their respective Instagram pages to post a heartwarming video slideshow and a photo montage, respectively. 
Union's lovely post consisted of up to twenty pictures of baby Kaavia, documenting her life starting from birth till she turned two. 
She revealed that she was the more overbearing parent while her husband had a more lenient approach.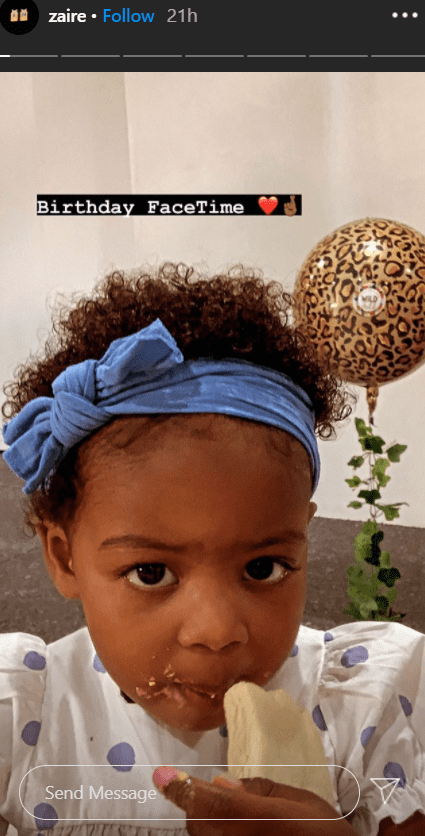 On the other hand, Wade's post showed several beautiful moments he spent with his little princess. He followed with a touching tribute of how November 7 would always be a memorable day in the family and went on to thank her for all the joy and laughter. 
A few days earlier, Union posted an adorable video of one of the many happy times they shared as a family. The wholesome clip showed her, her husband, and Kaavia dancing to Beyoncé's hit, "Single Ladies." 
With the little girl clocking another year, it is hard to forget the heartfelt post her proud mother put up on her Instagram feed last year, where she opened up about her motherhood fears in a tribute for the toddler's first birthday. 
The actress has also been known to be rather candid about her experiences as a mother to baby Kaavia and her stepchildren from Wade's previous relationships. She revealed that she was the more overbearing parent while her husband had a more lenient approach.
However, Union had proven to be full of support since earlier this year when Zaya, her 12-year-old stepdaughter, decided to come out as a transgender person. Clearly, nothing is ever going to come between the bond she has with the beautiful children.