Christian McCaffrey's Father Is a Football Coach — What to Know about the NFL Player's Parents
NFL star Christian McCaffrey comes from a long line of athletes, and he is currently taking the American football world by storm. Here is all you need to know about his sports background and family.
In most cases, children of sports legends find it very difficult to replicate the form that marked their parents for eternal fame. In fact, the weight of expectations passed on to these kids can be more than they can carry. 
Such statistics do not seem to scare NFL running back Christian McCaffrey. The Carolina Panthers star has stepped out of his father Ed McCaffrey's shadow, and he is currently making waves in the league.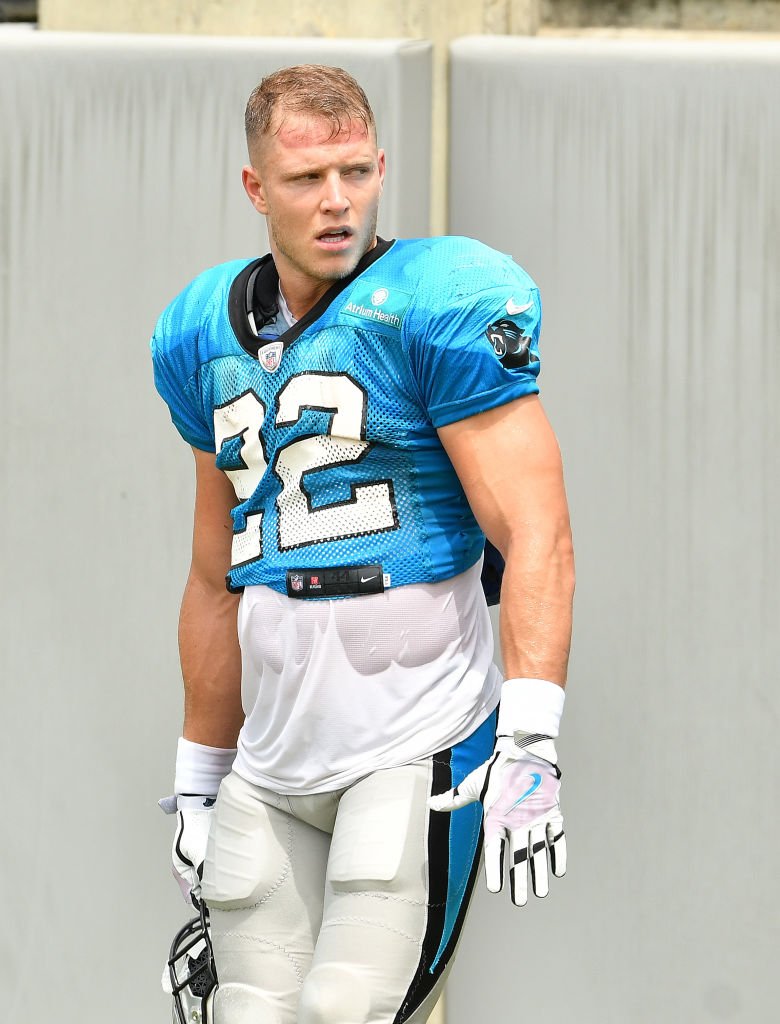 Although Christian has only played three years of professional football, he has been tipped to have a bigger career than his Dad. But make no mistake, Ed had a very successful career in the NFL.
CHRISTIAN MCCAFFREY'S ATHLETIC FAMILY
It is no longer news that Christian McCaffrey comes from a long line of athletes. His paternal grandfather was not much of an athlete, but he did play one year of basketball at St. Joseph's College in Philadelphia.
Christian's maternal grandfather was a fleet-footed athlete who set world records in six sprint events between 1956 and 1966. He also won a silver medal in the 100m dash at the 1960 Olympics in Rome. 
On April 16, 2020, Christian became the highest-paid running back in the history of the NFL after signing a four-year, $64 million contract extension with the Panthers.
The 24-year-old footballer may have inherited his quickness from his mother's side, but much of his football prowess was passed down from his father.
MEET ED MCCAFFREY
Ed McCaffrey was an accomplished All-Pro wide receiver, and he enjoyed a successful career in the NFL spanning 13 seasons. He was drafted by the New York Giants in the third round of the 1991 NFL draft.
After playing for four seasons between New York and San Francisco, he secured a transfer to the Denver Broncos in 1995. It was with the Broncos that he had the most success — winning two Super Bowls. He won another Super Bowl while playing for the San Francisco 49ers.
After retiring from football, Ed still spent most of his time engaged in sporting activities. In 2018, he was named as the head football coach at Valor Christian High School. 
However, he did not remain in that position for long, and on December 12, 2019, the University of Northern Colorado appointed McCaffrey as the head football coach.
Apart from his career, Ed is also a devoted family man. Despite being away for much of his career, the retired NFL player still found time for his family. And when he could not be there, his wife Lisa McCaffrey always covered up for him.
INSIDE THE MCCAFFREY FAMILY
Christian McCaffrey's parents met while they were studying at Stanford University. At the time, Ed was already making waves as a college football player while Lisa was a soccer star on the women's team.
When asked about how they met, the couple gave two different accounts. Still, they tied the knot in April 1992 and have four sons, who are all athletes.
The couple's oldest son Max, 26, is a wide receiver for the 49ers. Their youngest sons Dylan and Luke both play quarterback — Dylan plays for the Michigan Wolverines, while Luke is playing his college football at Nebraska.
Christian is the couple's second son, and so far, he is the most successful. However, he attributes much of his success to his parents. In his words:
"I'm very fortunate. I have great parents, and they played a huge role in my life I would say. Especially my Dad when it comes to the football side of things on how to be a pro."
When it comes to the football aspect, Ed takes the lead with his children. Still, that does not lessen Lisa's role in her sons' football careers. She is deservedly nicknamed the "No. 1 football mom in America" because of her fierce support for her children.
CHRISTIAN MCCAFFREY'S CAREER
Christian developed a passion for football at a young age, just like his siblings. He first gained media attention while playing for the men's football team at Stanford University. 
During his time at Stanford, he enjoyed a breakout sophomore season in 2015 and was voted the AP College Football Player of the Year. After three years of college football, Christian made the big move to the NFL.
On April 27, 2017, he was drafted by the Carolina Panthers in the eighth overall in the 2017 NFL draft. That same night, Christian McCaffrey's brother Dylan McCaffrey received a High School "Athlete of the Year" award during a banquet ceremony in Denver.
Despite playing only three seasons so far, Christian already owns several NFL and Panthers franchise records. Apart from beating his father's career-best reception total of 101 by six, Christian is also one of the few players to record 1,000 rushing and 1,000 receiving yards in one season (2019.)
The 2019 season saw Christian emerge as one of the biggest stars in the NFL, earning a First-Team All-Pro selection and racking up astronomical statistics.
On April 16, 2020, Christian became the highest-paid running back in the NFL's history after signing a four-year, $64 million contract extension with the Panthers.
However, fans who were eager to catch a glimpse of their favorite football player in the new season were made to wait for a little due to the novel coronavirus pandemic. Still, Christian used the opportunity to enjoy football workouts with the rest of his football-playing family.
When Christian is not spending time with his family or setting new records, he sets social media on fire with his beautiful girlfriend, model, Olivia Culpo, 28.
Christian McCaffrey's girlfriend is a former Miss USA, and she recently launched her own eyewear collection with Privé Revaux. The lovebirds have been dating for a year, and Culpo has been very supportive of her man's career.
The new season holds a lot of promise for the talented footballer, and with the support of his loved ones, there is no doubt that Christian can again blitz the record books.