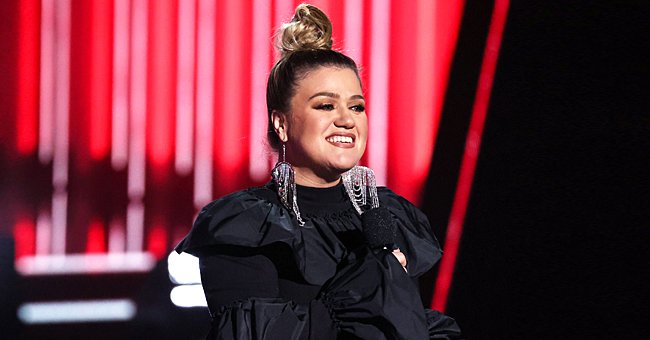 Getty Images
Here's Why Kelly Clarkson Sported an Eye Patch during Monday Night's Episode of 'The Voice'

Kelly Clarkson has made a name for many things. She has a fantastic voice, and her cheerful personality always shines. However, she grabbed headlines recently for a different reason: an interesting fashion choice.
Earlier this week, singer Kelly Clarkson shared a promotional video for the reality show, "The Voice," on Twitter. In it, the singer was seen sporting an eye patch with her outfit.
Even with the eye patch, Clarkson looked gorgeous. The singer paired the black accessory nicely with her all-black outfit, looking more like an actual pirate.
Kelly Clarkson at KISS 108's Jingle Ball 2017 presented by Capital One at TD Garden on December 10, 2017 | Photo: Getty Images
And what a cute pirate she would have made. Even with her eye patch, Clarkson had a pretty good sense of humor and was even able to make fun of herself.
As for why she was wearing the eye patch, Clarkson explained that she suffered a bit of an accident and was merely using it as a precaution. She said in the video:
"Something got in my eye, and it got a little infected. So I have to wear an eye patch."
Many in the comment section were quick to send their condolences to the singer. However, from the looks of it, the accident was not so serious. Clarkson even had a bit of fun with the whole thing. In the clip, she mocked herself for putting a straw up her nose due to a lack of depth perception.
She joined many in poking fun at it.
According to reports, this is not the first time that Clarkson would sport the eye patch. She had donned it in September, and she even opened up about the accident.
Speaking to news sources, Clarkson explained that she had been close to a window at work. However, the buildings nearby were really dusty. Clarkson is highly allergic to dust, and some of it got into her eye.
After some dust cut her eye a bit, it got infected and became puffy. So, she got the eye patch as a protective measure. Clarkson's eye patch was definitely the winner of the episode. She joined many in poking fun at it, even saying at a point that she looked like an assassin.
Along with her stint on "The Voice," Clarkson is also letting her unique singing talent out in other projects. The singer is currently running "Kellyoke," a karaoke segment on her show, "The Kelly Clarkson Show."
Earlier this week, she provided a beautiful rendition of "Dream On," a 1973 power ballad from rock band Aerosmith. Clarkson was definitely in her element.While the performance was not the same as the original, the singer managed to show everyone why she won "American Idol" in the first place.
Please fill in your e-mail so we can share with you our top stories!