Cardi B Stuns Fans Posing in an Extravagant Long Black Dress with a Matching Hat
Female rapper Cardi B stole the heart of more than one fan as she stunned in a long black dress in new pictures she shared on her Instagram page on Tuesday. 
Famous female rapper Cardi B is known to leave her fans amazed by her social media posts. Whether she is unveiling her newest bag or dazzling in a new dress, she leaves them with their mouths open every time. 
The 28-year-old rapper did more than that with her recent Instagram post. This time, they were left stunned, speechless, and drooling, as she stole their hearts with her amazing look in the three pictures she shared.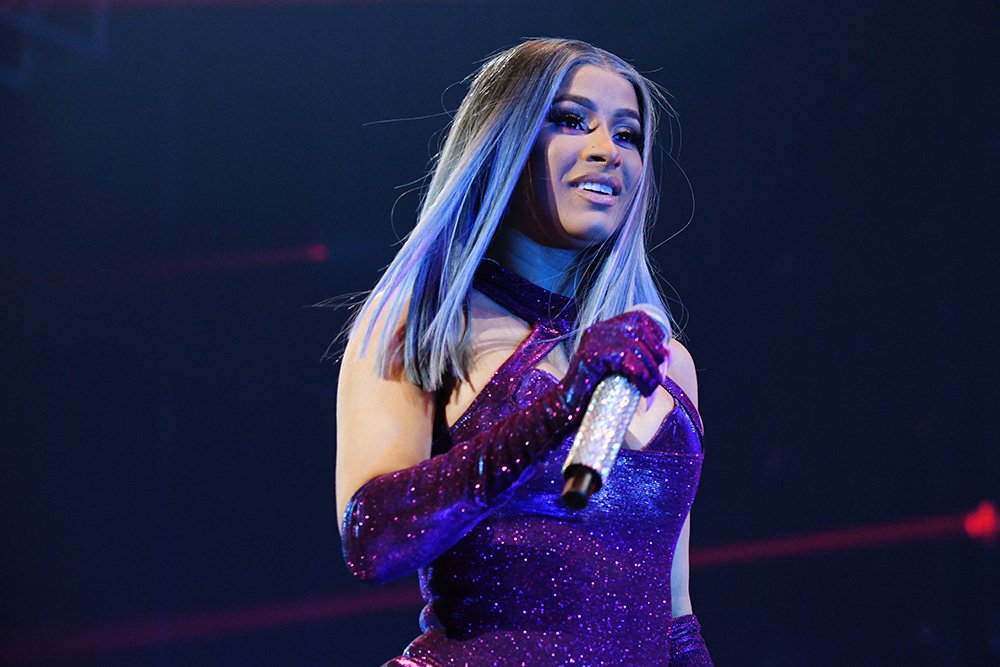 The "Money" rapper stunned as she posed in a long black dress that featured a long hair-like tail that extended and dragged on the floor, ending in multiple tendrils. Her long, fixed nails were polished in red. 
Placed on top of the long extended tail of Cardi B's dress was one pair of white Reebok sneakers. The rapper matched her extravagant outfit, which also featured a very curved waistline, with a black hat, which she wore over her long black hair. She captioned the post: 
"So excited for my sneaker drop this Friday November 13th! Hope you guys love it." 
While Cardi B has two days to wait and see if her fans will love her collection, they all certainly loved her stunning look and took turns to compliment her in the comments section.
Actress Elise Neal described Cardi B's look as incredible, while another person noted the rapper was always killing it with her looks. Another impressed fan described the look as "fire." 
A section of people called out the rapper for going against the laws in the country with her decision to wear the Richard Quinn-designed outfit.

Cardi B's incredible look and her collaboration with Reebok is yet another example of how she continues to make fashion moves with every given opportunity. 
The rapper's strategy showed forth when she partnered with Fashion Nova for her first clothing collection in 2018. Two weeks before the launch of her maiden collection, she told Business of Fashion what she hoped to achieve with the group, saying:  
"I want to make these women look so happy—so radiant, sexy, so complete and popping. I want them to look like they are wearing Gucci and Prada."

Besides trying to make women happy, Cardi B also uses her fashion to make bold statements, as shown by her outfit for a visit to France's Eiffel Tower. She wore a body-covering outfit to the European country, which bans women from doing so. 
A section of people called out the rapper for going against the laws in the country with her decision to wear the Richard Quinn-designed outfit to the Paris Fashion Week, saying it showed double standards. However, it remained unclear if Cardi B was making a fashion statement with the dress. 

The attire, as well as Cardi B's dress in her recent Instagram post, adds to a long list of daring outfits Cardi B has worn over the years, as she continues to show that she is truly a fashion icon. 
Cardi B is married to rapper Offset. The couple's union seemed to be heading for divorce two months ago, but they have been able to work things out, with the "Bodak Yellow" crooner finding it hard to hard to stay away from her "best friend."
The couple shares a 2-year-old daughter, Kulture. Since her daughter's birth in 2018, Cardi B has never shied away from sharing her motherhood journey with her fans, as she has always been real about it. 
It is just the way things are with the beloved rapper. She may have her critics, but Cardi B's loyal fans know that everything is real with her. They will be waiting patiently for Friday to see what her newest fashion project brings.