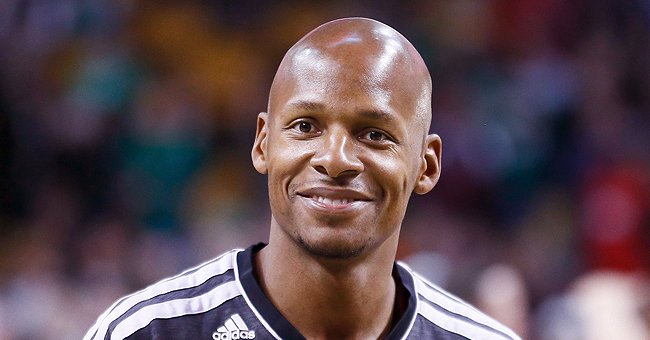 Getty Images
Ray Allen Shared a Touching Family Photo on Veterans Day Posing with His 4 Sons & Dad
Ray Allen celebrated Veterans day with a heartwarming social media tribute dedicated to his veteran father, who instilled within him values such as responsibility and commitment.
Ray Allen honored his father on Veterans Day with a heartfelt tribute accompanied by a series of pictures that included throwback photos and a family photo.
Allen shared the post with his 2.3 million followers on Instagram. The montage's first photo was a throwback of his father and his colleagues posing in front of a black aircraft.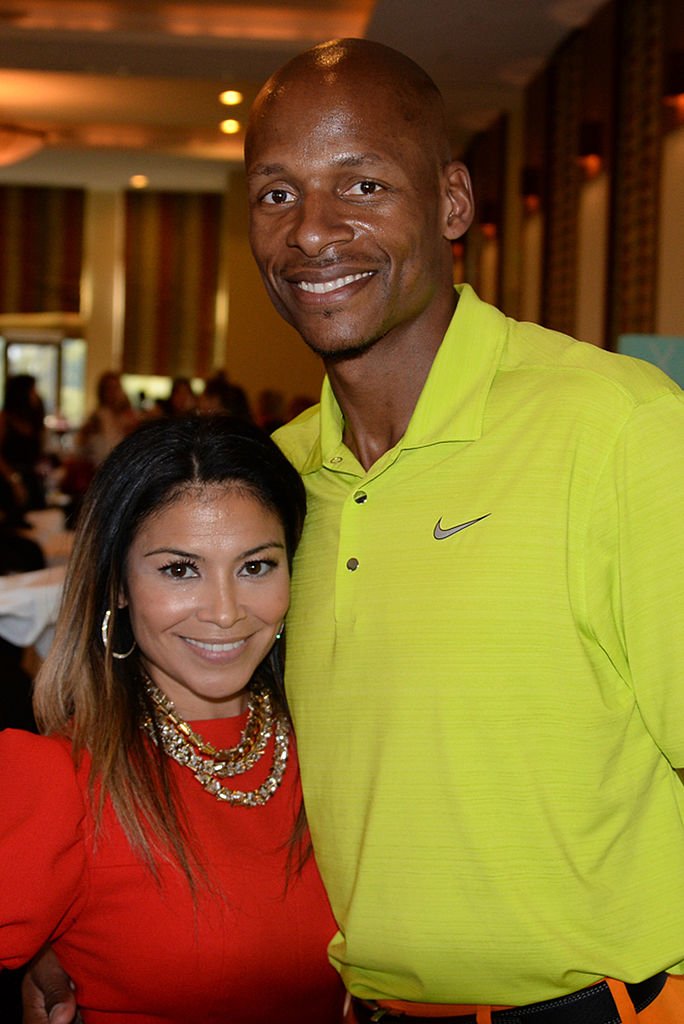 Ray Allen and his wife, Shannon Walker Williams during a charity golf tournament on January 27, 2014. | Photo: Getty Images
Allen's father and his friends all wore similar outfits; a white top and a pair of green pants with a yellow stripe running down the sides. Two different kinds of trophies sat before them, and a basketball could be seen lying around.
The photo that followed was also an old picture. It was a black and white shot and showed Allen's father smiling in uniform. Because the photo was in monochrome, it is hard to tell what color the uniform really is, but the name tag "Allen" was clearly visible.
The last image was a more recent one. It featured Allen himself posing with his father and his four kids, all of whom are boys.
One of the boys made his shots effortlessly while one was floundering.
In his caption, the famous NBA star credited all his achievements to his father, Msgt Walter Ray Allen Sr. He stated that growing up around him helped "instill responsibility and commitment" into him.
Allen also admitted that only a "special" person could risk life and limb for a country and its occupants. He concluded the write up by wishing all veterans a wonderful day.
In the comments section, fans had different things to say about the post. Some thanked Allen's father for his service, while others only spoke about the similarities between father and son.
One joked about how Allen's dad ended up with all the hair while Allen remained bald, and another alleged that they could mistake both men for twins.
A military man raised Allen, and now that he has kids of his own, he raises them with the tough love principle. His boys are basketball players, and he's been tutoring them with high hopes that they will surpass him.
In September 2019, a video clip that captured a training session he was having with his two older sons surfaced on Instagram. In the video, Allen sat in his personal outdoor court, passing comments on the free throw attempts his sons were making.
As the legendary basketball figure spoke, he had the boys make 70% of their free throws after a drill to teach them how to clutch when they're spent, and the game is on the line.
One of the boys made his shots effortlessly while one was floundering, but it was apparent they were both tired. If the training's lesson was learning how to handle hard work, the kids must have certainly learned something.
Maybe one day they'll be able to beat their father's 89.4 percent career free-throw shooting, which is reportedly the sixth-best in NBA history.
Please fill in your e-mail so we can share with you our top stories!