Best of Builders: Teyana Taylor's Slingshot Designed by Alex Vega Is the Bomb — Watch Out West Coast!
"The Auto Firm" founder Alex Vega has worked his magic on Teyana Taylor's sweet new ride for "Slingshot's Best of the Builders," and it looks like Los Angeles' DUB and Travis Barker have some serious competition. Check it out!
When it comes to vehicle customization, The Auto Firm is the king on the east coast. Owned by the legendary builder Alex Vega, some of the hottest celebrity rides are created in the house. 
With limitless customization opportunities, Polaris Slingshot proves to be the kind of blank canvas that Vega loves to work with. This time, he has worked his magic on the vehicle to create something that will leave eyes wide open and jaws dropping.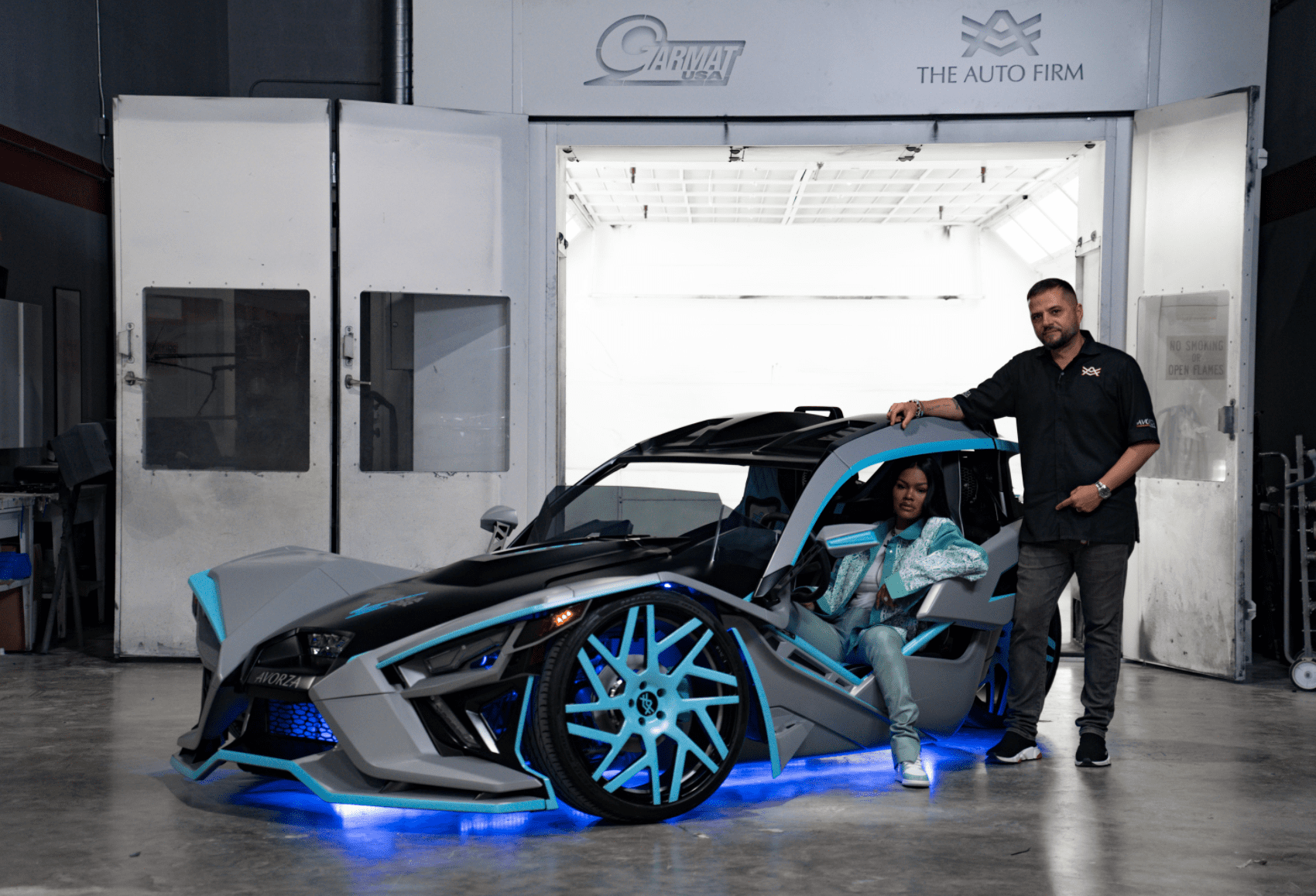 As part of a bi-coastal build-off challenge "Slingshot's Best of the Builders: East vs. West," Vega partnered with singer and songwriter Teyana Taylor to design and modify a stock 2020 Slingshot SL, giving it a brand new avatar that reflects the "Gonna Love Me" hitmaker's fiery soul. 
Meanwhile, DUB personalized the Slingshot for the legendary drummer and record producer Travis Barker to create a unique ride with the craziest sound system that has been amplified with Barker's personality. 
Since Taylor has a background in music just like Barker, she wanted a high-quality stereo in her ride but nothing over the top. She wanted it to have a showstopping presence without the flashy factor, and The Auto Firm delivered just that. 
After a long wait, the Slingshot has finally been revealed, and the voting has officially begun. AmoMama caught up with Vega for some exclusive sneak peek of Taylor's sweet ride, and boy oh boy, will it be turning heads on the streets! Excerpts from the interview. 
So, Alex, what was Teyana's reaction like when she saw her ride?
It was incredible. One key thing about what I do and why I love this so much is getting a person's ideas, or what they see,  what they want, even though they can't pinpoint exactly what they want. And it's transforming an object to what they're gonna like. And her reaction said it all. 
There was not a moment where I saw her and look at it and say, I don't like this. Everything that she kept pointing out and looking at, and she was was like, "Wow, wow." 
Well, it's just paying attention to every detail, especially with a woman, is not the same as dealing with a man. Women are very, very particular, and very observant. So I was very happy with her reaction. 
While building a custom ride for someone, you model their personality into it. What aspect of Teyana's personality is reflected in this Slingshot?
She's very wild and very attention-grabbing. She brings good energy. So I had to mix that in a car where I didn't just have a boring color, boring wheels, and boring interior — when she shows up, her personality reflects on the car. People are going to know when she comes.
What inspired the colors on this one?
I pretty much asked her. I wanted it to be like a pop color, and I was divided between red and blue. So I asked her to pick one. I'm glad she went with blue because I was not thinking of a regular kind of blue. I wanted that sky blue because that shade goes with the gray I had in mind. 
I deal with many high-end cars, and this shade of gray is one of the hottest colors right now. Everybody's using it, and everybody wants that color. 
Do you think the customization affects the car in any way?
Absolutely not. I think Polaris Slingshot does an amazing job. In the suspension, we added airbags, so when she shows up in a place, dropping the vehicle down makes it look so good.  But it's set up in a way we made sure to stay at the factory height while it's driving. 
That way it doesn't affect the ride. It doesn't feel different. The wheels are forged. I engineered the wheel for that particular vehicle, so I think it's probably better than the factory version because the weight is a lot less, which will give her a much better experience.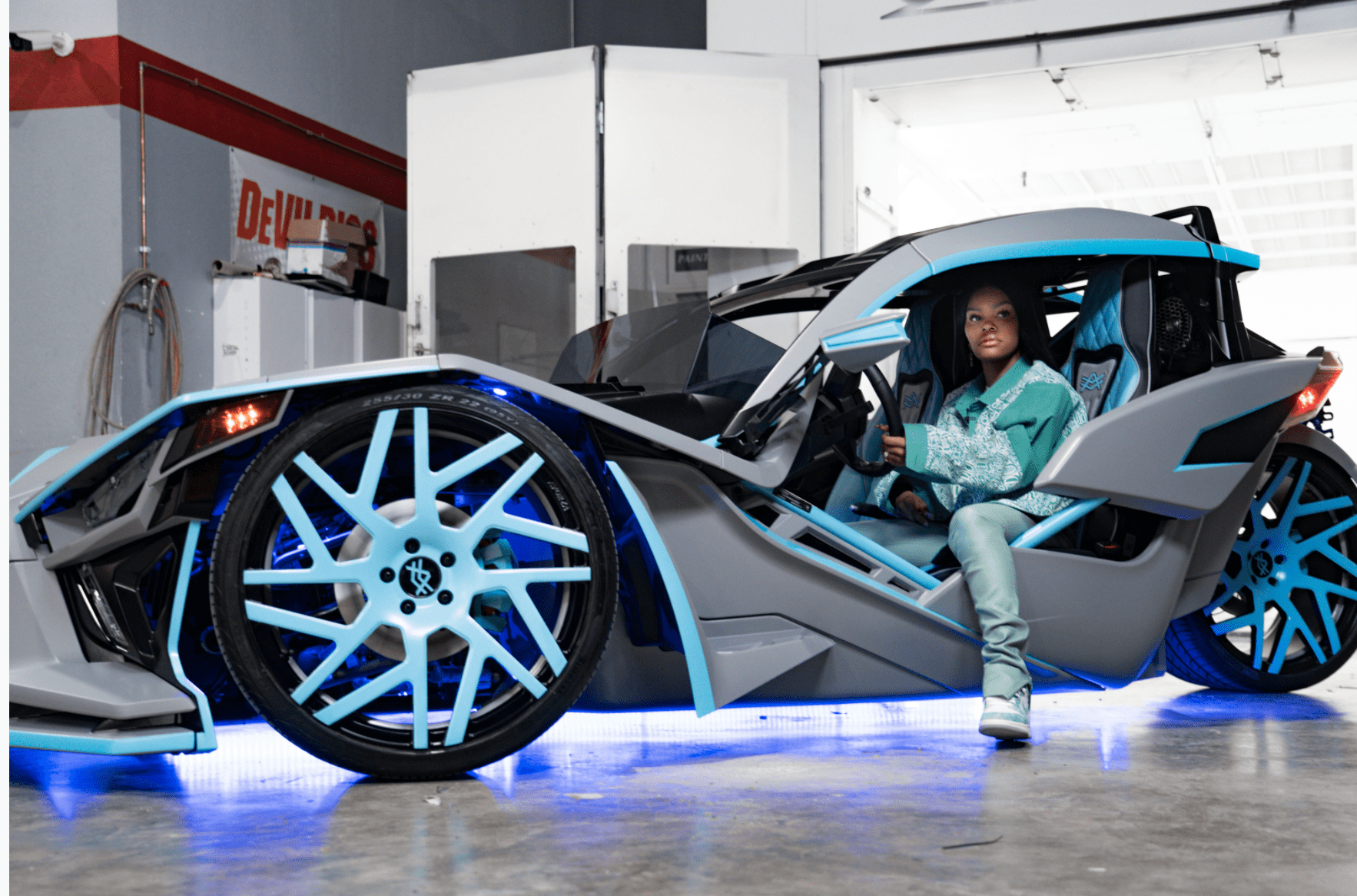 When you customized a ride for Louis Fonsi, I remember you talked to him about how an artist can relate to your work because what you do is a work of art. There is a sense of mutual respect. Did you feel the same while working with Teyana?
I do that on every single job I do, whether it's putting something as small as an antenna in a car to customizing an entire car. I tell everybody the same thing. I deal with a lot of athletes and celebrities, and I tell everybody that they are where they are today because they are good at what they do. 
That's their gift. That's their art. My art is what I do.  And it's up to me. I mean, picture Teyana. She's on the stage, and she's about to sing to a crowd of 50,000 people. She knows what to do and make all the people listen, dance, and enjoy it.  
I do the same when I'm customizing a vehicle. I'm thinking that there are 50,000 people that are going to be looking at this. And I want to have that same reaction as an artist. When that car hits the street, it has to have that reaction. It has to have people know Alex Vega did that car. And that's just part of doing what I do, and doing it the best.
It is time to choose the winner. Votings are now open! Visit PolarisSlingshot.com to decide who is the best of builders.