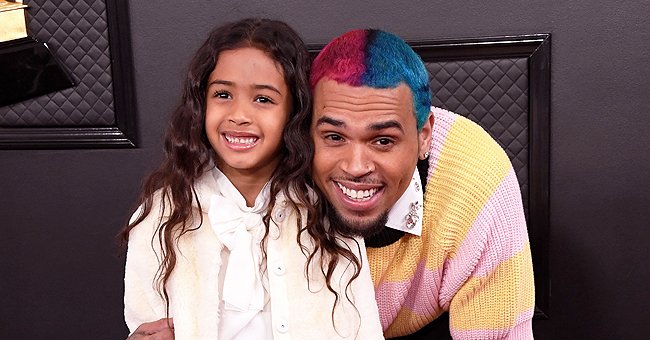 Getty Images
Watch Chris Brown's Daughter Dance under California Snow in Pink Pajamas in This Adorable Video

Chris Brown's daughter, Royalty Brown, was seen busting dance moves in California snow in a recent Instagram video. The adorable child was casually dressed in orange pajamas as she danced.
Royalty Brown has proved to be an interesting attention-grabbing child over the years. With her impressive dance moves and an elite sense of style, she has shown the world she is a multi-talented force to be reckoned with in the world of entertainment.
In a most recent post, the 6-year-old was seen casually showing off a little of her dancing skills as she enjoyed a swell time in the California snow. She was clad in bright orange pajamas with cartoon prints across the length.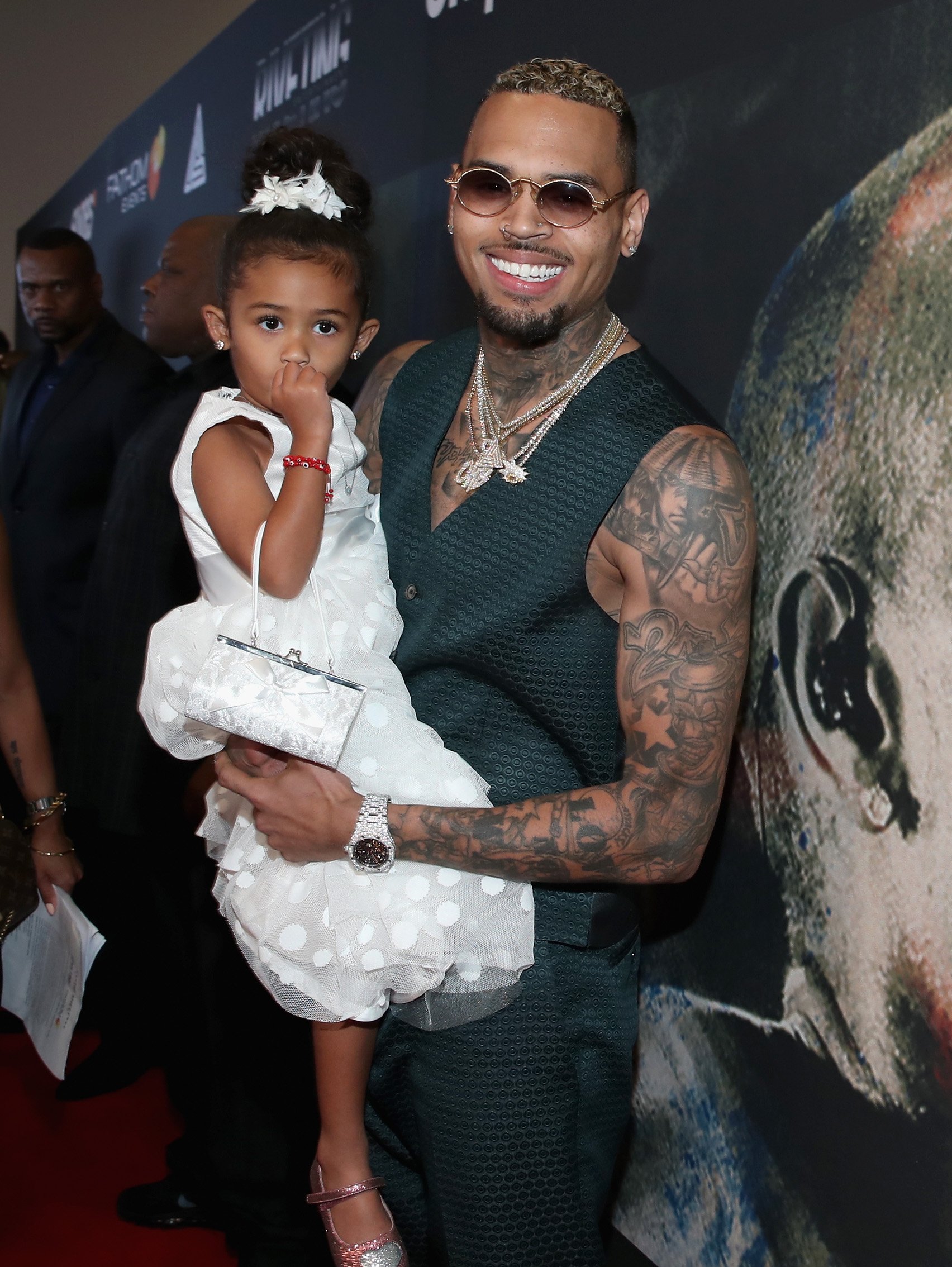 Chris Brown and his daughter Royalty at the premiere of "Chris Brown: Welcome To My Life" on June 6, 2017. | Photo: Getty Images
As the video recorded, she twirled happily with her hands up high as she watched the snow trickle down. Her uncombed hair was packed into a messy bun, and she had no shoes on as she danced away.
The video was taped and posted by Brown's mother, Joyce Hawkins, on her Instagram feed. It was recorded by the vast swimming pool with the sun shining on the trees and the water. Beneath the post, she captioned:
"CALI SNOW!! NO SHOES!! LOL!!"
To show the world just how good a dancer she is, Royalty already has her own TikTok account, which has garnered heavy attention over the months. With her mom, Nia Guzman, serving as her videographer, she posts several clips of herself dancing.
The adorable princess has also shown just how much she loves her father's music. In most of her videos, she is either seen gushing about her love for his songs or dancing to many of his hit tracks.
Besides being an iconic fashionista, Royalty had also proved to be a devoted big sister.
With her evident interest in the entertainment scene, it is unsurprising that she got to join her dad to the legendary Grammy Awards earlier this year. The father and child struck up an adorable figure as they posed on the red carpet.
Chris was clad in a pink and yellow short-sleeved cardigan with black pants and white shoes. His hair was also dyed a colorful blend of pink and blue. Royalty, on the other hand, was dressed in a matching furry jacket and skirt with black boots.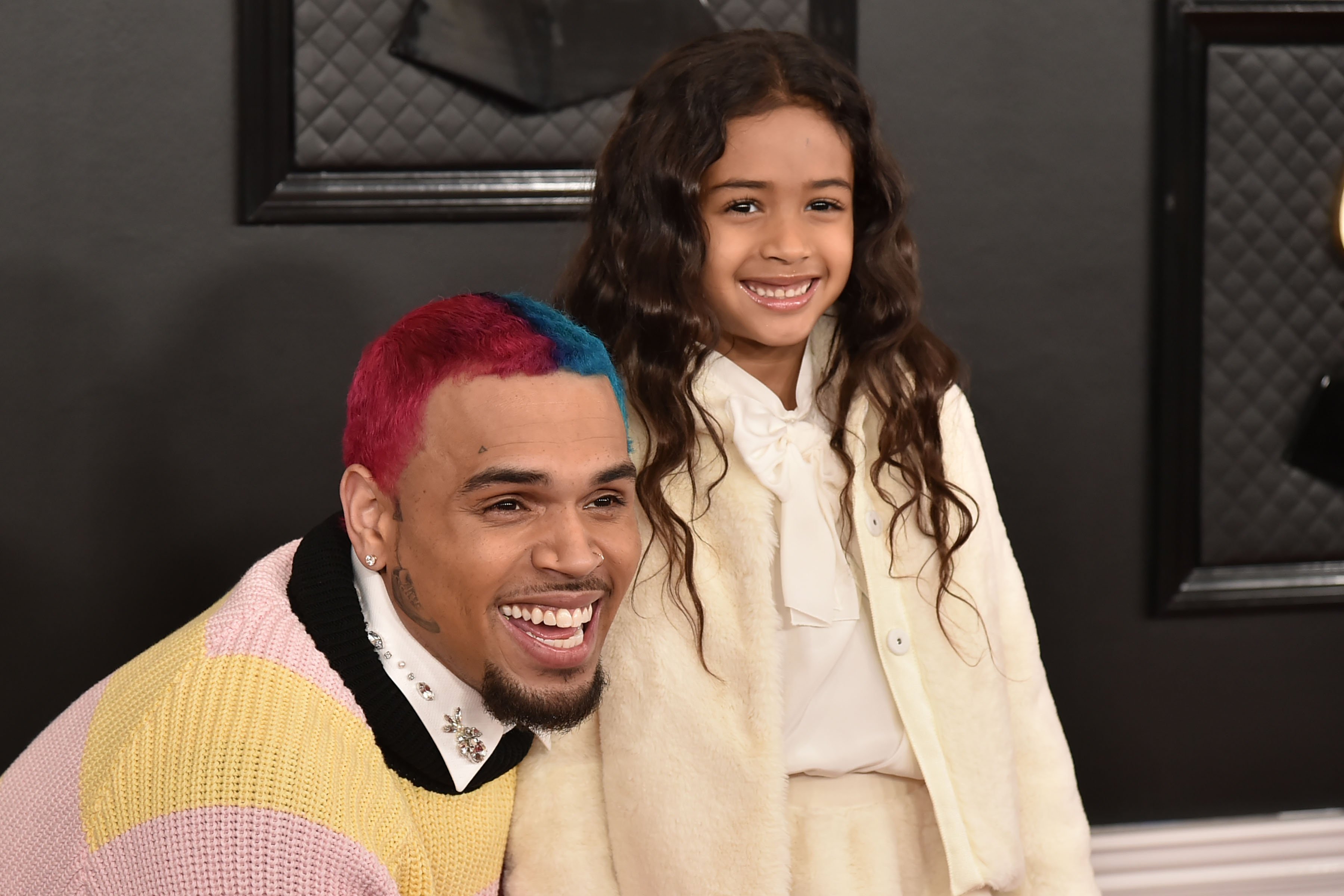 Chris Brown and Royalty Brown at the 62nd Annual Grammy Awards at Staples Center on January 26, 2020 in Los Angeles, California | Photo: Getty Images
Over the months, she has dazzled the world with her elite sense of style with several Instagram posts. She is either seen posing in designer outfits with her mom or rocking attires with her little sister Sinatra.
In October, she also took to her Instagram account, which has over one million followers, to post several adorable snapshots of herself rocking her new stylish braided hairdo.
Besides being an iconic fashionista, Royalty has also proven to be a devoted big sister. A few weeks after the birth of his first son Aeko Catori late last year, Brown posted a sweet photo of Royalty watching over her baby brother as he was lying down in a cot.
The singer also informed his fans and followers that she was changing her brother's nappy, much to their excitement. Though Royalty might have her heart set on her entertaining life in the limelight, it is clear that she would always have an eye out for baby Aeko too.
Please fill in your e-mail so we can share with you our top stories!