Kelly Clarkson Leaves Fans Swooning after Wearing Red Skin Dress with a Thigh-High Slit
Kelly Clarkson recently melted hearts after sharing pictures of herself stunning in a skin-tight leather dress, which left many fans swooning over her beauty.
Kelly Clarkson recently shared new photos of herself on Instagram, and fans could not stop gushing over her stunning look. The pictures saw her rocking a leather red dress with a low neckline and small shoulder pads added to the long sleeves.
Country star Clarkson's dress also featured a thigh-high slit giving a glimpse of her black tights. She matched the tights with a black top worn underneath her dress.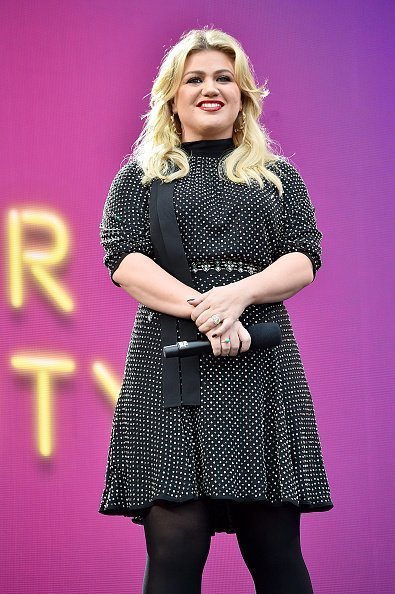 The award-winning country singer topped off her outfit with a pair of leather ankle boots and accessorized with a pair of earrings and some rings worn on both hands.
For her face, Clarkson went for a glamorous look comprising red coated lips. To complete the look, the singer pulled her brown hair back, drawing focus to her perfectly made-up face.
The first slide featured a head to toe photo of Clarkson stylishly standing at an akimbo. The second slide showed her with the same pose but at an up-close range.
Talk show host accompanied the image with a caption revealing that she rocked the outfit during an episode of NBC's "The Voice," where she serves as a judge.
Clarkson made some questionable fashion decisions in the earliest days of her career.
"The Voice" judge, Clarkson's gorgeous photos thrilled fans and followers who took to the comments section to leave lovely compliments about the singer's glamorous look.
One user said she loved the singer's hair while describing the outfit as amazing. Another gushed about her love for Clarkson, whom she addressed as a queen.
A third fan who could not get enough of the dress said it was the sexiest Clarkson had ever rocked with many more swooning over the singer. Clarkson's attention-catching outfit comes only a few days after she dazzled in a unique black and white dress for an episode of "The Voice."
Taking to Instagram, "The Kelly Clarkson Show" host posted a snapshot of herself flashing a charming smile in the outfit, and as expected, fans went wild in her comments section. 

Clarkson has not always been a fashion icon. Clarkson made some questionable fashion decisions in the earliest days of her career, one of which was an obsession for rocking not-so-attractive denim outfits.
However, over the years, Clarkson has evolved, and now, there is no denying that she is a style icon in her own right. Time really does fix everything!