Kelly Clarkson Delight Fans with a Stunning Photo as She Poses in a Black and White Dress
Iconic singer Kelly Clarkson wowed her Instagram followers in a stunning new snap. In the photo, she flashes a beautiful smile while wearing a unique black and white dress.
Talented singer Kelly Clarkson, 38, is not so much known for her fashion as she is known for her singing prowess. However, the songstress recently turned on the style, much to the delight of her fans.
Clarkson sent her Instagram followers into a frenzy with her stunning look during the Knockout rounds of The Voice, which aired on Monday, November 23, on NBC.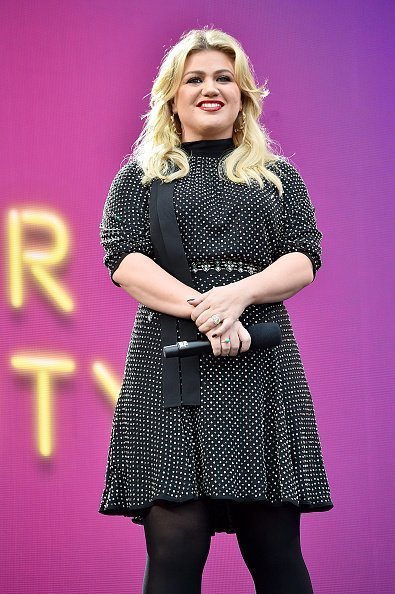 In a photo shared by the singer on her Instagram page, Clarkson gave her fans a double dose of beauty with her sweet smile and unique black and white outfit.
The dress featured two pieces of cloth, which were connected at the middle by a large metallic ring. Inside the ring was a circular turquoise and black marble that sat pretty on Clarkson's bare skin. She shared the photo with the caption:
"It's knockouts time! Let's do this!!! #TeamKelly #TheVoice."
Clarkson looked in high spirits as she brandished a white smile while sitting in her red spinning chair. Her unique two-color ensemble also allowed the singer to comfortably show off some skin, which she rarely does. 
The award-winning singer completed the look with her blonde locks styled with a detailed side part and accessorized with large silver hoop earrings.
She has ramped up her style and continues to thrill viewers on the singing competition and her eponymous show with her fashionable looks.
Clarkson's fans could not hold back their admiration for her outfit and quickly trooped to the comments section to drop some nice words for the singer.
Meanwhile, Clarkson's unique outfit was not the only thing that caught the attention of fans during Monday's episode of "The Voice." 
The show featured a "Team Gwen" showdown between Carter Rubin and Chloé Hogan, which brought the "Behind These Hazel Eyes" crooner to tears and threw her counterpart Gwen Stefani in a dilemma over a seemingly impossible decision.
The performances of Carter and Chloe became a huge talking point between "The Voice" coaches as Stefani struggled to make up her mind about her choice for the night. 
Stefani eventually decided to go with Carter while fellow coach John Legend saved Chloé. It has now set up an exciting showdown with her old team member in the upcoming live shows.
The current season of "The Voice" is a bit different from other seasons due to the novel coronavirus pandemic. Several safety and distancing measures have been put in place to ensure that contestants and coaches are well-protected.
In the last few years, Clarkson has shown that she is not afraid to take risks with her fashion. She has ramped up her style and continues to thrill viewers on the singing competition and her eponymous show with her fashionable looks.