Miranda Lambert Debuts New Haircut and Supports Children's Charity — See the Fabulous Look
Miranda Lambert recently took to social media to unveil the new haircut she's sporting in a post meant to show her support for the work done by a children's research center. 
Miranda Lambert has a new look! She debuted a new hairstyle in a post she shared on her personal Instagram page several hours ago.
The post was primarily meant to sensitize netizens on the "St Jude mission," which involves saving children from the clutches of cancer. While it did that, the country star's appearance also demanded attention.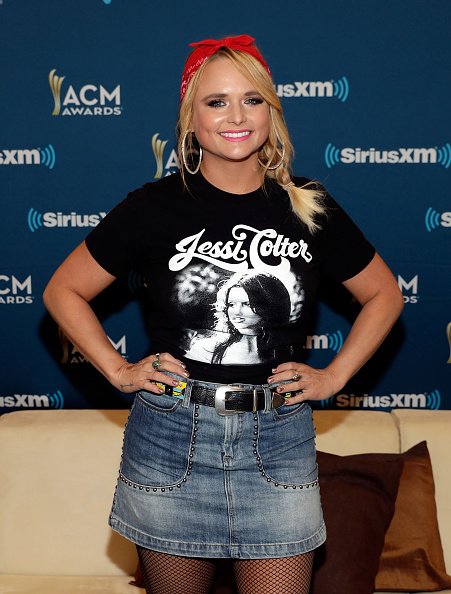 Anyone who has kept up with her posts on social media would know that Lambert was looking totally different upon seeing the picture she shared. 
That's because she had a haircut and it looks great! Where before the famous singer had worn her golden locks long, she now sported a short bob that framed her handsome face and fell to her shoulder. 
She wore a t-shirt with the words "we won't stop" written in bold lettering across it in front. In her captions, she urged her fans to support St Jude by buying a t-shirt. 
Fans had only sweet words for Lambert in the comment section. One whose son is a cancer survivor declared that her love for the singer just tripled, while another vowed to get tees and spread the word. 
Lambert stood holding the halter of a huge black horse easily distinguished by the white blaze running down its face
Lambert's message was well-received by her fans, and she managed to look gorgeous while doing it. It's all in a day's work for the beautiful country singer known for her fabulous fashion taste.
She flaunted it a couple of times last month when she shared posts documenting what went on backstage at the CMAs. Lambert shared several shots from the event, including one that captured her posing on the red carpet with her husband, Brendan McLoughlin. 
The talented artist wore a tight pink dress and styled her golden locks in loose waves that flowed past her shoulders. Lambert was nominated for seven awards, and she went home with one, making it the first time she's won at the CMAs since 2017.
Later in the same month, she featured on a fashion photoshoot alongside her husband, McLoughlin, for her clothing brand "Idyllwind." 
The post, which was shared with the official Idyllwind Instagram account, turned many virtual heads because of her gorgeous outfit. It was a sleeveless black mini dress, and it came complete with a fitted silhouette, which only served to accentuate her hourglass figure. 
It sported a fringe at the v-shaped neckline, giving the outfit a touch of country. The dress was short as the hemline barely brushed the upper parts of her thigh, therefore giving visual access to a considerable amount of tanned skin. 
She finished things off with a pair of black cowboy boots that had decorative embroidery on their shafts. Posing in the outfit, Lambert stood holding the halter of a huge black horse easily distinguished by the white blaze running down its face and its fluffy mane, which fell to its knees. 
Her husband was also in the photo; however, he was barely visible because of his close proximity to the camera. The picture was a hit, and it garnered more than 20,000 likes on Instagram.  
Fans can't wait to witness more fashion ingenuity from the country musician quickly becoming a household name in the music and fashion industry.