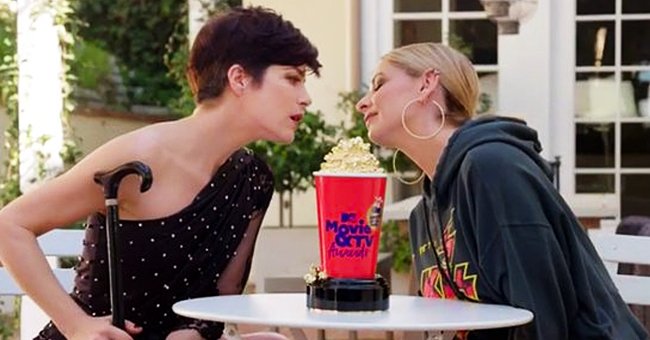 twitter.com/MTVAwards
Sarah Michelle Gellar & Selma Blair Recreate Their Iconic 'Cruel Intentions' Kiss (Video)

The once-co-stars and now great friends Sarah Michelle Gellar and Selma Blair added a touch of humor and a post-COVID-19 reality check in a recent sketch that pays tribute to their most iconic scene together.
It's hard to believe that it has been more than twenty years since former co-stars and longtime friends Selma Blair, 48, and Sarah Michelle Gellar, 43, stole the attention of the viewers of the film "Cruel Intentions" with an iconic kiss.
Given that the COVID-19 pandemic interrupted 2020's awards season, the annual MTV Movie & TV Awards had to be reinvented by the network, which came up with the idea of a "Greatest Of All Time" (GOAT) edition that revisited it's best moments.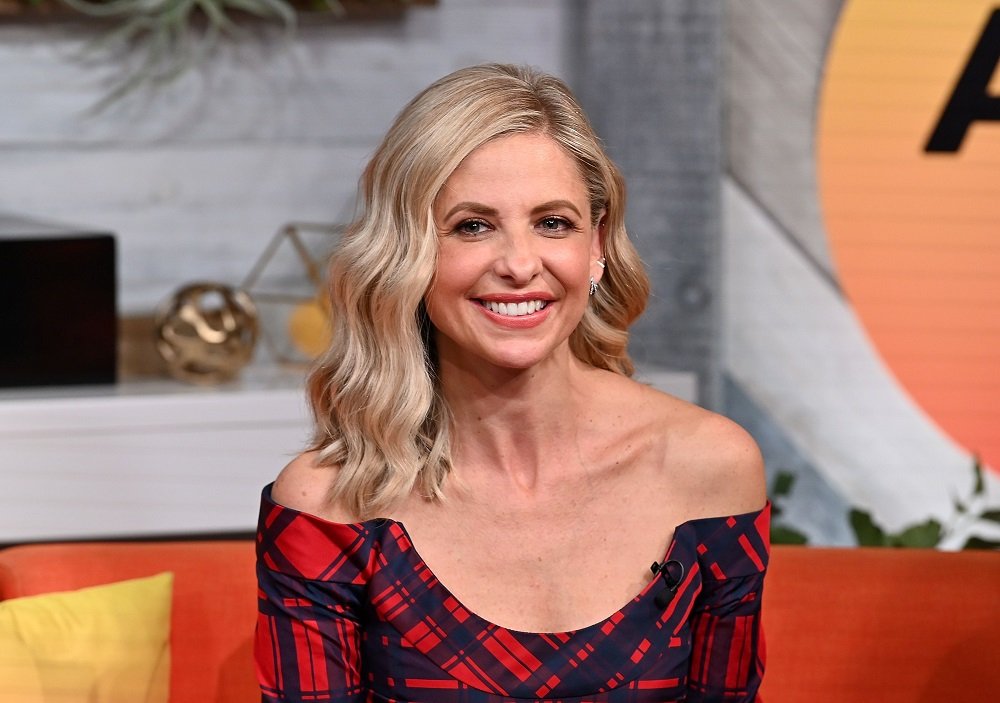 Sarah Michelle Gellar visiting BuzzFeed's "AM To DM" in New York City in October 2019. | Image: Getty Images.
Blair and Gellar's now-legendary on-screen kiss on "Cruel Intentions" earned the two actresses the win of an MTV Movie Award for Best Kiss in 2000, and two decades later, the kiss has made it to the "GOAT" list.
To mark the occasion, and as a thank-you gesture toward the music television network, Blair and Gellar revisited their famous kiss with a humorous twist that adapts the scene to our pandemic times.
In the clip, shared by the awards show Twitter account on December 6, 2020, present-day Blair and Gellar are seated in front of each other over a table out in a garden pretty much like the scene in the movie, and they try to kiss.
As both women approach each other to lock their lips together, with an MTV Movie Award sitting on the table between them, the two hit an invisible wall, after which Gellar turns to the camera and says: "Stay safe, MTV, and, 2020: end soon."
"The only way to safely kiss your crush in 2020" the MTV Movie & TV Awards Twitter profile captioned the tweet, which has so far received more than 400 likes, and has been retweeted more than 150 times.
Blair was clearly thrilled about reviving her 20-year-old kiss with Gellar for contemporary times, and she was so nostalgic about that easier time of her life that she took to Instagram to share a throwback.
Ahead of the "GOAT" award ceremony, Blair shared the video of her and Gellar sharing a brief, friendly kiss on the lips after they accepted their Best Kiss Award in 2000.
"CRUEL INTENTIONS" TURNED 21 THIS YEAR
Audiences had a chance to watch "Cruel Intentions" on the big screen once again for a week-only theatrical re-release in March 2019, when the film arrived at the twentieth anniversary of its premiere.
The film, which so greatly exemplifies the mainstream cinema of the late nineties, wasn't a favorite of the critics, but it remains an important example of the pop culture of the end of the 20th century. It is also available in Amazon Prime Video.
Apart from Gellar and Blair, the film featured a hot ensemble cast of promising young stars that also included, Reese Witherspoon, Ryan Phillippe, and Joshua Jackson, alongside veteran actress Christine Baranski.
Please fill in your e-mail so we can share with you our top stories!