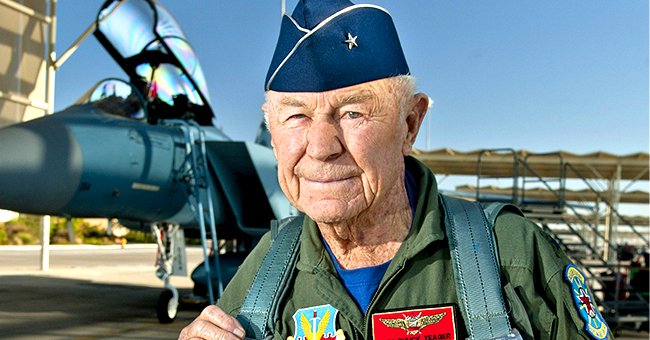 Wikimedia Commons
Chuck Yeager, Legendary Pilot Who Was the 1st to Break the Sound Barrier in 1947 Dies at 97
2020 already took several notable, legendary names in different industries. Recently, the aviation space lost a true icon as Chuck Yeager, an Air Force fighter pilot, passed away.
Earlier this week, sources confirmed that Charles Elwood "Chuck" Yeager, the first pilot to break through the sound barrier, died. A Twitter statement from his wife, Victoria, confirmed the news.
Yeager was a World War II pilot who proved that just about anything is possible after he flew faster than Mach 2 – the speed of sound – in 1947.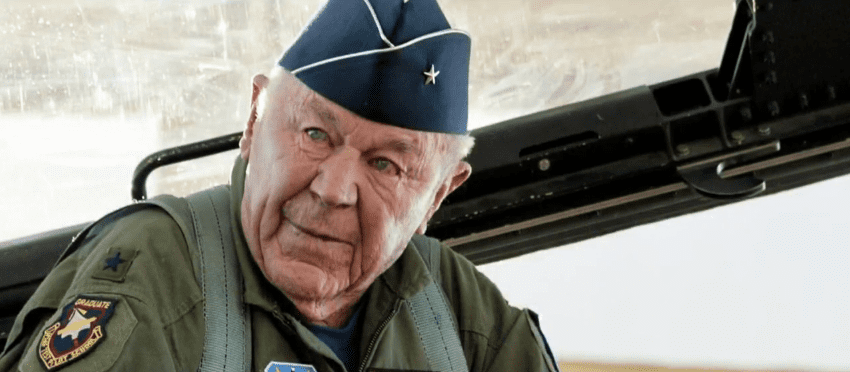 Photo of Chuck Yeager, the first person to break the sound barrier. | Photo: Youtube / CBS Sacramento
Yeager was a top fighter pilot in the Second World War, known far and wide for his courage and bluntness. He notably shot down over 11 enemy aircraft as a P-51 pilot on the Western Front during the war.
The 97-year-old pilot already gained a top status for his exploits in the Air Force during World War II. In the statement announcing his death, Yeager's wife explained:
"An incredible life well lived, America's greatest Pilot, & a legacy of strength, adventure, & patriotism will be remembered forever."
Yeager's work with the Air Force lasted even beyond World War II. Already a decorated war hero, he continued as a test pilot, the role in which he would notch his most outstanding achievement.
On October 14, 1947, Yeager flew across the California desert at nearly 700 mph. On that day, he became the first man to fly faster than the speed of sound.
Yeager's feat was even more exemplary, considering the factors that had led to it. Per reports, he had achieved the feat despite having broken two ribs.
Despite his pain, Yeager was determined to achieve his objective. The story of perseverance is not new, and it eventually propelled him to history.
He famously sued Airbus SE.
Yeager never had the formal education required to join NASA's Gemini and Apollo programs. However, he eventually taught many astronauts who eventually made it into the initiative.
The fighter pilot's exploits have gotten him significant acclaim, including an autobiography titled "The Right Stuff" and a movie commemorating his life.
However, he also believed in doing the right thing. Last year, he famously sued Airbus SE, their aircraft manufacturer, after the company used his name and likeness to promote a high-speed helicopter without his consent.
At the age of 97, Yeager dies a fulfilled, accomplished man. The tributes have now poured in, particularly from some notable people in the aerospace industry. He indeed was one of America's most excellent fighter pilots.
Please fill in your e-mail so we can share with you our top stories!