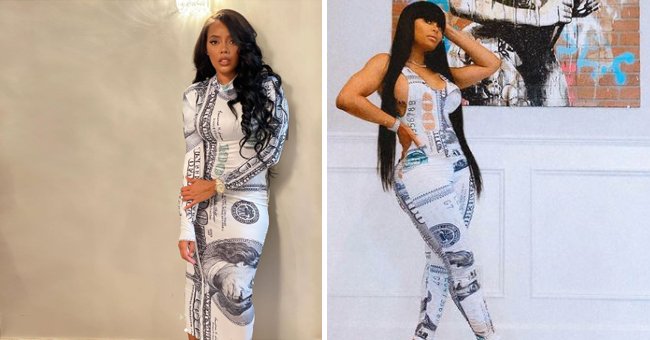 Instagram/blacchyna/ Instagram/angelasimmons
Rob Kardashian's Exes Angela Simmons & Blac Chyna Show off White Outfits with Matching Print

Rob Kardashian's ex-girlfriends, shoe designer Angela Simmons and model Blac Chyna, showed off their trim figures in white outfits with matching prints in recent photos on their Instagram feeds.
Rob Kardashian's ex-girlfriends Angela Simmons and Blac Chyna sure have been packing the heat. With several posts on their Instagram feeds, both women have been showing off their fabulous fashion senses.
In one of their most recent posts, they were seen stylishly clad in white outfits that had matching dollar prints. For Simmons, it was a long-sleeved round-neck dress that stopped at her shin.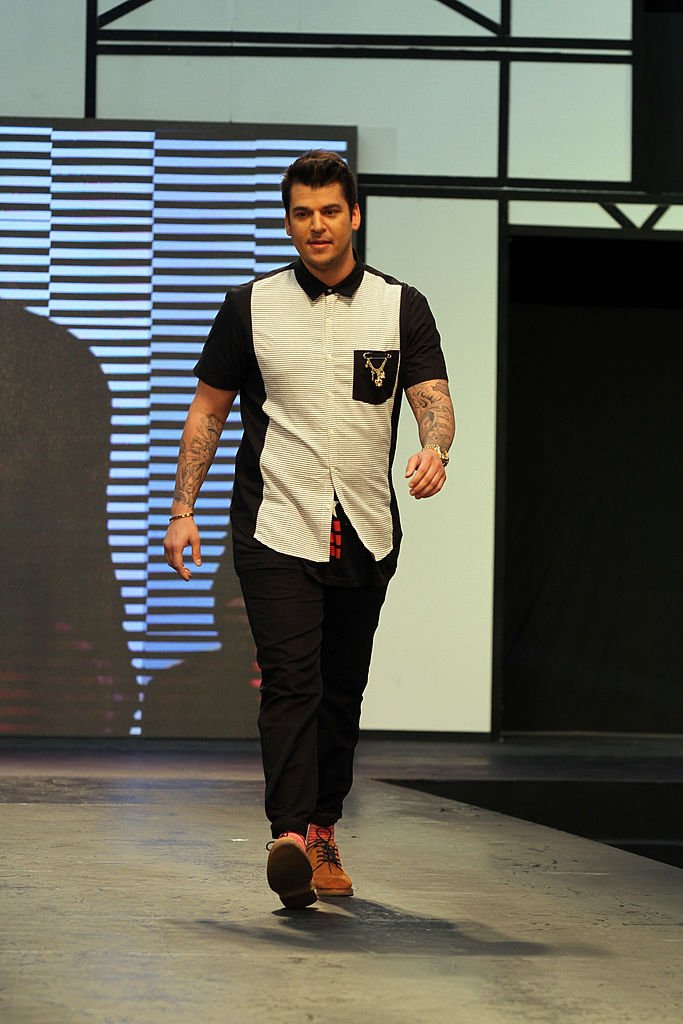 Rob Kardashian showcases designs by Human on the runway on day five of Philippine Fashion Week Spring/Summer 2013 on October 27, 2012. | Photo: Getty Images
She combined the fit with a gorgeous pair of yellow heels and a silver watch. She also had on simple makeup and her luscious dark hair cascaded down her shoulders in waves as she posed by a mirror in her elegant house.
The designer later posted another amazing video of herself from the same day. It was a close-up clip of the 33-year-old showing off her hair and makeup as she struck up several poses from different angles.
Chyna, on the other hand, was dressed in a stunning white body-hugging bodysuit with no sleeves. She combined the outfit with a fashionable pair of transparent heels and simple accessories.
Her hair was styled into her signature fringe, and the long locks fell to her waist in a straight line. With one hand on her curvy waist and the other on her hair, the model struck up a hot pose in front of a painting of herself.
Chyna recently won a court case against the Kardashian clan and the producers of the now-canceled "Rob & Chyna" show.
The post came a few days before she posted a sizzling photo of herself in a red latex dress for a photoshoot promoting her OnlyFans account. Her hair was styled into a blue and red middle parting, and she sensually reclined on the hood of a classic car.
Despite looking on top of her game, show host Wendy Williams revealed that Chyna was having financial issues. She disclosed during her talk show that the model even sent her a text, telling her she had no place to live.
On a brighter note, Chyna recently won a court case against the Kardashian clan and the producers of the now-canceled "Rob & Chyna" show. The win gave her the rights to the unreleased footage of the second season of the show.
In other news, Simmons is proving to be a relatively peaceful ex-girlfriend as she has successfully kept herself out of any bad publicity. Last year, she was seen having a relaxing time with friends and family during a vacation.
The designer posted photos of herself in a bright bathing suit as she had a great time on a yacht. She is known for her body-positive messages; she implores her fans to accept their bodies despite society's beauty standards.
Simmons also recently got back on the dating scene with boxer Daniel Jacobs. The pair were seen enjoying an intimate time on vacation at St. Lucia a couple of months ago.
Please fill in your e-mail so we can share with you our top stories!