Ice-T's Wife Coco Austin Dotes on Her Dogs in a Heartwarming Photo Holding an Adorable Puppy
Coco Austin, American actress and wife to rapper Ice-T, dubbed herself a "Dog Mom" in a recent heartwarming post on her Instagram feed where she was seen holding an adorable puppy. 
Coco Austin is one big dog lover. Throughout the years, the actress and media personality has shown the world just how much she loves the furry animals with several posts of her pet bulldogs on social media. 
The 41-year-old, who even created an Instagram account for the dogs, also recently posted a new heartwarming picture of herself with two of her newly born puppies.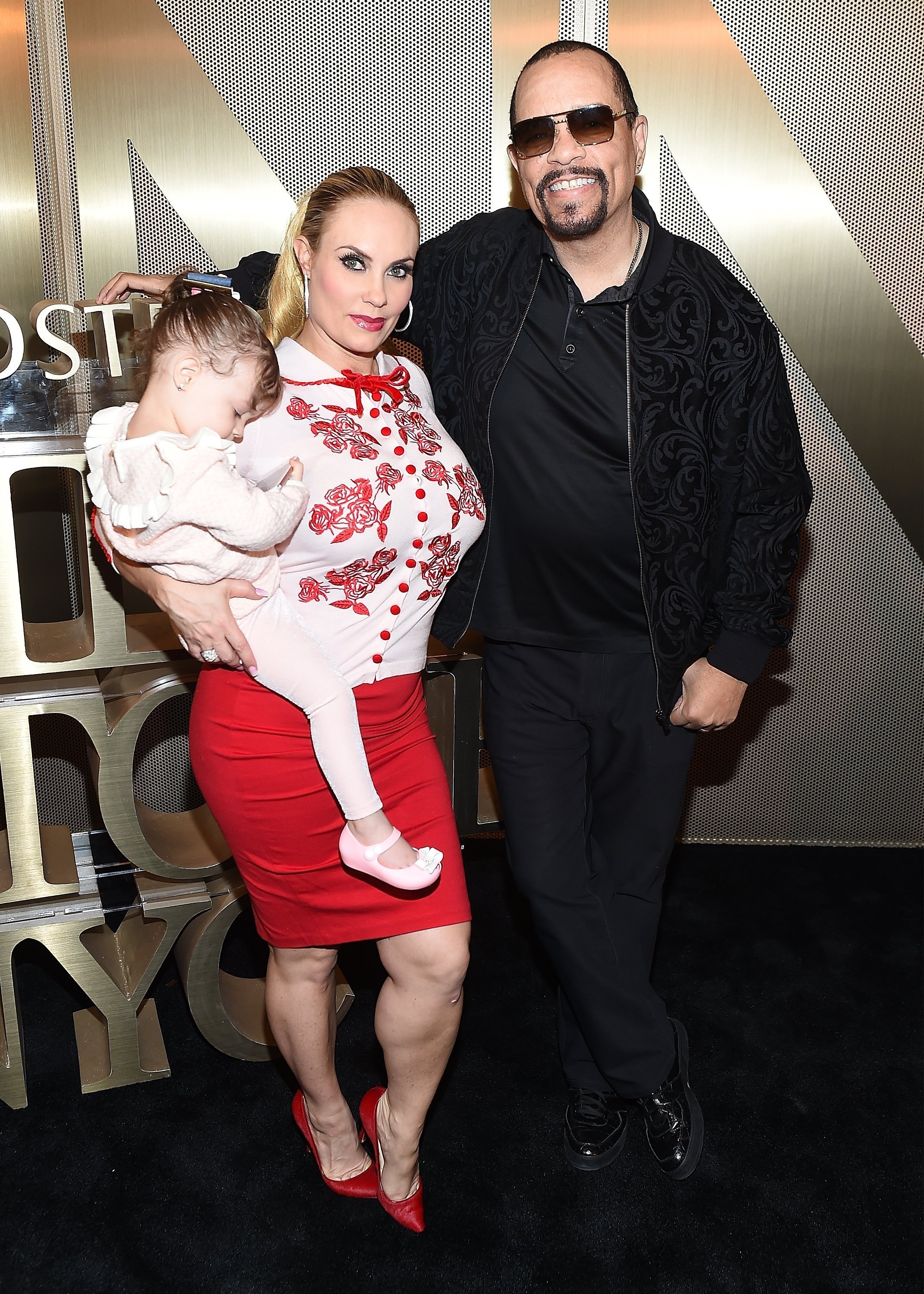 In the shot, she sits on a bed in a pink-lighted room, staring lovingly at one of them as she cradles it in her arms. The second was tucked comfortably in the middle of her crossed legs. 
The star was clad in a black round neck T-shirt with matching tights. Her signature platinum blonde hair was packed to the back with a black ribbon, and she wore dangling hoop earrings. She sweetly captioned: 
"Late nights have never been sweeter #dogmom #bulldoglover."
Last month, when the puppies were just three weeks old, Austin, per usual, posted another heartwarming photo of one of them on her Instagram feed. In the selfie, she cradled the tiny animal against her chest as she stared into the camera. 
A few weeks later, after Halloween, she shared another wholesome picture of her other bulldogs fully clad in humorous costumes. One of them was dressed as a prison inmate, while the other was a magician. 
Later, Austin admitted that the interview had been so touching that it made her tear up. 
Seeing the cute scene, one can remember when Austin tragically lost Spartacus, one of her dogs, in 2016. She shared the sad news with her fans, explaining that the 6-year-old pup died due to complications from a knee surgery. 
She also expressed her profound sadness at his passing, revealing that he was her first baby with Ice-T. She added that there would never be another dog like him as everyone who knew him thought he was very human-like and so lovable.
Ice-T also took to social media to announce Spartacus' passing. In a post, he called the dog his best friend and explained the circumstances of his demise. He followed up with another post where he thanked everyone for their support. 
Besides being avid dog lovers, Austin and the rapper are also proud parents to their 5-year-old daughter Chanel. The tot was born in 2015, a few days after Thanksgiving, and the couple's joy knew no bounds. Ice-T later opened up about the experience in a touching podcast. 
He revealed that he had been clueless about what would get him excited, but his daughter's birth had completely moved him as it was such a beautiful thing. Later, Austin admitted that the interview had been so touching that it made her tear up. 
Now five years later, the proud mother who recently revealed that she was still breastfeeding the child, never fails to dote on the sweet little girl. Being her first and only child, it is no surprise that her love for her knows no bounds.