'Night School' Star Tiffany Haddish Slays in a Nude Top Revealing Her Collarbones & Shoulders
American actress and comedian Tiffany Haddish looked absolutely stunning as she rocked a nude-colored top that revealed her collarbones and shoulders in a recent post on her Instagram feed.
Tiffany Haddish is proving to be more than just a funny Hollywood star. The actress and comedian has also put her best foot forward when it comes to matters of fashion and style. 
Over the years, she has shown off her impeccable sense of style with several posts on her social media accounts. In the most recent post, the 41-year-old once again looked stunning in a remarkable ensemble.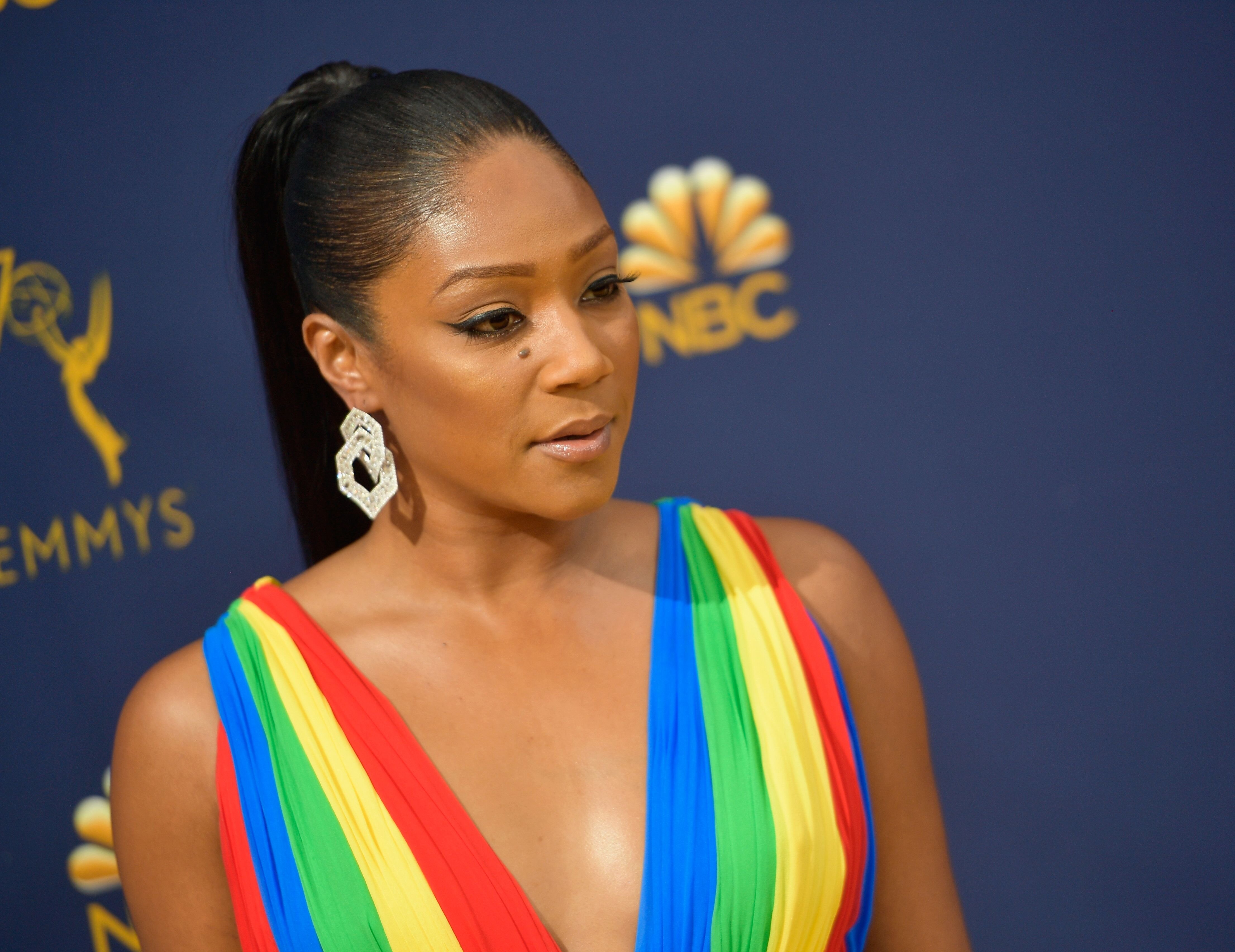 She had on a nude-colored top with cut-off shoulders and an open neckline that gave a good view of her smooth caramel skin and collarbone. It was combined with a snug pair of dark blue jeans and a tiny Jewish star necklace. 
Her short dark hair was styled into a middle parting and framed her pretty face, stopping just above her neck. She also had on dangling hoop earrings and simple but perfect makeup that accentuated her features. Beneath the post was the caption: 
"Today's mood #SheReady."
Besides being an admirable fashionista, Haddish has made an incredible name for herself in the Hollywood scene over the years. Her breakout role had been 2017's hit movie "Girl's Trip," and ever since, she has written her name in gold. 
Now the star has featured in several other movies, including Netflix's "Black Mitzvah," "Self Made: Inspired by the Life of Madam C.J. Walker," "Bad Trip," and many other major studio releases. 
The more he got to know her, the more he got to see how dynamic she was as a person.
Haddish, however, did not just become an overnight success. She had a very difficult childhood growing up in Los Angeles in a dysfunctional family.
Her father left when she was three, and five years later, her mother got involved in an accident that turned her schizophrenic. The actress assumed the parental role for her four other siblings. However, five years later, they ended up in foster care.
She was later sent to a comedy camp at the Laugh Factory in Los Angeles, and it was from there on she made her way to the top. 
The comedian also has quite an interesting love life as she recently started dating fellow actor and rapper Common. In a candid interview, the 48-year-old opened up about their relationship and the impact Haddish had on him. 
He revealed that she was a really incredible human being, and the more he got to know her, the more he got to see how dynamic she was as a person. He also added that she was intelligent, selfless, and stood up for Black women in Hollywood. 
Haddish has, however, had a rocky year as she announced that she tested positive for COVID-19. She immediately self-isolated at home, and when she went back for another testing, the results came back negative.
The star later revealed that she believed she was superhuman. With such a strong character, it is safe to say that Haddish's statement is not far from the truth.