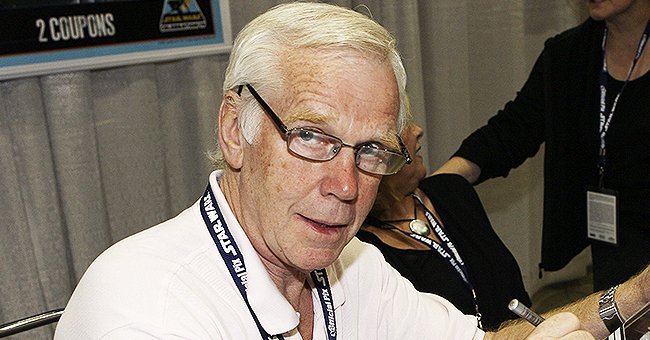 Getty Images
'Star Wars' Actor Jeremy Bulloch Dead at 75 — What Happened?

Star Wars Jeremy Bolluch died on December 17 2020 from health complications, the star had been living with Parkinson's for a number of years.
Jeremy Bolluch's website stated that the "Star Wars" actor had passed away on December 17 due to health complications, he had been living with Parkinson's for several years.
He spent his last few weeks at St George's hospital, where he received wonderful care from staff. His wife and two of their sons have been with him during the final days before his death.
Jeremy lived a long and successful life as an actor, he played roles such as Boba Fett in "Star Wars" and appeared in different Tv shows such as "Doctor Who", "Agony" and "Robin of Sherwood."
The actor, Daniel Logan who played the young version of Boba Fett in the "Star Wars" 2002 movie, "Star Wars Episode II: Attack of the Clones," wrote a heartfelt tribute to the late actor on his Facebook page,
"RIP legend. I'll never forget all you've taught me!! I'll love you forever!! Conventions won't be the same without you. May the force be with you always."
Jeremy Bulloch sign Star Wars posters. |Photo: Getty Images
Bulloch had played the iconic helmeted bounty hunter, but he also appeared without his iconic helmet as he played Captain Jeremoch Colton in "Revenge of the Sith" and in "The Empire Strikes Back" he was Lieutenant Sheckil.
The actor had his start in soap operas on the BBC and then landed a role in a few of the James Bond movies during the Roger Moore Era as well as he performed in some West End theater productions.
Bulloch who play Boba Fett, pictured with some Star Wars memorabilia in 2017. | Photo: Getty Images
His website shared too that he was not just an actor but enjoy playing sports such as football and cricket and he was actually a fairly talented player.
He was also a charitable man and has donated to several including a hospital which has saved the life of one of his grandchildren, the website says,
"He also supported a number of charities including Great Ormond Street Hospital who saved his granddaughter's life."'
He had been devoted to his wife and all their family. He left behind his loving wife, their 3 sons, and his 10 grandchildren who will miss him very much.
Bulloch had been born in 1945 in Leicestershire, in the Midlands. He began his acting career in commercials in the late 50s. At the age of 17, he starred in "Summer Holiday" with Cliff Richard.
2020 has been a sad year as we have lost many notable people including NBA star Kobe Bryant, Glee star Naya Rivera, Supreme Court Justice Ruth Bader Ginsburg, Black Panther, Chadwick Boseman, and "Jeopardy" host Alex Trebek.
There is no doubt that Bulloch and the other lost lives of 2020 will be sorely missed by their families and the huge communities of fans they had cultivated during their lives.
Please fill in your e-mail so we can share with you our top stories!