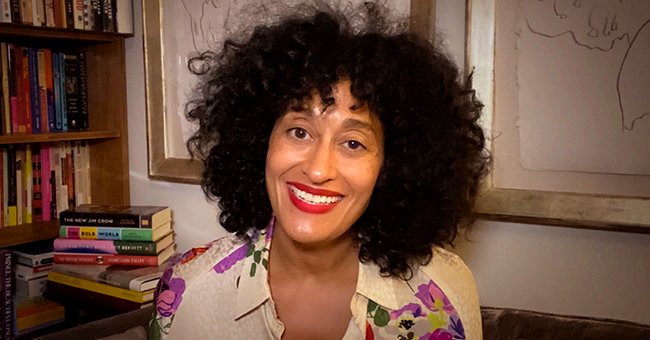 Getty Images
Tracee Ellis Ross Puts Slim Figure on Display in Biker Shorts and Croptop
Tracy Ellis Ross lounges about wearing black biker shorts and a matching crop top on Instagram. She's at the top of her game as an actress, entrepreneur, and speaker. However, the past 20 years did not come easy for her.
"Black-ish" star Tracy Ellis Ross dons all-black, showing off her lean body in spandex biker shorts and a crop top, with her signature curly fro tucked into a French braid.
In the snap, the 47-year-old gazes out of a window with her arms folded behind her head, as she leans against a large grey cushion. She accessorized her look with a flat-brimmed hat and a tiny Yves Saint Laurent crossbody bag.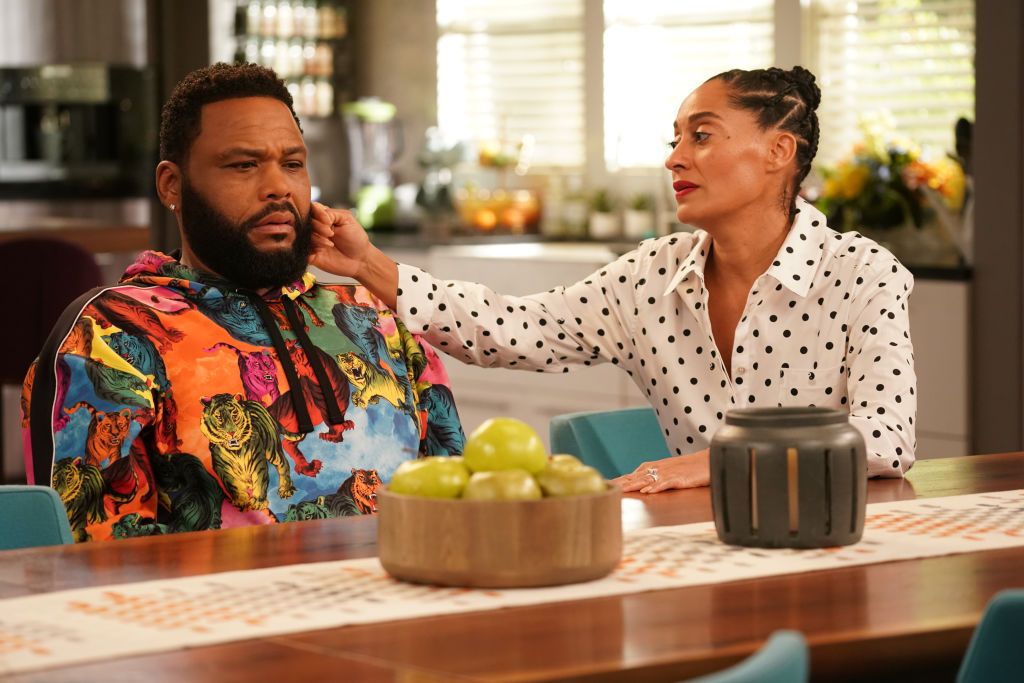 Tracy Ellis Ross and actor Anthony Anderson during a scene on "Black-ish" on May, 2020. | Photo: Getty Images.
As for how she maintains her fit body, the style figure has shared some of her exercise routines on social media as a way to engage her fans throughout lockdown. Speaking at Oprah Winfrey's "2020 Visionaries Tour," Ross said:
"I personally work out a lot because I like to feel strong. In order to get through a 15 hour day, I gotta feel strong. Otherwise, you wilt."
After spending 8 years on UPN's "Girlfriends" in the late '90s and into the 2000s, Ross was taken aback by the lack of Hollywood roles she had anticipated she'd be choosing from.
Although the sitcom averaged 4 million viewers, Ross came to later understand the show wasn't considered mainstream on account of it being viewed as a "black show."
Ross has endured invasive questions and judgments around her single and child-free status.
On top of that, "Girlfriends" never concluded properly with a series finale, nor was there a wrap party. Ross also noted how they could never get any airtime on any of the late-night talk shows because they were considered under the radar.
Following her portrayal on the sitcom of attorney Joan Clayton who couldn't wait to walk down the aisle, Ross has endured invasive questions and judgments around her single and child-free status. She shared with Oprah, saying:
"I, like many of us was taught to grow up dreaming of my wedding, not of my life, and I spent many years waiting to be chosen. Well, here's the thing, I'm the choser. I am happily, gloriously single."
It wasn't until after 2014 when she starred in "Black-ish" that Ross began garnering attention. Suddenly, she was booking the covers of white magazines, received an Emmy nomination in 2016, and won a Golden Globe for best actress in 2017.
The Pattern Beauty founder speaks of growing up in a tight-knit family with her 3 siblings her mom, Diana Ross had with music executive Robert Silberstein.
Ross adopted a good work ethic early on following Diana's jokes about not leaving any of her wealth to the kids. Ross adds this also ensured she didn't turn into a spoiled brat.
Earlier this month, Ross again took to Instagram showcasing another playful fashion moment, as she modeled a pair of Bottega Veneta rubber boots that we've seen a number of famous people gravitate towards.
This year also saw Ross conquer one of her scariest goals - which was to sing, through her portrayal of Grace Davis in the 2020 release, "The High Note." She performs 6 original songs in the movie, which she is ecstatic about.
Please fill in your e-mail so we can share with you our top stories!