Magic Johnson's Big Family Shares Rare Snaps to Celebrate His Daughter Elisa's Birthday
Magic Johnson wishes his daughter, Elisa a happy birthday in a series of photos shared on Instagram. The former NBA star and his wife, Cookie Johnson, have raised beautiful children known for giving back to their communities. 
Earvin "Magic" Johnson Jr., proudly shares pics of his stunning daughter, Elisa on her birthday. In the first picture, the father and daughter seem to be in a scenic dock with a number of yachts in the background.   
The NBA Hall of Famer has paired blue shorts with a white T-shirt, while Elisa looks serene in a silver strappy dress and white sandals.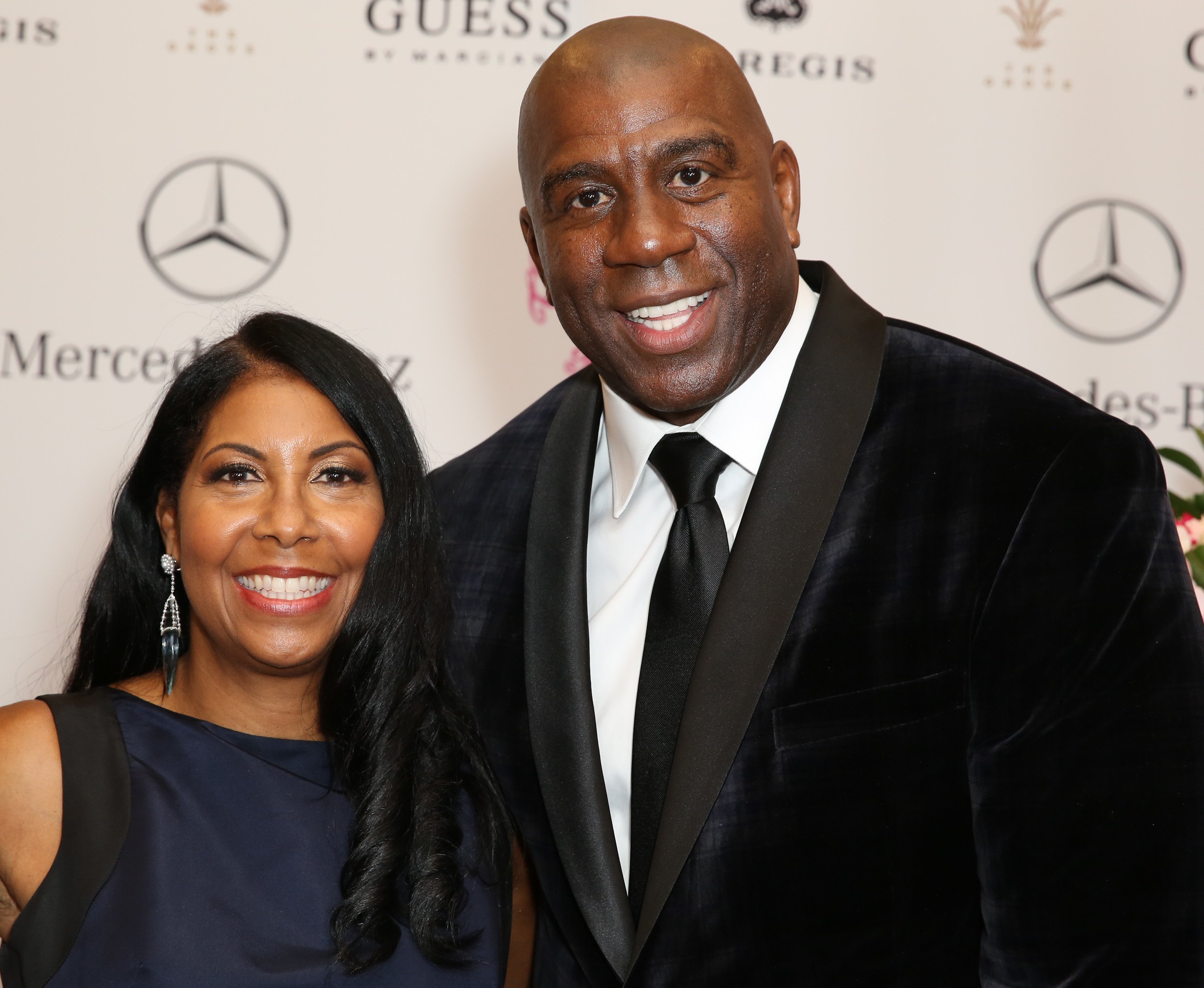 In the next photo, Elisa and Magic flank their mom and wife Cookie on either side, donning more formal attire. Magic was in a suit, Elisa in a black sleeveless top and jeans, while Cookie looked divine in a beige bodycon dress.  
Magic shared beautiful words for Elisa, who the couple adopted as a baby, and later met her biological mom, Dawn at age 18. In his caption, Magic called Elisa his "light" in the world and adds: 
"Two things I know about you, you're very independent and you are a trailblazer (and trendsetter). Dad will always love and support you! Love you always!"
Elisa, who in 2017 was a Fashion Institute student, got signed to Wilhemina Models and walked the runway at Just Drew. She became the victim of a home invasion in 2019 and escaped through a sliding door, which left her abdomen scarred.  
Magic and Cookie wed in 1991, after which Magic shocked the world with his HIV status just 45 days later. Cookie and EJ (who Cookie was pregnant with at the time) both tested negative, and she remained supportive of her husband.
The Johnsons have set good examples for their kids, of being advocates for worthy causes.
EJ was introduced to most of the world by starring on "Rich Kids of Beverly Hills" in 2014. Fans would watch EJ shed a drastic amount of weight after getting gastric bypass surgery in 2015.
Prior to this, EJ received support from both of his parents when he came out to them in 2013 and was later honored by the HRC at their Time to THRIVE Conference in 2019. Magic, speaking to Ellen Degeneres, said of EJ coming out: 
"It's all about you not trying to decide what your daughter or son should be, or what you want them to become. It's about loving them no matter who they are. When my son came out, I was so happy for him." 
Magic has an older son, Andre (born 1981) who he fathered with Melissa Mitchell. Andre, a successful entrepreneur in his own right, has served as Vice President of Magic Johnson Enterprises. 
A 2017 scandal had people wondering whether Magic had a fourth child, following accusations by Renee Perkins, who alleged Magic had abandoned their son, Chauncey. Magic never commented on the case which remains unresolved.
The Johnsons have set good examples for their kids of being advocates for worthy causes. Magic famously educates and encourages HIV testing in minority groups, while Cookie instills confidence in young girls through the Ladylike Foundation.  
EJ followed suit by using his platform to speak on gender fluidity and gender nonconforming issues. Elisa, who joined her mother at Ladylike Foundation, also had her sights set to work with foster kids and adopted children.