Betty White Never Had Her Own Kids — Who Are the Hollywood Icon's 3 Stepchildren?
Betty White had gained 3 stepchildren, David, Martha, and Sarah, from her late husband Allen Ludden when they married.
Betty White has had an amazing career as an actress spanning over 80 years, but she has also been a loving stepmother to her late husband's 3 children.
Allen Ludden had been the "Golden Girls" actress's 3rd husband and longest marriage from 1963 to 1981. Marrying him made her a mother, as she never had her own biological children.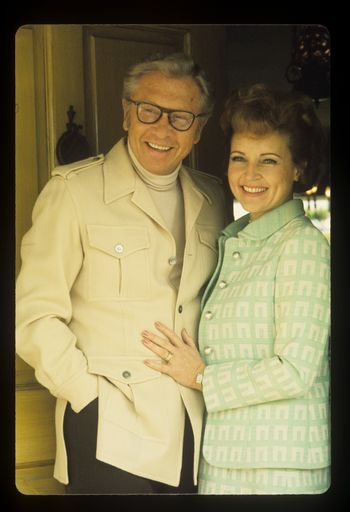 David is the eldest of the stepchildren. He received a Ph.D. from the University of Pennsylvania in 1978. Later in life, he had been a history professor at the same university. 
He is an author and has countless accolades. He has written many versions of his book "India and South Asia: A Short History." White has said this about having step-children,
"I married someone who had three children. And how blessed I was to have those three stepchildren."
Sarah Ludden is the actress's youngest step-child. She and Betty had a great relationship, unlike her sister. She had regularly tried to intervene between her sister and their dad and stepmom fight.
She had started off as an audiologist and dancer. Her love for dancing has seen her find a career in karate as she and her partner, Nancy Lanoue, have a small karate school together in Chicago called "Thousand Waves."
Ludden had died in 1981 after a battle with stomach cancer.
Martha the eldest daughter and White have been said to have had a strained relationship. She had opposed the marriage and had been angry toward her father about it.  
The pair are believed to have patched things up as the star speaks well of the now grown-up children. Although a source shared with Pop Crunch that, 
"Her tumultuous relationship with her father had caused him a lot of grief" 
Ludden had his 3 children with his first wife, Margaret McGloin. She had died in 1961 after 18 years of being married to the TV personality.
Ludden had died in 1981 after a battle with stomach cancer. She had shared that she had dealt with his passing by keeping busy with work and life. 
White celebrated her 99th birthday this year and, because of the pandemic, decided to throw a zoom party for her friends to celebrate and had asked for hotdogs for the occasion.
She had a movie that was supposed to come out but was delayed until 2021. The movie is still untitled, however but it is a Christmas theme movie.