Tennis Star Maria Sharapova Got Engaged to Prince Harry's Pal Alexander Gilkes — Who Is He?
Alexander Gilkes is a lucky man as he is about to be married to the love of his life and tennis star Maria Sharapova, after dating for two years.
Recently, art dealer Gilkes, who is also a very close pal of Prince Harry, and his wife to be, took to their respective social media accounts to share the big news of their engagement.
But what do we know about Alexander Gilkes, besides the fact that he is very close with the entire royal family and a close friend to Prince Harry?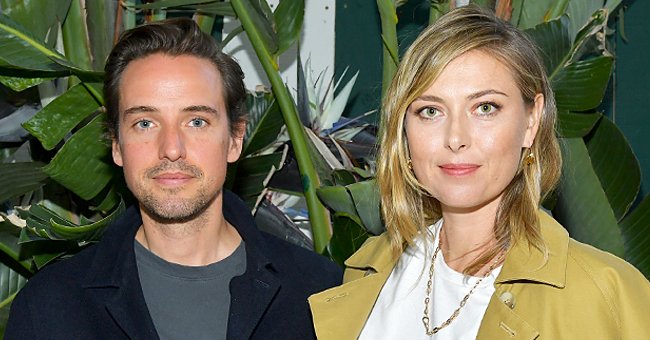 REPUTABLE ART DEALER
Gilkes, 41, is a reputable art dealer and businessman. He lives in New York City, and that's where his art businesses are conducted. He confounded an online art auction house called Paddlesworth in 2011, and he was the company's president till 2018.
HIS EDUCATION
The British businessman went to school with Prince William and Prince Harry. He met them both while studying at Eton, a boarding school attended only by elite British children.
They continued their friendship over the years, and his younger brother Charlie Gilkes was at one time in a relationship with Kate Middleton's younger sister, Pippa.
DATING MARIA SHARAPOVA
Gilkes started dating tennis superstar Maria Sharapova in 2018, and they confirmed the news in October 2018, when they were spotted on a trip together.
After two years of sharing adorable PDA and public appearances, the duo finally announced their engagement on December 17 with Instagram posts from both parties.
MARRIAGE TO MISHA NONOO
Gilkes was previously married to Misha Nonoo, who happens to be Meghan Markle's BFF, but the relationship did not last more than a couple of years.
In 2014, the former couple had an elaborate wedding in Venice, but the romance ended in 2016 after they split. They later finalized their divorce in 2017. 
Misha, who is friends with both Meghan and Prince Harry, reportedly set the royal couple up for their first date. Maria Sharapova has also had high-profile previous relationships.
At one time, she was rumored to have had a short relationship with Adam Levine, Maroon 5's lead singer. She has also been linked to fellow tennis star Andy Roddick after they were both frequently snapped together at the 2016 US Open.
Roddick later came out to clear the air about the dating rumors, which he confirmed untrue. After Sharapova and Alexander's engagement announcement, friends, family, and fans have been sending congratulatory messages to them.
Sharapova shared two photos and two videos on her page and wrote, "I said yes from the first day we met [heart emoji]. This was our little secret, wasn't it? @gilkesa." Congratulations to them.