Jonathan Scott Reveals What He Plans to Dedicate the Year 2021 to by Sharing a Photo of Girlfriend Zooey Deschanel
Love is the inspiration behind what Jonathan Scott plans to dedicate the year 2021 to, as he shares a pic while in the arms of his girlfriend, Zooey Deschanel. They've enjoyed a fast romance since meeting in 2019.  
Jonathan Scott has found inspiration in love and is dedicating that to 2021, as he shares a pic of himself with his girlfriend, actress Zooey Deschanel. 
In the snap, the loved up pair hold each other in their arms, standing in the yard next to a tree decorated with Christmas ornaments. Scott adds that 2021 will also be about seeking happiness and helping others.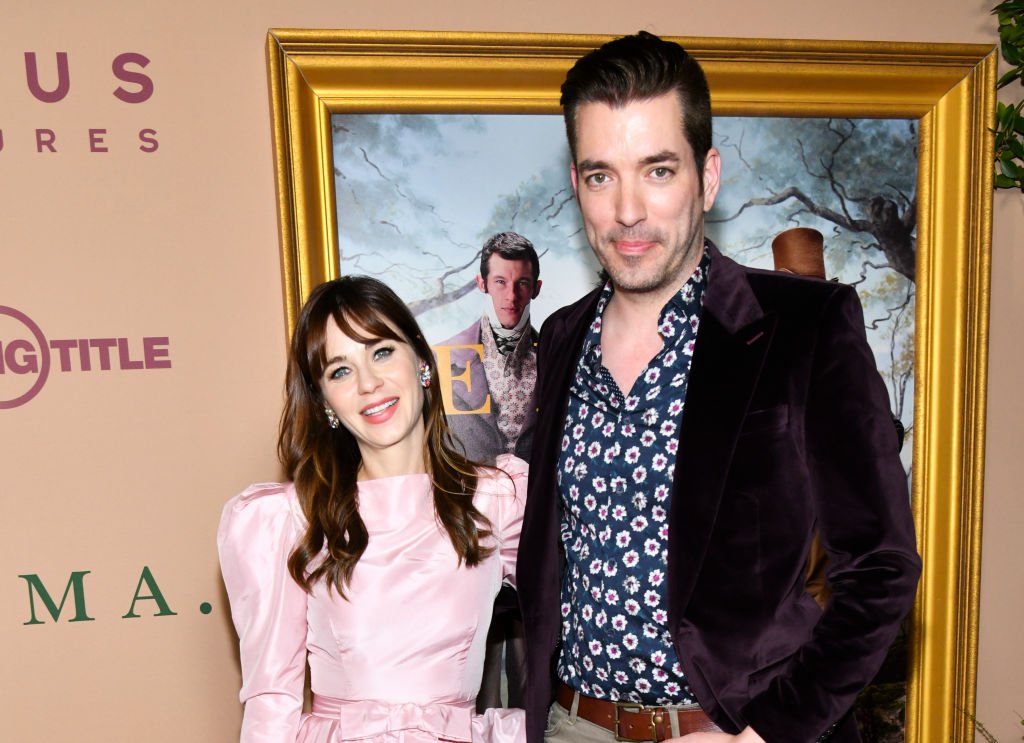 The star of "Property Brothers" wears jeans paired with a grey cardigan, while Deschanel looks pretty in a red dress with black tights. Scott lovingly pays a cute tribute to his ladylove in his caption:
"I feel like I've got a good jumpstart on the love part. What are your resolutions?"
Followers expressed their delight in seeing the couple together in the comments, with one commenter boldly daring Scott to make Deschanel his wife already.
The HGTV star and "New Girl" alum have been together over a year, having met filming "Carpool Karaoke" in September 2019. Scott and his twin brother Drew faced off with Deschanel who was paired with her sister and star of "Bones," Emily Deschanel.
The relationship caught Scott off guard. He admitted that he had set very high expectations for himself in his future partner.
According to Scott, he believed he had downplayed his attraction to Deschanel quite well, only to be told by producers of the Apple TV series later that he had been flirting relentlessly with her. 
A whirlwind romance followed, which included Deschanel accompanying Scott to his older brother, J.D.'s wedding in November 2019. With his twin brother Drew also married to Linda Phan, Scott was soon dealing with engagement rumors, saying: 
"I'm pretty confident that I will ask my girlfriend to marry me before I tell a reporter that I'm going to tell her." 
In January 2020, Scott praised Deschanel revealing what he loves most about her, saying she was more hilarious than he is, adorable, and kind. It also helps that she is just as much of a romantic as he is.  
The romance was a surprise to fans following Deschanel's divorce from her husband of four years, Jacob Pecheni. She shares a daughter, Elsie Otter, and a son, Charlie Wolf, with him.
The relationship also caught Scott off guard. He admitted that he had set very high expectations for himself in his future partner, adding that Deschanel was a pleasant surprise.
According to Scott, surviving quarantine during the COVID-19 pandemic was a welcomed forced break, after bragging that Deschanel spoiled him with delicious meals throughout the process as a nod to her cooking skills.
With the pair sharing a lot of interests including films, theatre, music, and board games, they kept busy playing things like Scrabble and even created a virtual escape room on one of the nights.