Tracee Ellis Ross Flaunts Her Gray Edges in Stunning IG Snaps Dressed in a Low-Cut Black Outfit
"Black-ish" star Tracee Ellis Ross is not afraid to show her true and authentic self. The actress flaunted her gray edges in a plunging sleeveless black outfit in a recent social media post.
Tracee Ellis Ross may be a timeless beauty but the "Black-ish" actress just proved in a recent snap that she also goes through signs of aging. She has graying hair edges.
The 48-year-old fashion-savvy actress took to Instagram to share two pictures of herself in a low-cut black outfit and pulled-up hairstyle. She looked classic from all angles.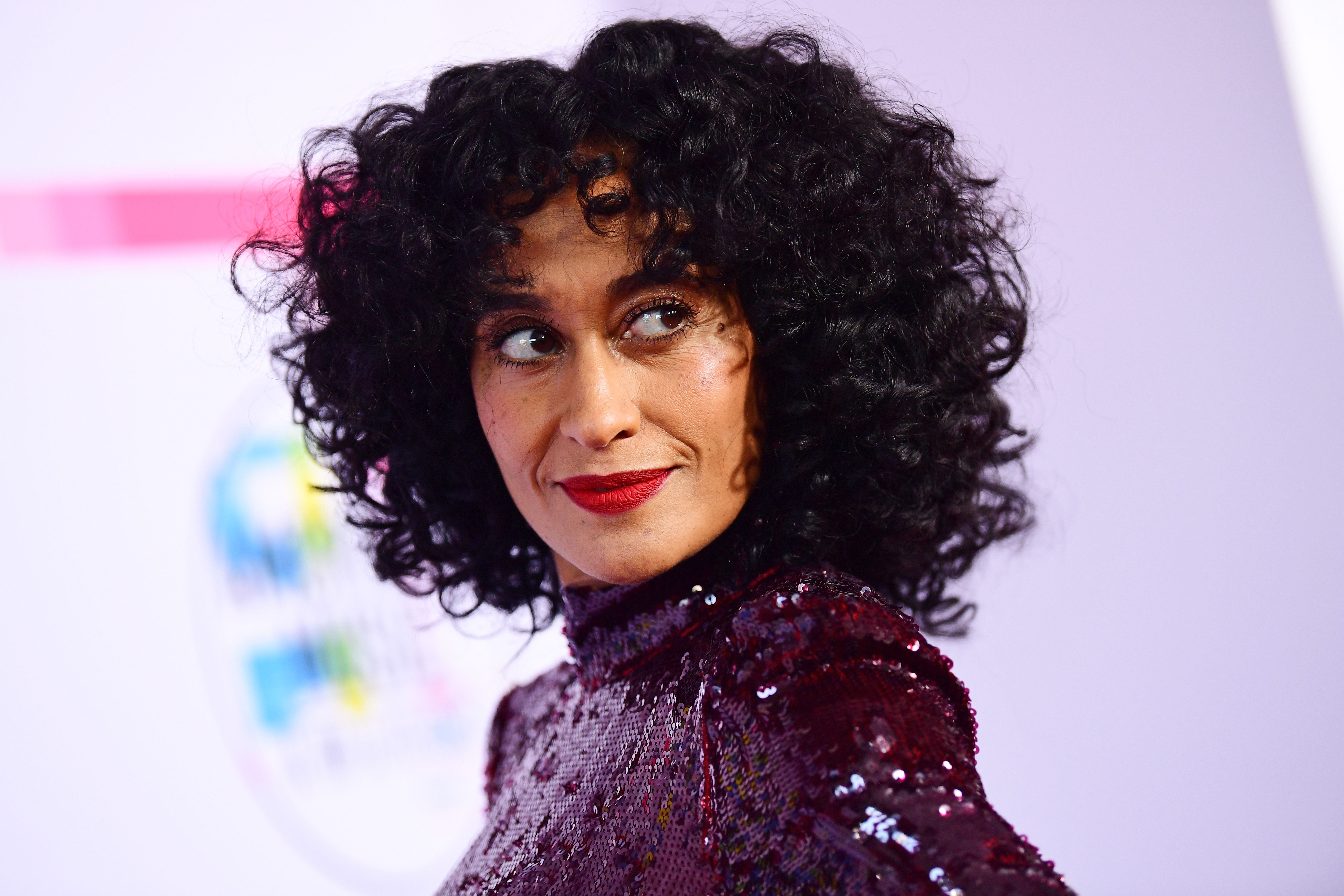 SHOWING HER NATURAL BEAUTY
Tracee, who donned gold earrings and multi-layered necklaces, pictured herself beside a flower. The veteran actress looked as stunning as the flower.
In another angle, the "The High Note" star gave a big grin at the camera. Even with minimal make-up, she seems unbothered with her gray roots showing up in her snap. She wrote in the post:
"Find the flowers and the light cause whew lots of feelings."
JOURNEY TO HAIR ACCEPTANCE
Many fans were impressed with Tracee's real beauty as she seems to fully embrace the look she's having now. A fan wrote that she is beautiful in her pictures.
The former model's incredible snaps earned praises from fans and poured hearts, crowns, and fire emojis in the comment section.  Another fan described her as gorgeous.
In October last year, Tracee became sentimental over her hair aging as she got older. In a lengthy Instagram post, she spoke of her journey to self-acceptance that is chronicled with her hair.
Though she has yet to fully embrace her graying hair, Tracee is taking her time to accept, understand, and love her hair. She added in her Instagram post that "hair love IS self-love."
Besides sharing her hair journey, the "Read Between the Lines" alum also shared with Vogue her beauty routine. She included in her regimen her way of maintaining her fabulous curls. 
She also shared that she took style cues from her mother, the legendary singer Diana Ross.
EMPOWERING WOMEN THROUGH HAIR
To help Black women maintain the beauty of their hair, their crowning glory, Tracee founded Pattern Beauty, a haircare brand for curly and tight-textured hair. 
The hair care founder said that it took 10 years for her to realize the brand. She spent two years working with a chemist in perfecting a formula with safe ingredients. 
For her, Pattern Beauty is "to empower" and fulfill the unmet needs of Black women. The packaging also shows the legacy and history of the Black community.
Aside from being a seasoned actress and a haircare mogul, Tracee loves to doll up in various clothes. Last year, she was honored with a Fashion Icon Award at the E! People's Choice Awards. 
Tracee has been open about how she fell in love with clothes. She also shared that she took style cues from her mother, the legendary singer Diana Ross.