John Amos' Only Daughter Shannon Shows off Some Skin in a Cleavage-Baring Ensemble (Video)
Shannon Amos, actor John Amos' daughter, posted an Instagram video where she shared some advice and encouragement with her followers whilst showing some serious cleavage. 
Shannon Amos, the only daughter of the "Good Times" star, John Amos, posted some revealing content on her social media feed where she not only bared her opinions and gave advice but also showed some cleavage. 
Wearing a blue and red patterned outfit that was positioned to show enough but not too much paired with gold jewelry, Shannon drew attention to much more than the dangers of a negative narrative with which she was concerned in the video.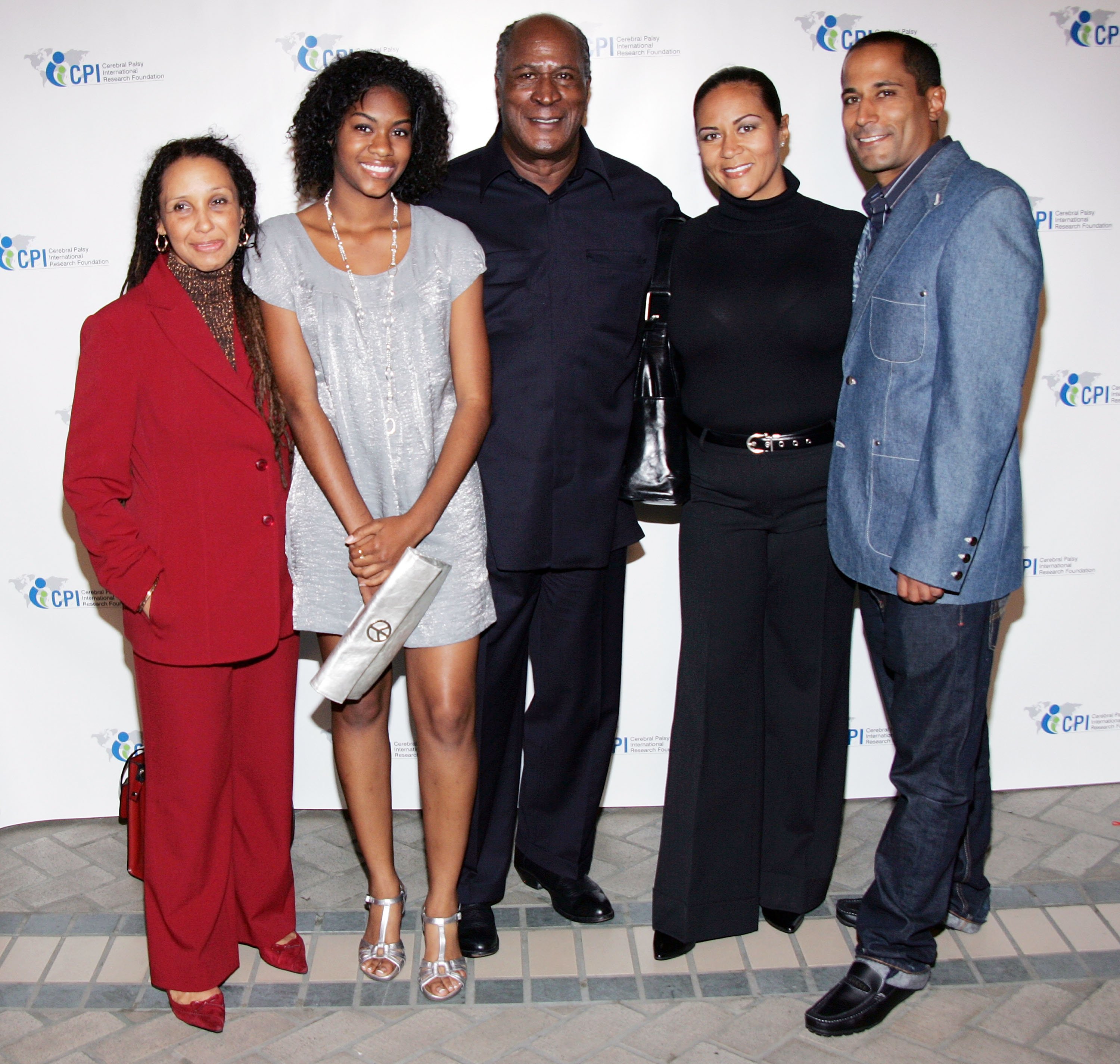 NEGATIVE NARRATIVE
The producer's three and half minute long video showed her walking around whilst delving into why it is necessary to be intentional with our thoughts. Shannon encouraged her followers, saying: 
"I want to challenge everyone to be mindful of their self-talk, to be mindful of any self-doubt because it can totally sabotage a friendship, a relationship. It can completely sabotage an entrepreneurial effort." 
Furthermore, Shannon focused on speaking about the power of manifestation and how it is necessary to be aware of the power that fear and limitations can have in creating a negative narrative. 
I AM BLACK. I AM WELL. I AM GOOD. 
In her video's caption, Shannon shared her mantra, which she features in most of her posts and is also seen in her Instagram bio. Her mantra "I am Black. I am Well. I am Good." is connected to her beliefs in the power of manifestation. 
Shannon was wise enough to develop together with the digital market and started her own business, Afterglow.
Positivity and self-belief are evidently principles that are important to Shannon and principles that she strives to live according to. Her video motivates her followers to take control of their thought patterns and wield the power of manifestation. 
THE OTHER SIDE OF THE CAMERA
Although Shannon received plenty of exposure to the Hollywood acting scene by tagging along with her father throughout her childhood years, she chose to take her place on the other side of the camera. 
Almost directly out of high school, Shannon worked with major directors such as Spike Lee and Ted Demme to gain valuable experience on set. This paved the path for the actor's daughter to becoming a respected producer. 
BEYOND PRODUCING
As a very determined young professional, Shannon decided to move to Washington, D.C. After a year of chasing her dream job, she eventually landed it as a producer for BET Networks. 
Having climbed the ladder to show creator and director of original programs at BET and moving on to directing music videos, Shannon was wise enough to develop together with the market and started her own talent management company, Afterglow.  
Shannon is just as determined and hard-working as her father. John Amos starred in several major shows, including "Good Times," "The Mary Tyler Moore Show," and "Roots," moving from one great opportunity to the next. 
After being fired from "Good Times" for being vocal about his unhappiness with the direction of the storyline, the Emmy nominee made a surprise appearance in the show's live special during "Live in Front of a Studio Audience" in 2019.