Snoop Dogg's Daughter Cori Shows PDA with Handsome BF Wayne in a Cute Snap on Her IG Story
Yesterday, Snoop Dogg's daughter Cori Broadus shared an affectionate picture on her Instagram story with her boyfriend of two years, model Wayne Duece.
Cori Broadus reshared the picture of the couple from Blvck Culture Media's Instagram feed. She and Wayne Duece both had on identical red headbands. Duece is also wearing a silver ring on the pinkie finger of his hand.
In the photo, Duece is kissing his 20-year-old girlfriend on her cheek with his eyes closed. At the same time, Cori looks directly at the camera with her face angled upwards.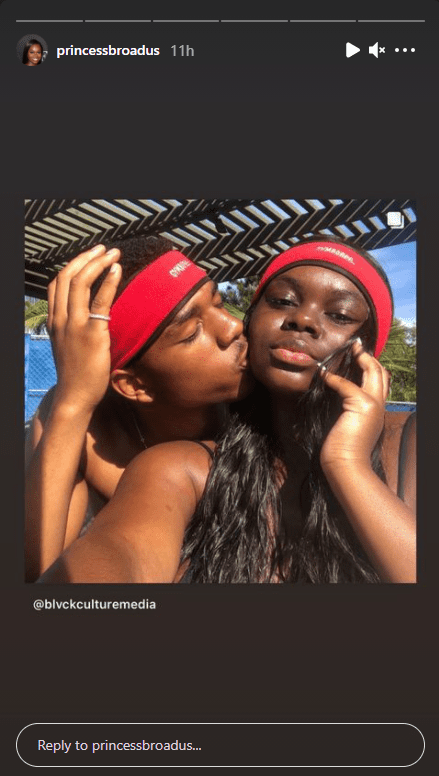 The two young icons look happy and completely in love with one another in Cori's story. This isn't the first time that she has shared images of herself with her partner. 
The original post has three pictures. The first one shows Cori and Duece with their arms around each other looking serious. The last picture shows them staring intensely into each other's eyes. One fan commented:
"It's the black love for me"
Cori takes after her musical father, Snoop Dogg, and recently released a cover song in July 2020. She also uploaded and streamed several live videos of her singing on Youtube. 
Cori is Snoop Dogg's only daughter and the second youngest of his children. Cori has three other siblings, two older brothers Cordell and Cordé, and a half-brother Julian who is the youngest. 
Snoop Dogg is incredibly protective over his daughter because when she was six-years-old, Cori got really sick without explanation. 
Snoop Dogg has been married to his high-school sweetheart for twenty-four years, but their marriage has not been without trials and tribulations. It was discovered that Snoop Dogg had a child (Julian) with a woman named Laurie Holmond.
In December 2019, Shante also apparently reported that her husband had been unfaithful to her. She shared a somewhat ambiguous but heartfelt post on Instagram with a picture saying:
"U ever watch somebody u love turn into somebody u don't know… [sic]"
Snoop Dogg is a proud father to all his kids. However, the 49-year-old rapper is incredibly protective over his daughter because when she was six-years-old, Cori got really sick without explanation. 
Initially, Cori's parents only noticed a light spot on their young daughter's face, but weeks passed, and things became worse as she began losing her hair and rapidly dropping weight.
The concerned couple visited several doctors, but it was only months later that Cori was diagnosed with the autoimmune disease lupus. Snoop Dogg maintains that the disease united the family further.
But that is not all the family have endured. Snoop Dogg's ten-year-old grandson, Kai Broadus, passed away due to a heart defect in 2019. The whole Broadus clan was deeply saddened by the young boy's death.
Snoop Dogg was also devastated by the news of his close friend and athlete, Kobe Bryant. The rapper chose to commemorate his dearly departed pal with a tattoo of Bryant's initials, "KB" and a Laker's championship trophy.
His favorite memory with Bryant was when he gifted him a low rider. Snoop Dogg and Bryant were very close and the "Drop it Like its Hot" singer has nothing but kind words to say about the late basketball player.