Diana Ross' Son Evan Cradles His Light-Haired Baby Ziggy as He Sleeps Calmly in His Arms
Diana Ross's son Evan Ross shared several social media images holding his baby Ziggy Blu Ross in his arms. The three-month-old child continued to sleep peacefully.
Evan Ross seems like a gentle and natural father as he cradles the sleeping Ziggy. He shared a few snapshots of his and his baby's special moment on his Instagram story.
Evan is wearing a full-length comfy black jacket. His little bundle of joy is wearing a complementary black romper. Evan and his wife Ashlee Simpson Ross welcomed their new baby boy at the end of October last year.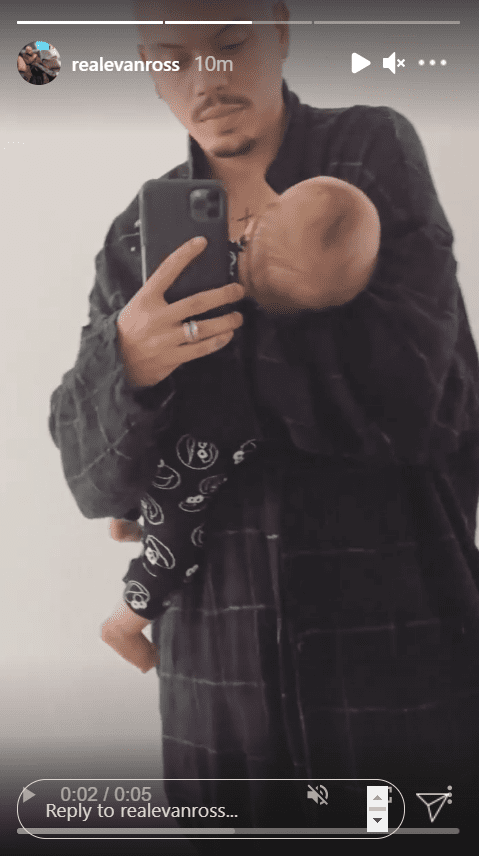 Baby Ziggy's head lolls comfortably against his father's chest in the pictures baring his beautiful soft scalp and his pale, silky hair. Ziggy has the most adorable white cartoon faces printed on his onesie.
Simpson and her 32-year-old husband, Evan, now have two children together. The 36-year-old actress and singer was ecstatic to meet her new baby last year and shared her feelings on her Instagram, saying,
"Our sweet boy has arrived! I'm over the MOON we are so Blessed!"
Simpson and Evan had their first child, Jagger Snow Ross, in July 2015. Evan was particularly thrilled to become a father and vowed to make his daughter proud. Simpson also has a son, Bronx Mowgli, from her first marriage.
Jagger Snow is likely named after Mick Jagger, as both parents come from musical backgrounds. The newest addition to their little family has been received with much joy. Evan's desire to be a good father could be motivated by the loss of his own dad.
In 2018, Evan's brother Ross convinced him to go to Malibu Creek park to come to terms with his father's unfortunate passing.
Evan's father, Arne Næss Jr, was a Norwegian shipping tycoon and his mother's second husband. Diana and Næss had two children together, Evan and his elder brother, Ross Arne Naess.
Diana has three children from her first marriage. Even though Diana has numerous accolades under her name, including being nominated for 12 Grammy Awards, she maintains that she is most proud of her five children,
"I have so much to be proud of, and my best examples are my children."
In 2018, Evan's brother Ross convinced him to go to Malibu Creek park to come to terms with his father's unfortunate passing. Arne Næss Jr died in 2004 after a tragic climbing accident.
After some cajoling, Evan agreed to go climbing with his brother as a way for them to both honor their late father. Evan was reluctant at first but knew his father would have wanted him to go through with it. 
Evan later revealed that perseverance was one of the main traits he had inherited from his dad. It was this that gave him the courage to go with Ross to Malibu Creek even though he hadn't been climbing in years.
Although Evan suffered a significant loss that clearly still affects him, this has only further enhanced his devotion to being a good father to his two children, Ziggy and Jagger.