Steve Harvey Shows Chest in Yellow Shorts & Hugs Wife's Slim Figure in a Pink Outfit on a Yacht
Award-winning comedian Steve Harvey dazzled fans with a shirtless picture of himself posing with his wife, Majorie Harvey, from their holiday.
If there is anything the very eccentric American comedian and TV host Steve Harvey knows how to do best, it is having a good time, and the 64-year-old does so without any fear or apology.
The actor recently gave his followers something to feast their eyes on. Steve posted a shirtless picture of himself with his gorgeous wife, Majorie Harvey, having a good time.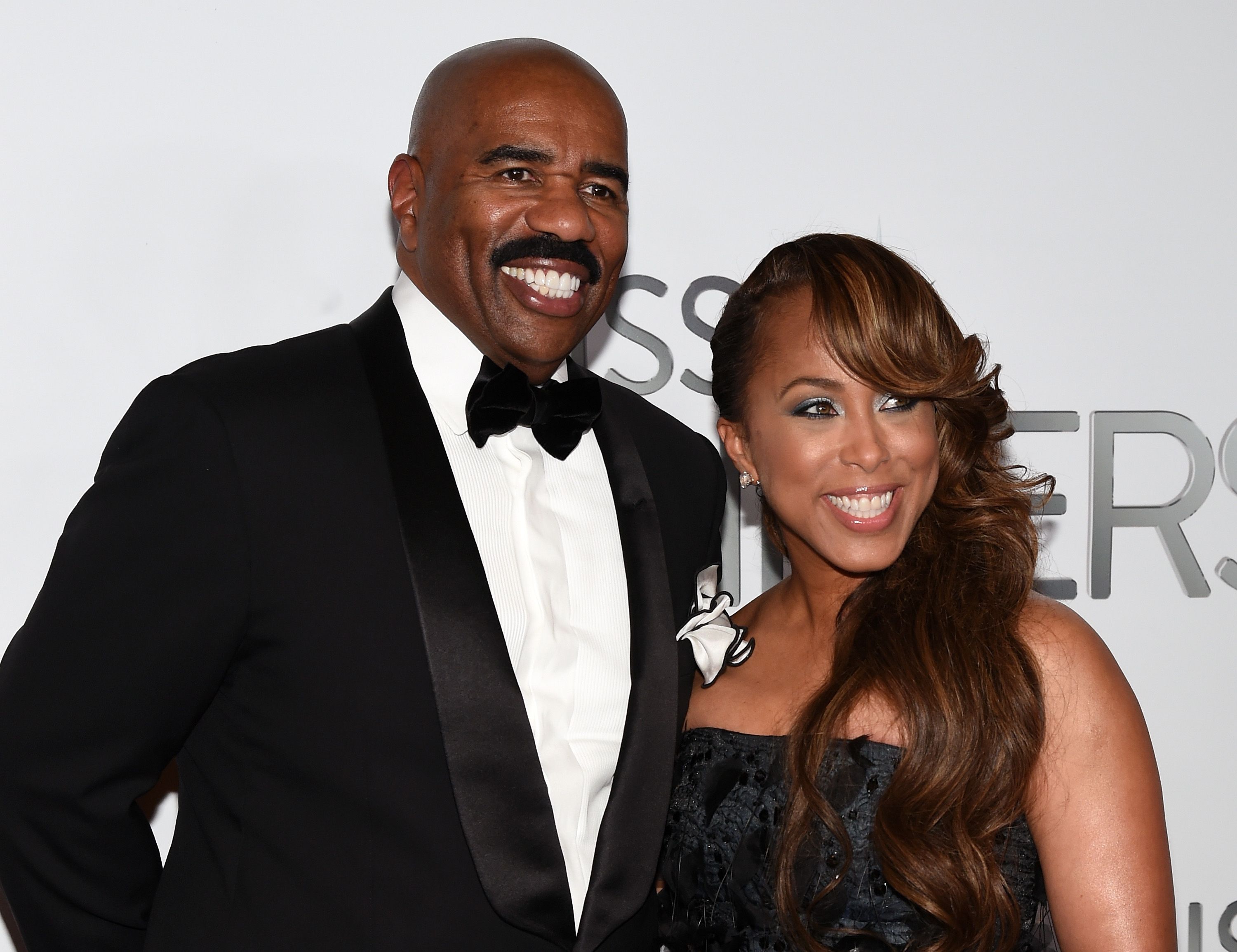 The picture captured the couple snuggled up on a yacht with a beautiful view of the sea in the background. Steve looked irresistible in his lemon shorts and boater while holding a Cuban cigar.
Majorie dazzled in her baby pink 3-piece swimsuit. The husband and wife both locked eyes as they posed for the camera. The celebrity couple looked perfect together.
The post has garnered several likes and many comments on Instagram. One fan commended Steve's physique attributing it to his time in the gym. Rapper Snoop Dog joked about Steve taking his shirt off.
Majorie also spread the love to her followers. On her Instagram page, she posted two pictures. The first was a stand-alone picture, and the second was similar to the image on Steve's page.
Marjorie was previously married to Jim Townsend and Darnell Woods, who were allegedly drug dealers.
In the first picture, she rocked sun shades, her three-piece swimsuit, and struck a beautiful pose. The post has over a thousand likes and several comments from followers gushing over the TV star's beauty.
Steve and Majorie have been having a fun time on holiday with his daughter, Lori Harvey, who Steve recently partied with in his Atlanta mansion. They were also accompanied by Lori's boyfriend, Michael B. Jordan.
Meanwhile, in a recent interview, Majorie talked about Steve and their love. She noted that the television star had a heart of gold. She also spoke about how they had kept in touch over the years before getting married.
When asked about the type of husband Steve was, Majorie said that he was her soulmate. She also mentioned his humor and ended by saying she wished her sons could be the man Steve is and that her daughters find men like him as soulmates.
Steve and Majorie got married in 2007. The comedian was previously married to Marcia Harvey and Mary Shackelford. He has twin daughters Brandi and Karli, and son Broderick Harvey Jr. from his first marriage, and a son named Wynton from his second marriage.
Marjorie was previously married to Jim Townsend and Darnell Woods, who were allegedly drug dealers. She had three kids, Morgan, Jason, and Lori Harvey, from her previous relationship who Steve has adopted.