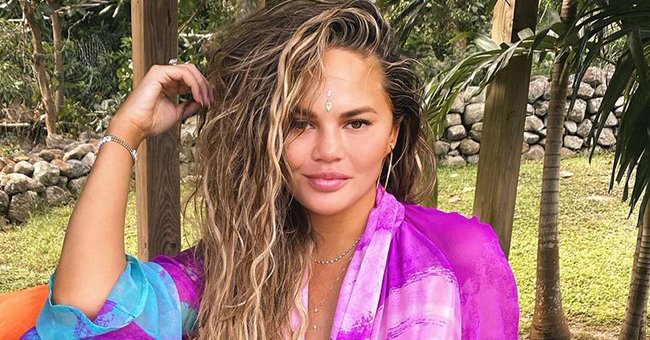 Instagram/chrissyteigen
Chrissy Teigen's Wish Comes True as the Official POTUS Twitter Account Follows Her Back

Chrissy Teigen's wish came true as the official POTUS Twitter account followed her back this week as Biden came into his presidency.
Chrissy Teigen, an avid Twitter user, had her wish come true at the Offical POTUS Twitter account and followed her back after she had requested Biden to follow her.
The POTUS Twitter account currently follows 13 people, including Kamala Harris, Jill Biden, Douglas Emhoff, and other White House Staff. However, the only non-political connection the POTUS follows is Teigen.
The mother of 2 and TV personality from "Lipsync Battles" had requested Biden to follow her as Donald Trump had blocked her from seeing his tweets.
It seems the follow back was a deliberate move by the White House director of digital strategy. Rob Flaherty addressed the situation on his own Twitter with a meme of the situation. His tweet read, followed by photos of the situation:
"How it started. How it's going."
Of course, Teigen shared her own excitement for her new follower with a few tweets, one that read that she should stop tweeting now because the President could see her.
She also shared a screenshot of an article about the exciting news on her Instagram stories with the words, "What a time to be alive."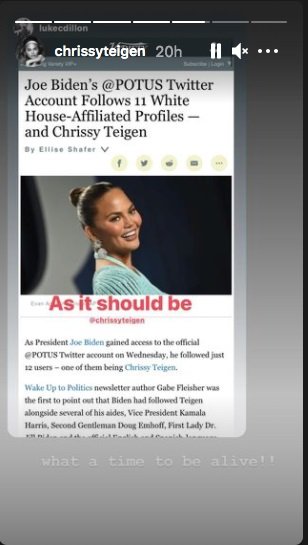 Teigen's Instagram story which shows her excitment toward her new follower. | Photo: Instagram/chrissyteigen
This is not Teigen's only connection to the President this week as she, her husband, John Legend, and their two children were at the Inauguration celebrations in Washington D.C.
She shared 4 photos from the day; one featured a long caption about her feelings toward the former President, Trump. While another featured their two children on the couple's shoulders, with a caption that read:
"Just an incredibly special day."
Legend performed his song "Feeling Good" at the Lincon Memorial following the Inauguration ceremony. Teigen shared photos from the day, including a photo of the family in front of the Washington Monument.
Legend and Teigen have been outspoken supporters of the Biden-Harris ticket. However, Teigen is known for posting harsh criticism for Trump, and he has posted a mean tweet about the famous couple.
In one tweet, he called Legend a "boring musician" and referred to Teigen as his "filthy-mouthed wife." Legend responded to his tweet with a smart clap back.
Teigen looked absolutely stunning in red coat at the Presidential celebrations, and that now that she is has Presidential approval on Twitter, there will be no stopping her.
Please fill in your e-mail so we can share with you our top stories!