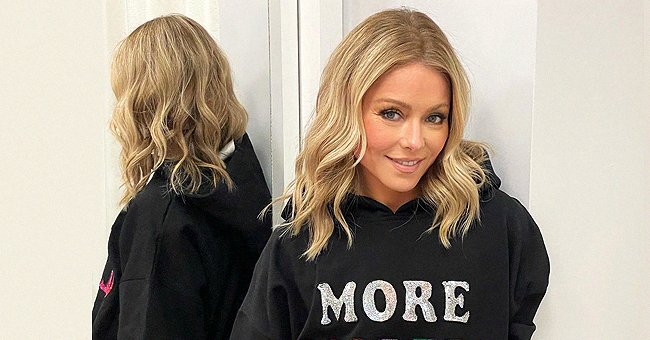 instagram.com/kellyripa
Fans Question Kelly Ripa About Her Age After She Posted a Pic Looking Youthful in a Sweatshirt
A few days ago, Kelly Ripa shared a graceful picture in a playful sweater leaving fans and followers questioning the Live with Ryan and Kelly show star's age.
Kelly Ripa, who turned 50 last year, has astonished fans on her Instagram with her youthful beauty and left them wondering whether the television actress is somehow in cahoots with Dorian Grey.
Ripa is radiant in a black hoodie with the words' More Glitter Less Twitter' emblazoned on the front in silver and multicolored lettering. Her blonde hair is also styled to perfection.
As Ripa leans against the mirror with a half-smile on her face, it is unsurprising that her supporters are disbelieving that the woman has lived through half a century.
Besides her fashionable sweater, Ripa has on a pair of faded light-wash denim jeans. She could easily be mistaken for someone in her thirties or even her twenties. One fan commented on the post her saying:
"You look 38, there's no way you're 50."
Ripa credited makeup artist Kristofer Buckle for her fresh-faced look. Buckle has worked with many celebrities, including Mariah Carey and some of the Kardashians.
Due to the Covid-19 pandemic, Ripa had to work at home until September last year but said that it was nice to have extra time with her husband, Riverdale star, Mark Consuelos. She told her co-star Ryan Seacrest that:
"We spent six months together in the same house. It was a testament that we really like each other. I'm sad not to wake up with him, it's very sad. I will miss him, that's all I can say."
Ripa and Seacrest also share a close personal bond outside of working together on Live with Ryan and Kelly. The two had to film separately for 180 days before reuniting for season 33's premiere.
The dynamic duo have hosted the show together since May 2017 and consider each other good friends. Ripa particularly appreciates the joyfulness, enthusiasm, and professionalism that her co-host brings to the show.
Last year Ripa had to crop a Halloween picture with her husband when fans drew attention to the size of his crotch.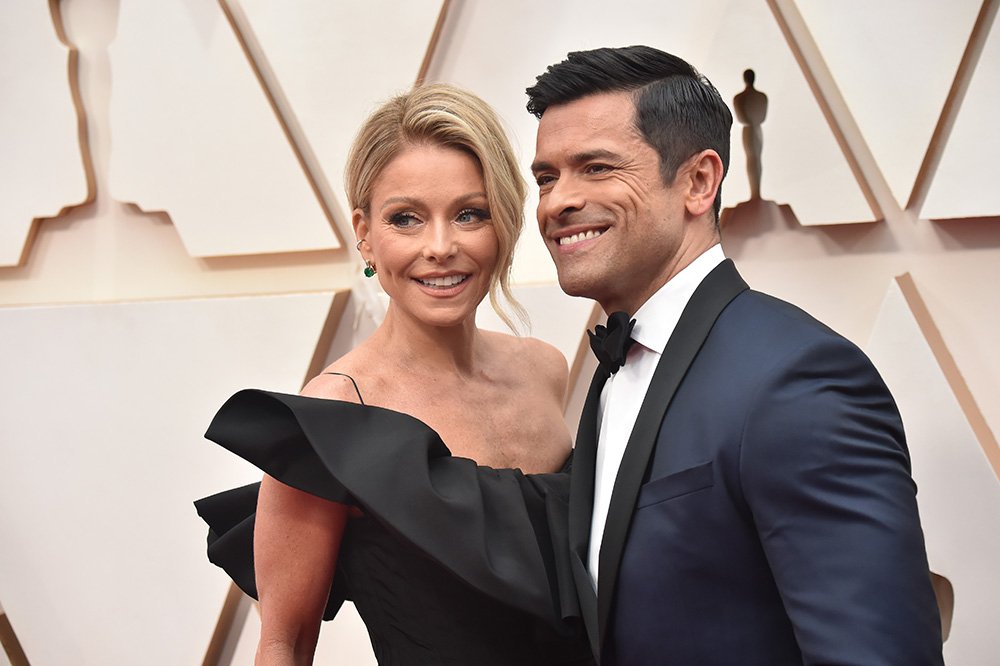 Kelly Ripa and Mark Consuelos at the 92nd Annual Academy Awards at Hollywood and Highland on February 09, 2020 in Hollywood, California. | Image: Getty Images.
In their latest episode, Ripa and Seacrest announced that Liza Koshy was the winner of the best celebrity walkout at home last Friday.
The hosts reflect on the highlights of 2020, awarding the categories of best Halloween, best trivia dancer, and the top 10 moments on the show from the year. Koshy expressed gratitude in her virtual speech, saying:
"It's an honor especially this year. Having best walkout during a year where we've had to stay in — it's pretty impressive."
Last year Ripa had to crop a Halloween picture with her husband when fans drew attention to the size of his crotch. Ripa had shared two Instagram photos dressed up for a Halloween when they first met versus the present day.
But Ripa had to downscale the image when followers began speculating on the bulge in the actor's pants. His wife seemed to take it in good humor accusing her fans of being 'thirstbuckets.'
Several members of Ripa's Instagram audience was very intrigued with her husband's genital area. Consuelos rebuffed some of the hype by insisting it was just the cast of the light emphasizing his groin.
Ripa and Consuelos's children find it uncomfortable when their parents even flirt on social media, so there is no guessing how they handled this fiasco.
Please fill in your e-mail so we can share with you our top stories!