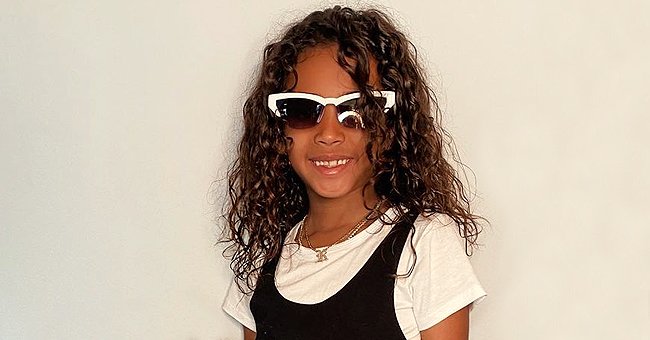 instagram.com/missroyaltybrown
Chris Brown's Daughter Royalty Feels like a Queen Posing with Mom & Sister in Matching Outfits
Chris Brown's daughter Royalty once again leaves fans thrilled by the six-year old's cuteness as she posed with her mother Nia Guzman in a matching outfit yesterday.
Royalty Brown and her mother Nia Guzman are perfectly posed in identical white shirts, black dresses, and sunglasses featured on Royalty's active Instagram page. Both even have matching hairstyles.
In the second picture, fans can see Royalty's full-length ensemble and that her sister Sinatra is also a part of the fun and wearing a miniature version of the dress and T-shirt.
Royalty is likely influenced by her mother's fashionable taste and often models in a similar manner. When they are pictured together, the resemblance between mother and daughter is stark.
Royalty often shares delightful pictures starring her mother and sister. It is undeniable that the trio remains inseparable and enjoy dressing up together for any occasion. Royalty captioned their latest post:
"Just queening!"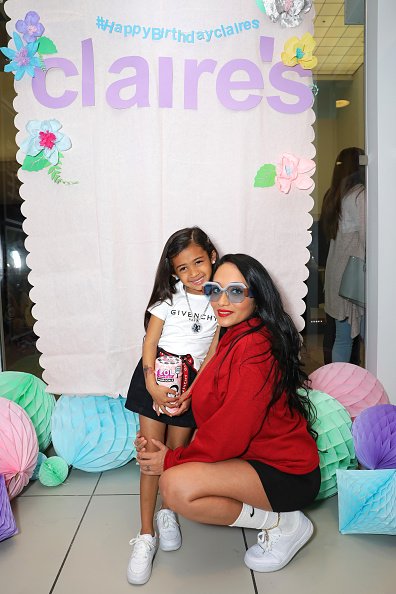 Royalty Brown and Nia Guzman at Claire's Birthday Celebration in Glendale Galleria, 2019 | Source: Getty Images
Royalty recently took the internet by storm with her fashionable outfits, quirky dance videos, and adorable pictures with her baby sister Sinatra L.A.
Royalty has been bombarded with compliments about her epic dance skills and frequently told that she has taken after her father, Chris Brown. This has come after Royalty has been participating in several TikTok dance challenges.
In 2019, Royalty's mother denied allegations that Brown was behind on paying child support fees towards his daughter.
Royalty shared a dazzling video of herself dancing in the most charming yellow Pikachu onesie with her one million Instagram followers. The clip was a hit, and Royalty was slick and confident in every maneuver.
The six-year-old is also well-known for her close bond with her little sister. Last year, Guzman posted a picture of Royalty leading her sister Sinatra and fans were moved by the two little girls' relationship. One fan commented saying:
"I bet she'll be the best mamma when she older, she seems to dote on her sis."
In 2019, Royalty's mother denied allegations that Brown was behind on paying child support fees towards his daughter. Rumors had been circulating that the RnB singer had back payments due for Royalty.
Guzman swiftly rejected the gossip and said that Brown was up to date with his payments for Royalty and that people needed to stop bashing him because he was doing his part.
Guzman also surprised her fans when both she and Brown attended one of Royalty's soccer matches together to show support for their little girl. Guzman captioned the photo of Royalty and her father, "The winners."
Although Guzman's relationship with Brown has been fraught since the custody battle in 2016, it has become apparent that the two have been working on their issues for the sake of their daughter, Royalty.
Please fill in your e-mail so we can share with you our top stories!