Us Weekly: Nikki Bella Hid Postpartum Depression from Fiancé Artem Chigvintsev
In July 2020, Nikki Bella gave birth to her and her fiancé Artem Chigvintsev's baby boy. However, she hid the fact that she struggled with postpartum depression from Chigvintsev, and she's now shared why.
Former professional wrestler Nikki Bella, 37, and her fiancé Artem Chigvintsev, 38, are parents to little Matteo, 5-months-old. However, the "Total Bellas" podcast star was harboring a secret about the birth.
Two months after the little boy's birth, Bella opened up about her struggles with postpartum depression for the first time. While on an episode of her show, she spoke up to her twin sister.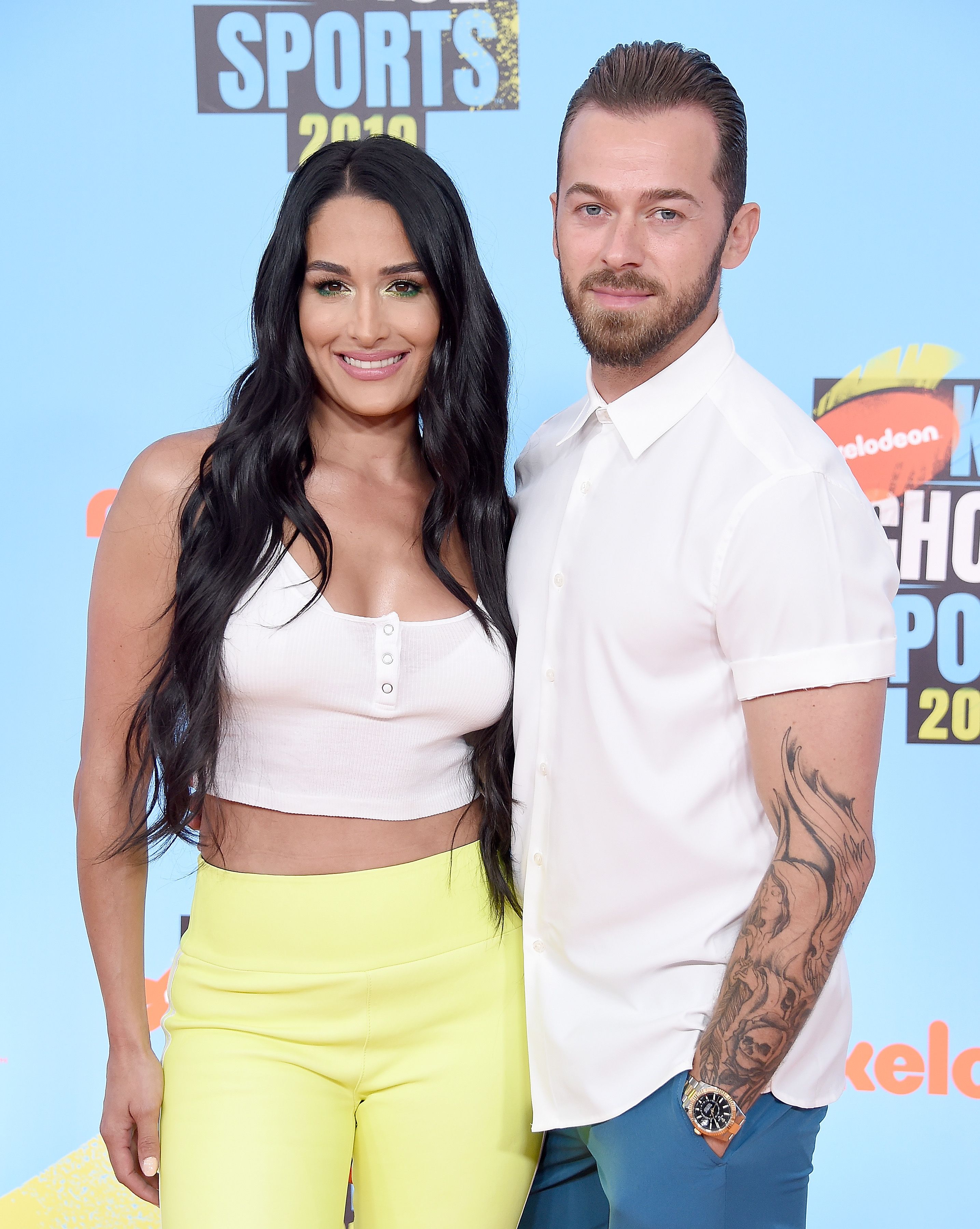 The former athlete told Brie Bella that at times she found herself hating her fiancé. She had been dealing with the diagnosis alone for a while before telling Chigvintsev the truth.
Bella confessed to her sister during the September 2020 episode that she was even mean at times. She even openly told her fiancé that she actually hated him even though it wasn't true.
For the upcoming episode of her podcast, the new mother explained why she took so long to tell Chigvintsev that she had postpartum depression. "Us Weekly" was able to get the January 28, 2021 show clip.
In the clip, Bella explained how she didn't want to talk about her diagnosis. She shared how she didn't "want to stress her fiancé out," especially since his focus was on "Dancing with the Stars (DWTS)."
The Russia native had a role at the time as former "Bachelorette" Kaitlyn Bristowe's dance partner on last year's DWTS season. The pair was so good that they managed to win the competition in November 2020.
So, Bella didn't tell him about her struggles because she didn't want to interfere with his chances of enjoying the dance competition. She told herself that she'd rather wait to talk to him after the season.
The former wrestler also felt it wasn't the right time for her to bring it up as a lot was happening between them. One of the things that happened was that she put an offer on a Napa, California home.
She felt Chigvintsev had a lot on his plate and didn't want to take away his good energy. Her fiancé was living his dream, and she felt things had changed quickly, and having had a newborn was also tough.
Last year, Bella also opened up about another revelation. In December 2020, she revealed in the memoir, "Incomparable," that she co-wrote with her twin sister that she was sexually assaulted as a teenager.
During the December 10, 2020 episode Daniel Bryan revealed that his wife had asked him to talk to Artem Chigvintsev.
For his part, Chigvintsev also opened up about struggling to have sex with his fiancée while she was pregnant with their son. On a "Total Bellas" episode, Brie's husband Daniel Bryan spoke to the dancer.
During the December 10, 2020 episode, Bryan revealed that his wife had asked him to talk to Chigvintsev. The DWTS star admitted that he struggled with the idea of having sex with a baby growing in his fiancée.