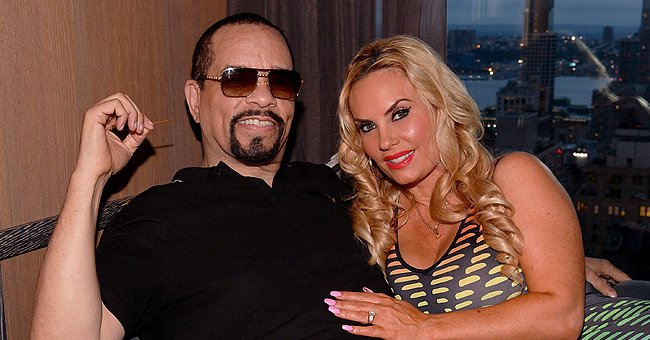 Getty Images
Ice-T & Coco Austin's Daughter Chanel Falls Asleep Cuddling Their Cute Puppy — See Sweet Photo
Ice-T and Coco Austin's six-year-old daughter Chanel falls asleep with their cute English bulldog puppy in an adorable picture recently shared to Coco's Instagram story.
Ice-T, aka Tracy Lauren Marrow, and Coco Austin's only child, Chanel Nicole, was seen in an affectionate embrace while asleep with a fetching little puppy on her mother's Instagram story a few days ago.
Chanel is fast asleep in the picture wearing a red sweater while she clutches her pup like he's a stuffed animal. He might as well be a toy for how relaxed he looks too.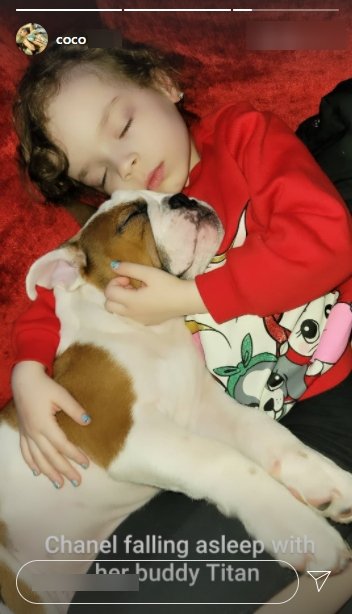 Screenshot of Insta story showing Ice-T and Coco's daughter Nicole asleep with a puppy | Source: Instagram/coco
The little girl who is peacefully dreaming ironically also has a top on with two small pups on it. Chanel is just as much of a canine lover as her parents.
With her head resting against the puppy's soft skull and her one hand lying gently on his flank, it is undeniable that this is one adored dog. Coco captioned her story saying:
"Chanel falling asleep with her buddy Titan."
The 42-year old model frequently twins with her daughter on her social media feed, showcasing various outfits. Coco and Chanel pose by their pool in gorgeous bikinis, enjoying the sun and making quarantine fun in one post.
Both Coco and her daughter are ardent dog-lovers, and one English bulldog even photobombs their swimwear photoshoot at the pool, standing in the corner with a frisbee in his mouth and wearing the cutest doggy lifejacket.
Coco admitted that she still breastfeeds her four-year-old daughter for comfort.
The Marrows had to bid farewell to their beloved 6-year-old dog Spartacus on Sunday after complications occurred during emergency knee surgery for cancer.
Coco and Ice-T explained that Spartacus took on the role of a furry big brother when their daughter was born and that his absence would be deeply felt. She declared on Instagram:
"He was my 1st baby with Ice.There'll never be another dog like him."
Coco admitted that she still breastfeeds her four-year-old daughter for comfort. Last year, she revealed that she will be continuing to nurse Chanel and will only wean her off breastmilk when she is ready.
This is a contentious topic, but fans and followers support the model's decision and have requested that she share her experiences and opinions on the matter.
The former television star assured her audience that her daughter was still eating real food (and particularly loves meat), so the breastfeeding was purely for her daughter's leisure.
Although Coco and Ice-T are deeply affected by the loss of their dog Spartacus, they still have a house full of hounds, including his brother Maximus and Maximus' litter of pups.
Please fill in your e-mail so we can share with you our top stories!