Kate Middleton Is a Tartan Queen as Her Love for Plaid Remains Strong — Details on Her Outfits
Kate Middleton's fashion style certainly makes us envious. The Duchess has shown us how to rock checkered outfits, and we are totally in love with all of them.
Kate Middleton is a tartan Queen as her love for plaid remains strong. Having countless options for clothes must be so fun for the Duchess of Cambridge. However, it seems she prefers outfit-repeating. 
Middleton has found her niche in dressing herself and does not mind wearing her outfits more than once. If she is not wearing a checkered dress, then she accessorizes with anything plaid.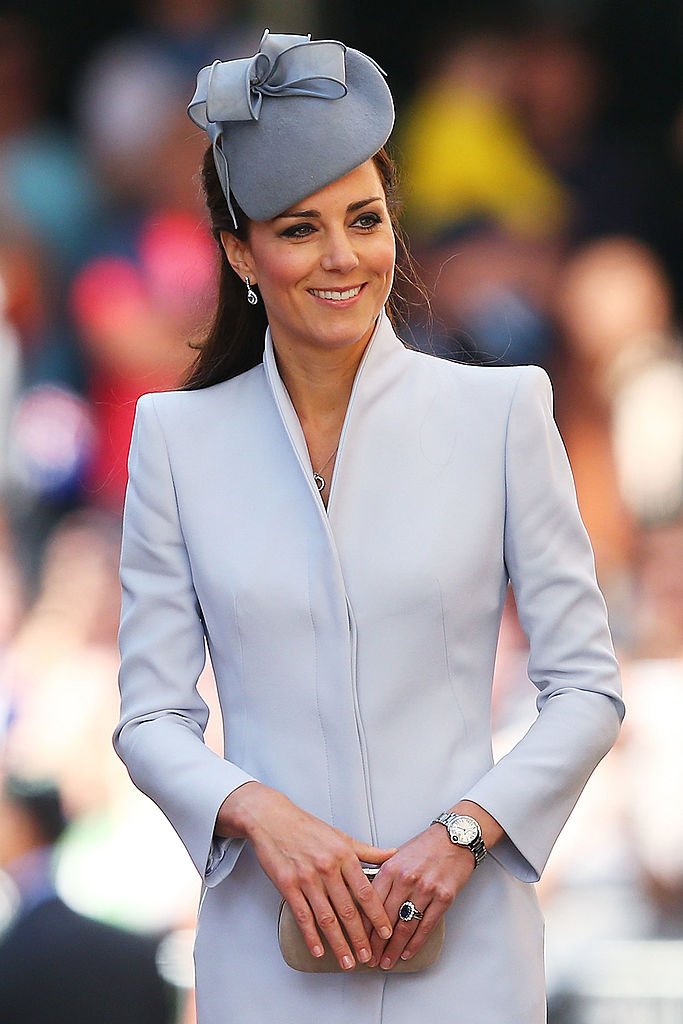 The 39-year-old loves rocking the pattern when she makes public appearances and during virtual calls. In a recent Instagram video alongside her husband Prince William, Middleton donned a red plaid dress with a white collar and cuffs.
Middleton first wore the Emilia Wickstead dress to the Queen's Christmas dinner in December 2019 at Buckingham Palace. The duchess wore her long brunette hair down and accessorized her outfit with pearl earrings.
The Duke and Duchess of Cambridge were celebrating Burns Night and sent out a video thanking the National Health Service Hospital for their commendable job during the pandemic.
The royal couple also decided to treat the hospital staff with a celebratory lunch. The pair also thanked the Tayside Health Fund and NHS Charities Together, and Royal Warrant Holders for their generous donations.
On December 8, 2020, she and Prince William went on a train tour and stopped at Cardiff, Wales, and sported a red and black ensemble. Middleton wore a red trench coat with a black top, a checkered skirt, and finished her look with black leather gloves and a patterned scarf.
The Duchess sported a festive feel while on the trip and looked gorgeously beautiful in her red and black ensemble. Middleton decked out all warmly, and her entire look was lovely.
Middleton is not the only one that loves rocking tartan attires on numerous occasions. It appears it has rubbed off on her spouse as well, on one of the trips during their train tour, the Duke was spotted wearing a tartan scarf.
In 2018, the Duchess rocked another tartan inspired outfit. Middleton and Prince William hosted a Christmas party for families and children of deployed personnel.
At the event, the future queen of consort dressed up in red a tartan midi skirt once again. Middleton wore the skirt with a black buttoned cardigan and black heels.
On November 30, 2020, on St. Andrews Day, Middleton wore an all-green-themed ensemble sporting another two-piece tartan get-up. Looking all matched up, she had on a green scarf and held a green purse.
Middleton wore a similar outfit back in 2019 at the same event. On November 30 of that same year, she wore her patterned dress with black leggings and gloves.
While she was pregnant with her last-born child, Prince Louis, back in 2017, she walked to church on Christmas morning with a red and green plaid coat over her baby bump. Middleton wore the coat with black heels, leggings, and a fuzzy warm beanie.
In January 2019, Middleton and Prince William went on a trip to Dundee, Scotland. The place honors their relationship's origins; during their visit, Middleton wore a green tartan coat designed by Alexander McQueen.
They were in Dundee to celebrate the opening of a new branch of the Victoria Albert Museum where Middleton gave a speech. Having studied art at St. Andrews, Middleton revealed that she would be focusing on exploring her interests in the use and manufacturing of textiles through learning opportunities.
The V&A, based in London, has the largest collections of dresses in the world. It focuses much of its efforts on fashion history, which is right in line with Middleton's long-standing interests.