DJ Khaled and His Wife Nicole Tuck Stun in a Family Photo Dressed in Matching Black Ensembles
DJ Khaled (Khaled Mohamed Khaled) and his wife Nicole Tuck look amazing in matching black outfits on a family photo shared on the DJ's Instagram page two days ago.
45-year-old DJ Khaled and his spouse Nicole Tuck appear composed and stylish in two coordinated black outfits in a picture posted on the "All I Do Is Win" singer's Instagram feed. 
DJ Khaled and his wife are the quintessential suave duo in the image. Tucker has a stylish flared, knee-length dress on, and her husband dons a chic black shirt and suits pants.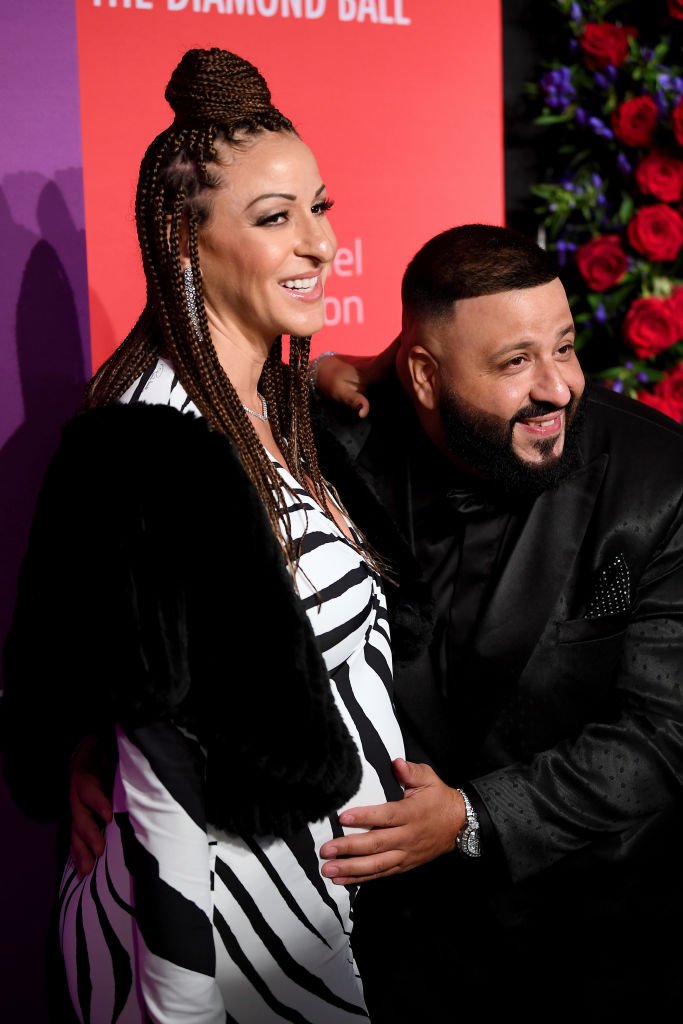 Tucker has one arm resting casually on Khaled's shoulder, and both his hands are pressed together formally in his lap. Tucker's wedding ring is on full display in the snapshot of the happy couple.
The hit record producer is grateful for his family and his wife and honors God with thanks for his blessings in the post's caption. The inscription on the picture said:
"BLESS UP MY QUEEN MY BEST FRIEND AND THE LOVE OF MY LIFE. The light is love  (STAY IN THE LIGHT) GOD IS LOVE."
Although DJ Khaled and his wife have been relatively private about when and how they met, the couple has been together for at least over a decade now and remain joyous.
They welcomed their first son in 2016 and named him Asahd. Their second son, Aalam, was born just last year. DJ Khaled says that he would like a third child with his wife, preferably a girl.
Tuck's family were subject to tragedy in 2018 when her brother was shot and killed.
DJ Khaled was ecstatic after his two sons were born and confirmed that he had always wanted children. A self-proclaimed family man, Khaled will stop at nothing to make his wife and kids happy.
He recently posed with his family in floral patterned outfits for the cover of Parents magazine. He spoke about ensuring that his children were raised correctly. He recently shared a video on Instagram saying:
"Aalam! My son ! Love you so much !"
Tuck's family were subject to tragedy in 2018 when her brother was shot and killed. Tuck's younger brother John who was 25 at the time, was shot in a Bronx apartment. 
John was reportedly at the venue to purchase marijuana but unfortunately got caught in the crossfire when several individuals ambushed the dealer intending to rob him.
One of the culprits, Richard Jimenez, said that the shooting was an accident, but he and the four others immediately fled the scene. Jimenez was charged in 2019 and was sentenced to 20 years in prison.
Tuck was distraught and contacted the judge managing the case and requested that he show no leniency for her brother's killer. Jimenez expressed guilt for John's death, saying he would do anything to undo it.