Kim and Barry Plath Have 9 Living Kids — All You Need to Know about the TLC Family
Reality TV couple Kim and Barry Plath are uniquely different from the average American parents. And when their horde of nine living children are thrown into the setting, they provide premium entertainment for viewers. 
It is not completely strange for parents to want to maintain some form of control over what their children are exposed to, especially during their childhood and teenage years.
However, the Plath family, marshaled by Kim and Barry Plath, have shown Americans a whole new level of parental control regarding how they shield their nine children from the outer world in their TLC reality TV series "Welcome to Plathville."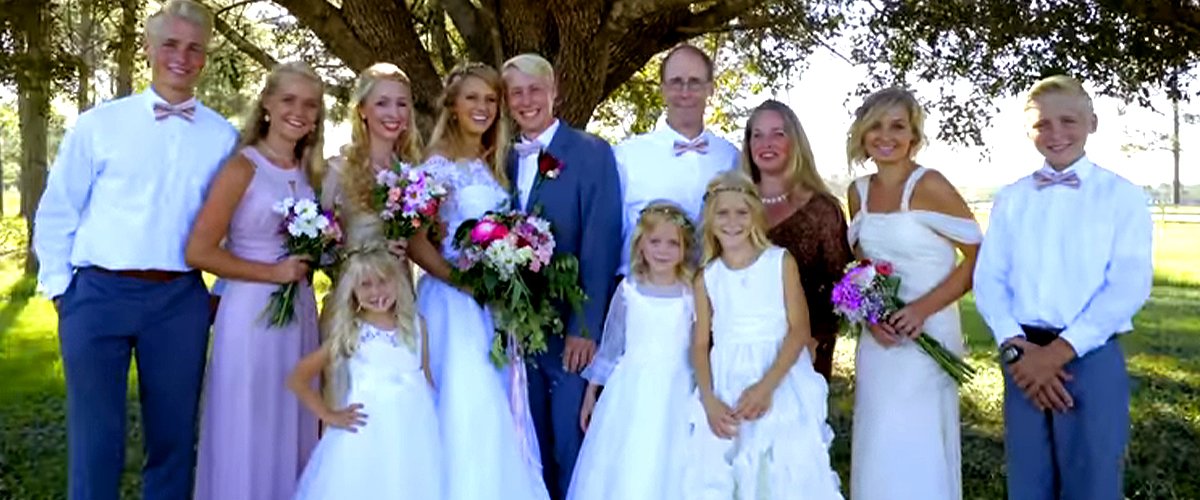 INSIDE TLC'S "WELCOME TO PLATHVILLE"
The popular TLC reality series centers around the ultra-conservative Plath family — Barry and Kim Plath and their nine children, Ethan, Hosanna, Micah, Moriah, Lydia, Isaac, Amber, Cassia, and Mercy, as well as Ethan's wife, Olivia.
All of the Plath children work with their parents on the family farm in Georgia, and their lives revolve around their faith and Christianity. More importantly, the Plath children strictly adhere to their parents' rules, including a boycott of technology and sugary drinks.
According to TLC, the kids have never celebrated Christmas or drank a soda. In addition, they do not know who Spiderman or Tom Brady is and have never watched TV. 
Even though Kim and Barry Plath have tried to limit their family's contact with the outside world through the years, the family still gets to tour as a Southern Gospel band. 
Since the show premiered on TLC on November 10, 2019, it has sparked mixed reactions from fans, with most of them critical of Kim and Barry's parenting of their children. Here is all you need to know about the famous Plathville family.
MEET THE PARENTS
Barry Plath is the patriarch of the ultra-conservative Plath family and he presides over his nine children alongside his wife of more than two decades, Kim Plath. 
Barry is a transportation planner and has worked in the same private firm for more than 25 years. Barry's job most likely involves using computers, which poses questions about him banning his kids from using technology.
Kim, for her part, is currently a naturopathic doctor. However, the Plath family matriarch majored in music back at Florida State University. Her love for music was crucial in creating the family band, as she taught her kids to play several instruments.
For Barry and Kim, their religion is central to their lives, as it brought them together many years ago. According to the Plath family website, God told Kim and Barry they were destined to be married.
Barry and Kim's marriage is the perfect example of a couple who work well together. Their faith and love for each other have helped them get through some challenging times in the past.
THEY LOST A SON
In 2008, tragedy struck the Plath family when Kim's 17-month-old son Joshua died in a tragic accident after the mother of nine accidentally hit him with her car while moving fruit trees on their farm. 
Joshua's death was eventually ruled as an accident, but it still left Kim devastated and out of sorts for a very long time. She later revealed that she could pull out of the downward spiral thanks to her faith and her husband's unwavering support.
Nowadays, the couple is confronted by a different type of challenge. As the kids grow, they have found it difficult to maintain a strong hold over them, with many of them starting to venture out independently.
ESTRANGED FROM OLDEST SON 
Over the two seasons of "Welcome to Plathville," fans have watched a fast decline in the relationship between Ethan Plath and his parents, which stems from his introduction to things like Christmas movies and Coca-Cola by his wife, photographer Olivia Plath. 
Ethan and Olivia got married in 2018, and their fascinating love story has quickly made them a fan favorite, with most of them happy to see Ethan break free from his controlling parents.
From the start of the show, Olivia has never hidden her disdain for Kim and Barry's parenting techniques and has formed a friendship with the resident black sheep of the family, Moriah Plath. Olivia's views have frequently put her at loggerheads with Kim and Barry.
And things reached a head when the couple banned their oldest son from seeing his younger siblings. Ethan equally cut off contact with his parents, and Olivia fully supports his decision. In her words:
"It was the healthiest and best thing for us when Ethan decided that and just focusing on us, focusing on moving and growing."
Since Ethan cut off contact with his parents, they have not reached out to him. And things reached boiling point between them in the season 2 finale, when Ethan confronted his parents about their treatment of his wife, Olivia. 
The young couple is currently set to put more distance between them and Ethan's parents by relocating to a neighboring city to focus on starting their own family.
THE PLATH FAMILY SPLITS
While the drama between Olivia and her in-laws has taken much of the attention on the show, season two of "Welcome to Plathville" also saw some other members of the Plath family set off on their path to self-discovery. 
Interestingly, the once closely-knit family is at odds and has now split into three households — Ethan and Olivia, Moriah and Micah, and Kim and Barry with the younger children.
Moriah, who has long craved independence from her parents, finally moved out of the family home into her own space, where she has focused much of her energy on her music, fashion style, and education.
She recently took to her Instagram page to celebrate her 8-month anniversary with her boyfriend, Max Kallschmidt. After a brief split, the duo recently got back together and seemed to be very much in love.
Apart from the three households, Kim and Barry Plath's oldest daughter Hosanna Plath rarely features on the show. Hosanna is married to musician Timothy Noble, and they reside in Ohio but spend much of their time touring around the world.
It was recently revealed that the 21-year-old instrumentalist was pregnant with her first child, and by media speculations, she is supposed to have welcomed her first child. And it is believed that Kim and Barry are thrilled about becoming grandparents. 
Even though some of their children are openly rebelling against their traditional ways, Kim and Barry's middle daughter Lydia Plath, 16, has never given her parents any problem and continues to stay the course.
The show premiered in November 2019 and recently drew the curtain on a successful second season. There is no official news of the show's cancelation or renewal, but it is expected that the show will continue due to its strong followership.