Here's How Rachel Maddow Reacted to Being Nominated for a Grammy Alongside Meryl Streep
Rachel Maddow reacted to being nominated for a Grammy Award alongside Meryl Streep while talking to Ellen DeGeneres. 
Rachel Maddow appeared on "The Ellen DeGeneres Show" and gave a hilarious reaction to her Grammy nomination against Meryl Streep.
Maddow is nominated in the category Best Spoken Word Album for her book, "Blowout: Corrupted Democracy, Rogue State Russia, and the Richest, Most Destructive Industry On Earth."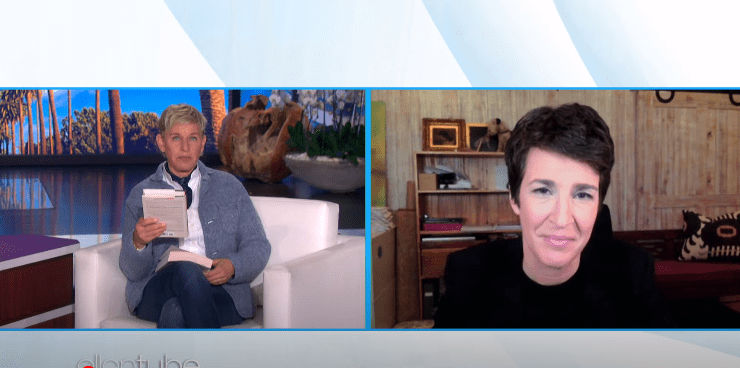 Streep is nominated in the same category for her reading of E.B. White's "Charlotte's Web." Other nominees include Ronan Furrow for "Catch and Kill," a nonfiction thriller, and Ken Jennings for "Alex Trebek — The Answer Is …"
Ellen congratulated Maddow for the Grammy nomination and then asked her how she felt about Streep being nominated alongside her. Maddow responded hilariously:
"It's a good news, bad news sort of thing. The good news is, you've been nominated for a Grammy. The bad news is Meryl Streep is also nominated in the same category. "
She went on to say that it took away the suspense of who would win, and she now does not have to worry about the threat of winning, as she is running against Streep. 
The author was very humble on the show for someone who has two books on the New York Best Selling books list. Her book, "Bag Man," is her second book, which was just published. 
The 2021 Grammy Awards is postponed to March 14 as Coronavirus cases surged in Southern California.
Although Maddow is having success with her books, the author went through a hard time in the last few months. Her partner of over 20 years, Susan Mikula, had a terrible case of coronavirus. 
The terrible situation was made worse as the couple could not be together while Mikula was sick as Maddow had not caught the virus, so they had to separate. Maddow shared about the situation: 
"[Susan] was really suffering, and I was trying to take care of her from afar without being able to physically be with her."
She shared her partner has recovered from the worst part of the virus, although, like many others who have suffered a severe case of the virus, she is still experiencing a few symptoms. 
Hopefully, Mikula will be well enough to watch Maddow, whether win or lose against Streep, in the awards ceremony, which is taking place in the next month. 
After thoughtful conversations with health experts, our host and artists scheduled to appear, we are rescheduling the 63rd #GRAMMYs to be broadcast Sunday, March 14, 2021.

More details: https://t.co/JyrHZ7JpQi pic.twitter.com/MoZLLoEEgx

— Recording Academy / GRAMMYs (@RecordingAcad) January 5, 2021
The 2021 Grammy Awards is postponed to March 14 as Coronavirus cases surged in Southern California. Ben Winston, the executive producer, confirmed the news on his Twitter.
The awards ceremony was scheduled for January 31, 2021. The Academy and CBS's decision was made after "thoughtful conversations" with health experts were had, as Winston's statement explained.