Dixie Carter Was Hal Holbrook's Third Wife — Look Back at the Late Actor's Marriages
Actress Dixie Carter found love and her life partner in her third husband, fellow actor Hal Holbrook.
Dixie Carter was an American radio, stage, film, television, voice actress, and singer best known for her role as Julia Sugarbaker on "Designing Women." She was also the third wife of actor Hal Holbrooks who became famous for his portrayal of Mark Twain.
The couple of actors married in 1984 despite he was 14 years older than her. They both had two failed marriages but wanted to go on with their relationship. They developed their married life between their home in Beverly Hills, California, and in McLemoresville, Tennessee.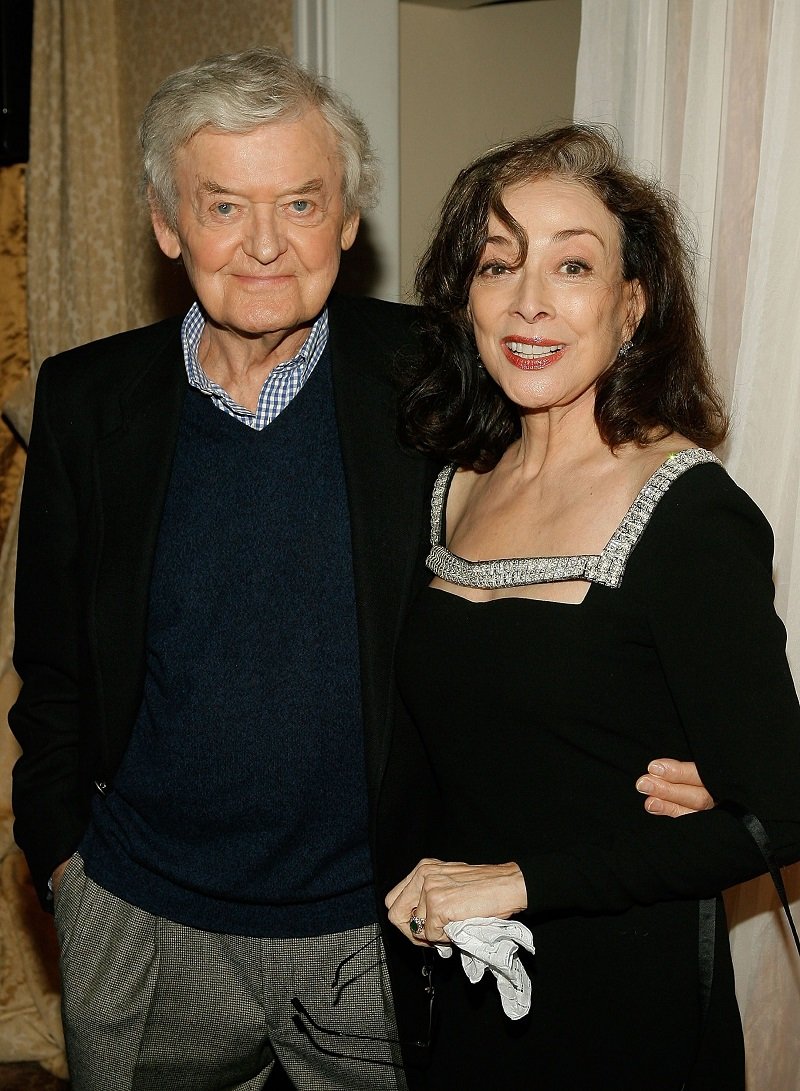 Holbrook encouraged his wife Carter to return to the stage as a singer, for which she put on a vaudeville show, with which she was very successful. He also supported her as she played the lead role of hers that made her known in "Designing Women."
Carte and Holbrook joined their lives in a blended family, as he had three children from his two previous marriages and the two daughters from her first marriage. They remained together until the actress's death at age 70 in 2010.
CAREER AND ACKNOWLEDGMENTS
Carter was not only known for her performances on the big screen and on TV, but she also had a strong career as a stage actress. However, her love was always music, especially singing. As a child, she dreamed of being an opera singer and learned to play the piano, trumpet, and harmonica.
Together again. ❤️ pic.twitter.com/t1DNcoxQS6

— Dana Delany (@DanaDelany) February 2, 2021
One of her iconic performances was in the acclaimed series "Desperate Housewives," as Gloria Hodge, Bree Van from Kamp's scary mother-in-law. In the role where she found the most satisfaction, she was as a singer, since she loved the sensation she felt when singing.
ROMANTIC RELATIONSHIP
Carter came to New York to pursue her career in 1963 after graduating from the University of Tennessee. In the "big apple" she met and married the banker Arthur L. Carter in 1967 with whom she had two daughters: Mary Dixie Carter and Ginna Carter.
She retired for eight years from the show to dedicate herself to her home. Following her divorce in 1977, Carter married actor George Hearn that same year. The marriage only lasted a couple of years, divorcing in 1979.
RIP Hal Holbrook. We were fortunate to have hosted him at the festival in 2009 along with Dixie Carter and Director Scott Teems for their film THAT EVENING SUN. pic.twitter.com/10E4hNgKFs

— Independent Film Festival Boston (@IFFBoston) February 2, 2021
REACTIONS TO HER DEATH
Throughout her life, Carter was known for being a very strong woman and at the same time for her kind and gentle treatment. She was loved by her companions who paid tribute to her upon hearing the news of her death.
Friends and former co-star shared memories and thoughts of her about the actress, making it clear that she was a very valuable person, loved and that they will miss her very much. Her husband, daughters, stepchildren, and other family members were devastated by their loss.
THIRD MARRIAGE
Holbrook decided to marry Carter even though she had previously gone through two failed marriages and two painful divorces. They had known each other years before but they were both married.
#HalHolbrok- the epitome of gentleman&artist. I met him thru his beloved Dixie Carter & although it is sad to know he is gone, it is good to know they are together again. Be grateful he left us gems like this one. WATCH THAT EVENING SUN --Trailer https://t.co/qEmjSUvru7 @YouTube pic.twitter.com/g586tYpcO0

— Sharon Lawrence (@sharonlawrence) February 2, 2021
The actor married Ruby Holbrook in 1945 with whom he had two children, Victoria Holbrook and David Holbrook. The couple divorced in 1965. Then Holbrook married actress Carol Eve Rossen in 1966 with whom he had his daughter Eve, divorcing in 1983.
ALWAYS MARK TWAIN
The actor began developing his characterization of Mark Twain from a Denison University project where he studied. His first portrayal of his character was in 1954 and he continued to play it throughout his life.
Hal Holbrook, Emmy and Tony-Winning Actor Who Portrayed Mark Twain, Dies at 95 https://t.co/PKI67ShsOP

— Variety (@Variety) February 2, 2021
He devoted himself to studying Twain thoroughly and in 1959 he opened a small theater to perform him. The success was so great that he went on tour across the country, becoming a star who had never acted on Broadway, in a series or movie.
LOSS OF A GREAT ACTOR
The news of the actor's death took everyone by surprise this past January 23. He was 95 years old and during his life, he broke schemes because he showed that success can be achieved at any age, as he did at 40.
NYT: Hal Holbrook, Emmy and Tony-winning actor who portrayed Mark Twain, dies at 95

Holbrook's decades-long acting career spanned across Broadway, TV shows and movies. He's best known for his solo show "Mark Twain Tonight!"https://t.co/TtMFms0m75 pic.twitter.com/nhIAGi9aOx

— FOX61 (@FOX61News) February 2, 2021
Various personalities from the entertainment world have expressed their condolences and shared memories of the beloved actor. His family has also expressed their grief over the irreparable loss of someone they love.
MORE ABOUT HIS FAMILY
Holbrook had three children, his son being David Holbrook who followed in his acting footsteps, although he did not manage to be as famous as his father. Creepshow 2, Vampire's Kiss, and A Return to Salem's Lot are some of the movies he worked on.
His daughters Eva and Victoria, on the other hand, have stayed away from publicity and have lived quieter lives. Holbrook also leaves behind two step-children, two grandchildren, and two step-grandchildren.