Nicollette Sheridan Was Married & Divorced Twice — Facts about the 'Desperate Housewives' Star
Nicollette Sheridan wowed audiences as the villainous Eddie Britt on the popular '00s tv series, "Desperate Housewives." Unfortunately, the actress has not been able to remain married for very long. Here's a look at her two failed marriages.
It's a song that has been sung many-a-time in Hollywood, and the same can be said for the "Dynasty" actress Nicollette Sheridan who has said "I do" not once but twice.
The unlucky lover has also been divorced twice, with both of her exes moving on to marry real-life housewives. The actress' first try at love was with actor Harry Hamlin.
SHERIDAN AND HAMLIN
Sheridan, 57, and Hamlin, 69, tied the knot in 1991 and were briefly married. The couple called it quits in 1992, just 11 months after the wedding, and the reason has been a point of contention between the exes. 
During an episode of "The Real Housewives of Beverly Hills," Hamlin's second wife, Lisa Rinna, 57, revealed that Sheridan had reportedly cheated on Hamlin with singer Michael Bolton, 67.
Sheridan refuted the accusations and claimed that she and Hamlin ended their marriage for different reasons. In a public Twitter feud, Hamlin, himself, fired back at Sheridan, agreeing with his wife of 22 years.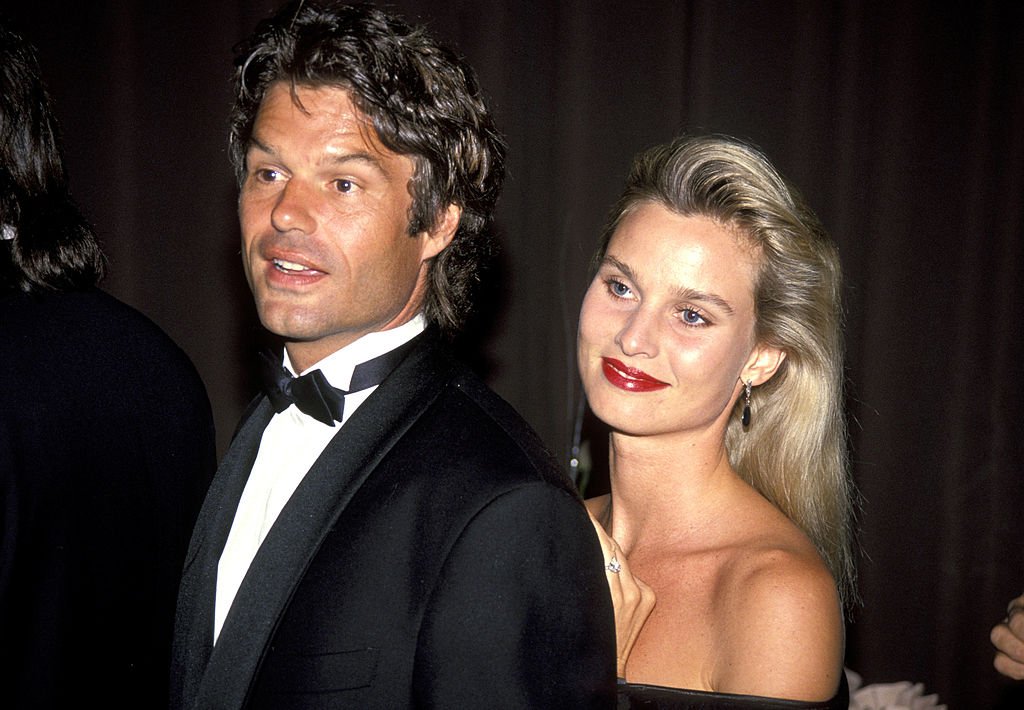 ALMOST MARRIAGE WITH MICHAEL BOLTON
Despite her claims that she and Bolton were just friends, their romantic history proved otherwise as the couple dated twice. Sheridan and Bolton dated from 1992, shortly after the end of her marriage with Hamlin.
The couple called it quits after five years before rekindling their love once more in 2005. The couple got engaged in 2006 but amicably ended things just two years later.
SHERIDAN AND PHYPERS
After her 18-year affair with Bolton ended for good, Sheridan walked down the aisle one more time with Aaron Phypers, 48. This marriage was even shorter than the first, lasting only six months.
After the couple's separation, the divorce took two years to finalize, and in that time, Phypers found love in the arms of another "RHOBH" star, Denise Richards, 49, and the two tied the knot in 2018.
THE END OF LIFE IN THE SPOTLIGHT
Amid the drama in her love life, Sheridan found herself in more drama in her professional life. In the midst of her rising popularity from the series "Desperate Housewives," her character was suddenly killed off.
The actress claimed that she was fired from the show after she accused the show's creator Marc Cherry of physically assaulting her. She then when on to launch a messy lawsuit against Cherry, but it was thrown out in 2017.
After the drama with Cherry, Sheridan lost faith in the business and shied away from the limelight. In that time, she channeled her energy towards her smaller passion projects.
She featured in several Hallmark Channel made-for-tv movies before starring in the "Dynasty" reboot in 2017. However, her character was killed off yet again in February 2019 so that she could spend time with her ailing mother.